Apple on Monday at its WWDC 2014 announced a new cloud-based storage system called iCloud Drive. A similar user interface to other popular cloud storage services (e.g. Dropbox, Google Drive), the iCloud Drive service will be available to all users across OS X, iOS, and Windows.
Apple is offering free 5GB space to all iCloud Drive users with additional attractive plans to compete with other popular services. For 20GB users will have to pay $0.99 per month, and 200GB for $3.99 per month with tiers available up to 1TB (pricing unknown as yet).
The pricing is quite close to Google's recently reduced Drive pricing at $1.99 per month for 100GB, whereas DropBox Pro offers the same 100GB storage at $9.99 per month. Other than that, Google also offers 1TB for $9.99 per month and 10TB or higher at $99.99 per month.
The iCloud Drive allows users to sync files across all type of devices, including Mac, iPhone, iPad and Windows devices (via a web browser). Users can just drop files and folders into iCloud Drive to sync them across devices.
The iCloud Drive also includes the earlier missing feature of sharing documents between iOS and OS X, even the stored cloud documents will also be visible in the OS X Yosemite Finder just as it were stored locally. For iCloud-enabled apps used with iCloud Drive gets its own folder inside the interface, which users can access through Finder. Edits made to documents on one device will be synced with copies on other devices.
(Also see: 10 Big Changes in OS X Yosemite)
While iCloud Drive also works on Windows, it remains to be seen if Apple opens up new avenues for platforms like Android and Windows Phone in future.
Apple also showcased how the Photos app sync and edit images using iCloud with new feature called iCloud Photo Library, something that will really take advantage of the extra space iCloud Drive brings.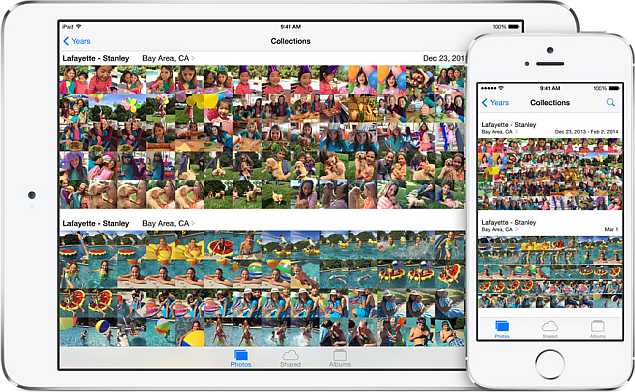 The Photos app built-in with iOS 8 brings new set of photo editing and cloud storage syncing features with iCloud Photo Library. Apple demonstrated the new Photos app that includes new smart editing tools to easily crop, straighten, adjust the colour, brightness, contrast, exposure, light levels and more. Even the third party developers can now create their own app filters and editing tools for use directly in the Photos app.
Other than that the Photos app on iOS 8 lets users create time-lapse videos directly from it. The camera will click photos at selected intervals, and creates a video showcasing an accelerated sequence of the photos over time. Users just required placing their device at an ideal location and then swiping over to time-lapse mode.
(Also see: 10 New iOS 8 Features Showcased at WWDC)
With the iCloud Photo Library service users can safely store more photos on the cloud than the device's storage itself, thus syncing them to all devices connected through iCloud. The data syncs instantly with realtime updates across all iOS devices and through a web browser. The format of photos doesn't change and users can even store and view them in RAW format, which is generally occupies more space. Not just this, videos can too be uploaded with the same.
Overall the revamped Photos app in iOS 8 with iCloud Photo Library service is a big update by Apple over the previous iterations.