In what the company claims an industry first,
Airtel
has shared information on its plans for its
network infrastructure modernisation
with
Project Leap
.
Launched as a
microsite
, Project Leap reveals the company's plans on its network modernisation plans, providing detailed information on the state-wise progress, with geo-locations of its voice and data sites superimposed on a map.
Project Leap shows Airtel's network coverage for voice, basic data services (2G), and high speed data services (3G/ 4G) in India, at a state-wise level.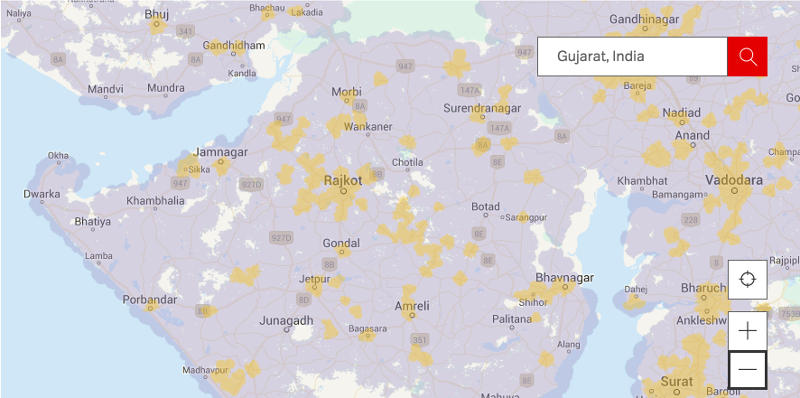 According to stats published on the website, Airtel plans to add an additional 1,349 High Speed Data Sites in Karnataka by March 2016, with 100 towns currently receiving 4G services at present.
The data also reveals which states in the country have the highest 4G penetration - 156 towns in Maharashtra now have 4G, Punjab has 39, while Tamil Nadu only has eight towns with 4G.
"Our new website is targeted at a first of its kind effort in sharing with total transparency the progress we are making in every street and locality in the country. Our customers will be able to see the progress of their network in their respective localities," said Gopal Vittal, MD and CEO, Bharti Airtel (India and South Asia) in an emailed statement.
Customers will also be able to see sites planned in their localities, and sites that have been forcibly shut down in their locality, the company said. Project leap will also provide information on radio waves, network FAQs and what customers can expect from the company's network transformation program on which it expects to spend Rs. 60,000 crores.
In the next three months, Airtel will be adding nearly 23,000 high speed data sites, and around 160,000 sites in the next three years, the company said.
Affiliate links may be automatically generated - see our ethics statement for details.