Indian ISP Airtel has blocked youtu.be URLs citing court orders "or" a Department of Telecom directive.
(The domain seems to be unblocked now - see update at the bottom of this story).

Popular video website YouTube runs the youtu.be domain as a short-URL service for its full website. Thus, every video on YouTube has a corresponding youtu.be URL. This short URL is typically used while sharing videos on social media sites like Facebook and Twitter, which impose character limits.
It seems Airtel is now blocking all youtu.be URLs. Users trying to visit any youtu.be URL are greeted with the following message:
"This website/URL has been blocked until further notice either pursuant to Court orders or on the Directions issued by the Department of Telecommunications"

We know that the government has reached out to ISPs to block offensive videos being circulated on social networking websites, and it's possible that some overzealous Airtel engineer has gone ahead and blocked the entire youtu.be domain, thus preventing social networking users from accessing any videos directly.
However, the regular YouTube website is not blocked and users have a simple workaround to get to their videos. If the URL you are trying to access is youtu.be/XYZ you can simply type https://www.youtube.com/watch?v=XYZ in the address bar and watch the video (replace XYZ with actual values).
Some
reports
have indicated that Airtel has also implemented keyword-based filtering, where any webpage containing the word youtu.be is being blocked, but we couldn't replicate the behaviour on our line.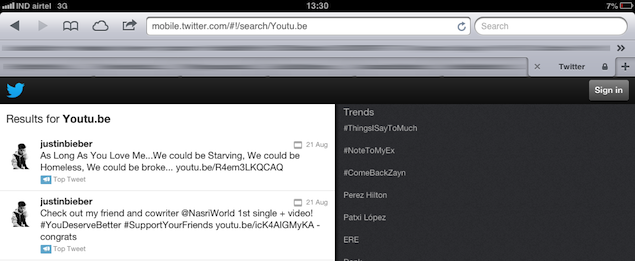 We tried to reach for Airtel for comments,
but they didn't revert in time for this report.
(see update).
Is this a case of Airtel going a step too far in blocking the offensive videos, or a sign of things to come from other ISPs as well? Users from other ISPs have not reported blocking of any URLs so far.
Update
: After our report, Airtel seems to have unblocked the domain youtu.be.
Airtel has also issued the following statement: "This is an industry specific issue and not just restricted to Airtel. We can't really comment on anything really specific but if you need comments it will be best if (you talk to) an industry body or the regulator talks about the same."
Airtel's rather vague statement does not address the blocking of youtu.be domain specifically, and seems to suggest it is just following orders (much like the "error" message above). But if it was indeed a directive from the regulators, why did Airtel unblock the domain after the reports?
It seems to be a case of one hand not knowing what the other is doing and may well have been, as we suspected, an overzealous engineer who blocked the entire domain in an attempt to block access to certain videos from social networking sites. We hope Airtel comes clean and explains why the website was blocked, only to be unblocked hours later.
Are you based in India and is your ISP blocking any website(s)? Leave a comment with your location, ISP and the blocked URL/ websites.