Last week, YouTube unveiled the option for users to watch their favourite videos offline. This feature is limited to emerging markets with India, Indonesia, and the Philippines to begin with and the video creators choose whether their content can be downloaded or not. It's a way for YouTube to make the most of India's internet user base, which Google India's Managing Director Rajan Anandan says will hit 300 million at the end of this month. But it comes with a fair share of caveats.
For one, you will have to sign in to YouTube to make use of this feature. Secondly, if the video needs to be viewed 48-hours after downloading, you'll need to go online via wi-fi or mobile internet to sync with YouTube before watching, and on doing so it will update the viewing metrics for the video and the ads as well as refresh the ads served. Finally, it's for mobile devices only, so forget downloading full length Bollywood flicks to your laptop or PC via YouTube just yet.
The reasons for this are not technical, but instead have more to do with piracy, according to John Harding, Vice President of Engineering at YouTube.
"Right now it's mobile only," says Harding. "Android and iOS. What we try to do is keep the content within the application because it's very important for us to respect the rights of our content creators that ads are still playing with those videos so that those creators make money. This is their business."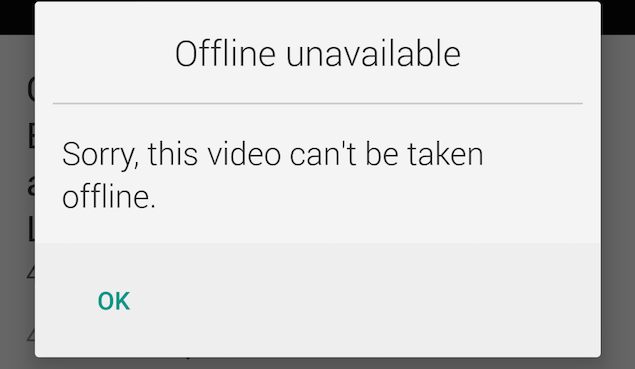 Until more content creators come on board, get used to seeing this message on the YouTube mobile app on Android and iOS.
For some popular "YouTubers", posting videos online has become a lucrative business. There are many examples of people who have made full time jobs out of their YouTube presence in the US and other countries, and even in India, we're starting to see this phenomenon grow as more and more people turn to the Internet for entertainment and information.
(Also see: Meet India's YouTube Stars)
But there are also a lot of different tools that let you download content from YouTube. Google India's Anandan however sees these as a problem, and is not in favour of such tools at all. "There are a lot of products where you can download content, that's called piracy," says Anandan. "That breaks the law. What we've done here is full content rights offline, working with the partners. It's legal vs. illegal."
A question of copyright?
While YouTube takes pride in positioning itself as a platform for creators, offering legal downloads from which they can earn revenues, it's copyright policies are strange to say the least. Videos that don't infringe on copyright claims have been taken down with no proper reasoning. Most recently, YouTube personality Angry Joe had his video on Street Fighter V taken down despite the game's publisher Capcom requesting him to cover it. Harding however says that as a platform there are certain responsibilities that YouTube must be careful about.
"They're not taken down for no reason, there's someone who asserts a copyright claim against a video," he says. "The position we're in is we're the platform and depending on the laws of the country we're obligated to comply with these claims. We are doing things to improve the dispute process, the resolution process, enable more of a frictionless process to resolve those disputes when they happen. We're an intermediary, we don't decide what happens with the content but we can facilitate resolving those conflicts when they occur."
Nonetheless, the company has been ramping up its efforts in getting Indian content on board. YouTube has a two-pronged approach in India - for one, it is tying up with established content providers such as Shemaroo and Yash Raj Films, who have a lot of popular content which can be monetised through YouTube. On the other hand, individual creators such as Geeky Ranjit are uploading new videos that fill up different niches. It's an approach that ensures a variety of content across the spectrum to cater to a local audience.
Live streaming will show up... at an unknown time
But with live streaming services like Twitch and Ustream going from strength to strength YouTube isn't the first name you think of when it comes to live streaming. While there are other ways to make it work, Harding thinks YouTube would benefit from letting creators do so on the go. However he remains noncommittal on when such a feature would show up.
"Live streaming is a key part of the platform today," says Harding, "and most of it is done with integration of third party software so looking into having live broadcasting on mobile within our own application is definitely something that we're looking at. And we also want to be part of the overall ecosystem of the video production workflow."
How it manages to extend itself to being of greater utility to consumers and creators as well as ensuring legalities are maintained is a tremendous balancing act. One that some would argue, could see what once was a breeding ground for different viewpoints being reduced to a sterile, regulated environment.