Move over Chuck Norris, the Internet crowned a new hero this week - that's U.S. goalkeeper Tim Howard. The 35-year-old player became a Twitter sensation after an astounding 16 saves in the U.S. team's match against Belgium, as the knockout stage of the World Cup continued to play out online this week.
Some ESPN users complained on Twitter of streaming issues, including a reported lag that had them screaming at the action during the U.S. vs. Belgium match minutes after their coworkers who were watching Univision or following the game on Twitter.
Here's a look at how the World Cup fared online this week:
Howard's heroics
Not long after Howard's fortress-like defense on Tuesday, someone changed the Wikipedia entry for "United States Secretary of Defense" to feature the goalkeeper instead of Chuck Hagel, the actual defense secretary. The page was quickly updated, but not before the change made the rounds online.
As of Thursday afternoon, a White House petition to change the name of Ronald Regan Washington National Airport to "Tim Howard National Airport" had nearly 17,000 signatures, short of a 100,000 goal set for July 31.
Online jokesters also plastered Howard's image on famous photos to create a bevy of Internet memes. These included his face on a brick wall with the words "The Great Wall of America" and replacing the wizard Gandalf shouting "You shall not pass" in the "The Lord of the Rings: The Fellowship of the Ring."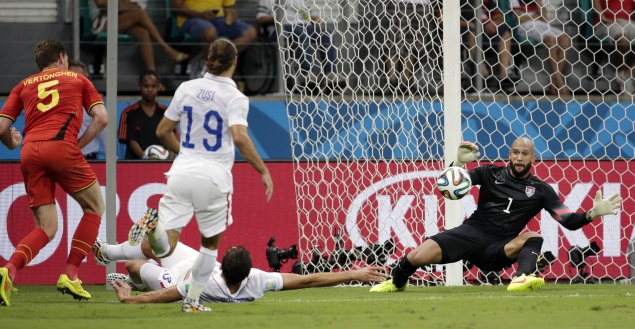 The hashtag (hash)ThingsTimHowardCouldSave became a trending topic on Twitter. Answers included the Boston Red Sox in the 1986 World Series, dinosaurs and the Titanic. Sadly for the U.S. team, it wasn't enough. Players Mix Diskerud and Brad Guzan posted photos of their packed luggage on Instagram, ready to head home.
Twitter tidbits
Tuesday's U.S. vs. Belgium game turned out to be quite the nail-biter, but it only came in fourth place when it comes to the World Cup's most tweeted-about matches so far. People sent 9.1 million tweets about the match and mentioned Howard 1.8 million times. Brazil's victory over Chile that was decided by penalty kicks on Saturday holds the top spot with 16.4 million tweets.
(Also see: Brazil vs Chile Match Breaks Twitter Record)

A goal is a gooooaalll?
Facebook analyzed World Cup-related language in users' posts and found that "gol," the word for goal in Spanish and Portuguese, was the most commonly used term for goal, followed by the English word, then Thai and German ("tor").
(Also see: World Cup 2014 Hits Record 1 Billion Interactions on Facebook)

"Only in Spanish, Portuguese, English, and German do we find significant use of redundant characters in exuberant posts (such as Goooool!,' GOOOAAALLLL!,' or Tooooooor!') People tended to post these exuberant mentions right after key moments in matches. In particular, goals scored by Neymar Jr. from Brazil consistently garner a high number of exuberant mentions," Facebook data analyst Dustin Cable wrote in a blog post this week.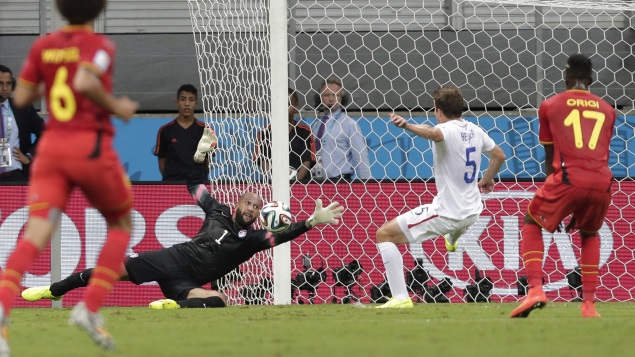 Streaming soars
The U.S. vs. Belgium match set a record as the most-streamed match so far during the World Cup according to Akamai Technologies Inc., which helps companies distribute online video and works with more than 50 World Cup online streaming rights holders worldwide.

The game hit a peak of 5.7 terabits per second in online streaming traffic. In comparison, last week's concurrent U.S. vs. Germany and Ghana vs. Portugal matches peaked at 6.8 terabits per second combined, according to Akamai.