Brick-and-mortar merchants are seeking an edge over
Amazon
Inc and other e-tailers this holiday season by encouraging customers to pick up online orders at their local store. But the tactic could raise costs - and create problems managing inventory, retail analysts and consultants said.
The increased emphasis on store pick-up comes in response to last year's debacle, when millions of holiday packages were left stranded after a late surge of express-delivery orders overwhelmed retailers.
Wal-Mart Stores Inc, Target Corp, Best Buy Co Inc and Lowe's Cos Inc and other merchants are combining in-store pickup with lower online prices to draw shoppers to their stores. The hope? Customers will make additional purchases.
But the shift is forcing chains to carry a wider array of products and could overwhelm inventory management systems. Also: many stores might not have storage for all the extra goods.
"Most retailers are still trying to figure out where is the right place to position this additional inventory...a lot of them aren't quite prepared," said Michael DuVall, a supply chain consultant for Strategy&, formerly Booz & Co.
Rising costs?
A supply chain consultant who works with Wal-Mart, and spoke on condition of anonymity, said the retailer's inventory costs are growing because Wal-Mart is stocking additional merchandise so it can fulfill online orders being picked up at stores.
"They are having a hard time keeping that (stock) consistent with what they need," the consultant said.
A Wal-Mart spokeswoman, in response to the consultant, said the company has inventory and processes in place for the holiday season.
Best Buy CEO Hubert Joly acknowledged inventory management is a challenge. "Stores that boost inventory to meet just the in-store pickup demand face a risk of being stuck with excess," Joly told Reuters. Still, he added, the chain has a lot of experience with in-store pickups. Forty percent of Best Buy's online revenue already comes from orders picked up in the store.
Some retailers, meanwhile, are establishing special distribution centers called "dark warehouses," partly because traditional storage facilities can't handle the small daily quantities associated with store pickup. Dark warehouses, so-named because they are almost always unmanned, cater to five to 25 stores at once. Truck drivers drop off and stock the merchandise; stores send small teams to collect the goods.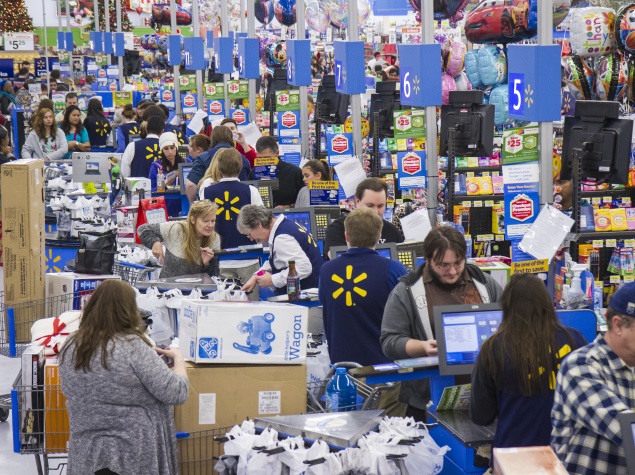 A retailer might spend $1 million (roughly Rs. 6 crores) to set up a 100,000-square-foot dark warehouse, DuVall said, but that would still be less costly than storing the additional inventory.
Promoting purchases
In-store delivery is proving popular with customers. A survey by consumer insights firm Parago showed 64 percent of consumers who placed online orders have selected in-store pickup over delivery this year - that compares with less than 4 percent a year ago.
Jerry Manning, a 37-year-old office assistant in Chicago, said he chose in-store pickup for this year after holiday merchandise from Costco arrived late in 2013.
"I'm not going to wait for them to show up when I can pick it up in a few hours," he said.
Some retailers are seeking to leverage in-store visits by offering gift cards to pick-up customers. But such discounts could reduce profitability, analysts warn.
"They are making money but they are also giving away margin they don't have to," said Eileen Kolev, of retail analytics firm Microstrategy.
Retail analysts figure a one percent price cut can reduce a product's operating profit by as much as 11 percent.
Lowe's CEO Robert Niblock said the company tracks gift-card promotions, including those connected to in-store pickup, to measure whether increased sales justify the discounting.
"The cost of having a promotion for store pickup or in general must bring us an adequate benefit, and we track that very closely," Niblock said.
Consultants and analysts expect any incremental sales increase to remain small, as consumer spending remains under pressure.
The endless sale
Retailers that use gift cards and other promotions as perquisites for in-store pickup may find they need to dole out such promotions during future holiday seasons, too.
"It's similar to the way Black Friday started and now customers only want better offers, and all that deep discounting is only hurting the industry," said Anjee Solanki, national director of retail services with Colliers International.
© Thomson Reuters 2014