We like being anonymous on the Internet. That's why pseudonymous sites like Reddit are so popular, and why there was backlash when Facebook tried to bring in a real name policy. It's like the old joke goes - on the Internet, no one knows you're a dog. But there are some exceptions too, some times when you want to let people know who you really are, and when you want to know whom you're interacting with.
Are you looking for a house? A groom? A date? People to carpool with? A host of Indian startups have ensured that all these services are easily available online. But would you carpool with someone whom you know absolutely nothing about? And if the dating website set you up with someone who was completely different from the claimed profile, would you ever use the site again?
When we talk about verified accounts, we usually think of the blue tick that appears next to a verified Twitter user, which is cool but fairly pointless for most people. But it's equally clear that there are several cases where you'd need to know more about the people you're going to connect with in the real world.
It's easy to fake one's identity online and the companies that offer these services are aware of the problem. To make sure that the people you are meeting are genuine, these companies go the extra mile to verify people's identity.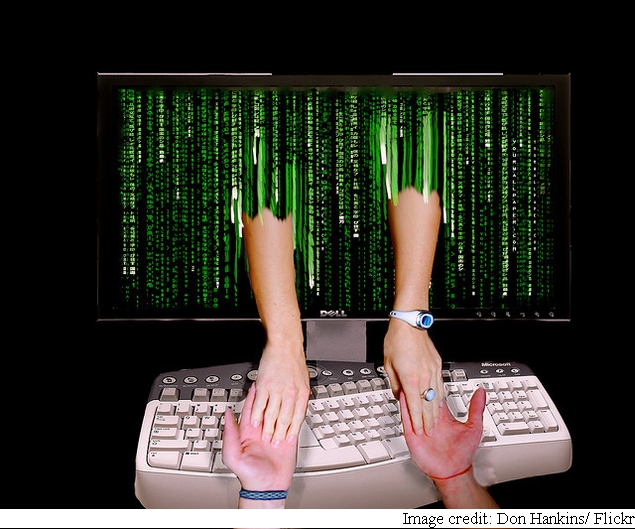 There's no doubt that verification adds a layer of authenticity to any profile - and if you know that the profile or the listing you see online is authentic, you are a lot more likely to use the service. This can happen in different ways - from manual checks by employees, to needing photo IDs submitted in order to use the service.
Of course, not all companies manually check each and every detail to verify members. Ride sharing startup Smart Mumbaikar has an automated verification process that needs you to send a mail from your official email address. This means that if you send an email from free services such as Gmail, Outlook or Yahoo, your profile won't be verified. But if you send it from your employer's domain, such as @ndtv.com, you will be able to use the service. The company relies on the fact that employers conduct background checks before hiring.
Tripda.in is another ridesharing startup that launched recently in India. Tripda is a part of Rocket Internet whose other companies in India include FabFurnish.com and Jabong.com. The company uses your Facebook profile as verification, and this means that you can look up the social references of potential travel partners before the journey. You can contact drivers, who can choose to turn you down as well, and Tripda also has a ladies-only option, for women who want to travel with other women. These are not manually verified by the company either - like Smart Mumbaikar, Tripda relies on customer feedback and ratings to verify members.
Dating website Truly Madly is a company that takes verification even more seriously. "Verification is the cornerstone of our business and one of our key promises to our members," says Truly Madly co-founder Sachin Bhatia.
The website gives each user a "trust score", which it displays alongside your profile for all potential partners to see. There are points for linking Facebook and LinkedIn profiles to your Truly Madly account, apart from submitting a proof of employment, a phone number and a photo ID. "We verify our members so they feel safe and secure on our app," says Bhatia. "If they are themselves verified it gives them the confidence that the others are all verified singles just like them." Similarly, online matrimony portals also verify profiles to weed out fake profiles - both Bharatmatrimony and Shaadi.com manually screen profiles and have profile verification services listed on their sites.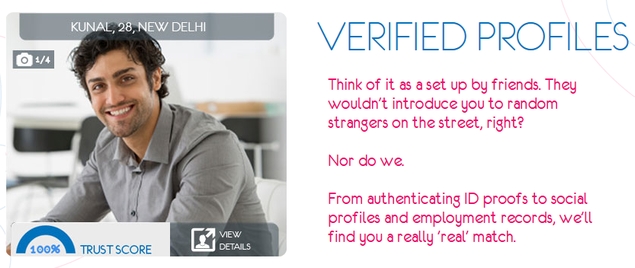 The property market is another place where verification is vital. The plush apartment that you saw online could actually be a dingy room in a shady locality that you'd rather avoid. There's also a good chance that the real estate agent you found online could be trying to scam you.
How does it work? It varies for each site, but Housing.com (which recently received an investment from SoftBank) uses internal teams for data collection and verification. The company states : "Before a flat is listed on Housing.com, we make sure to check that every little aspect of the listing is in place and there is no misrepresentation of any sort to you, our customer."
Truly Madly's Bhatia says most of its verification process is actually automated. "While people have to take a picture or scan their documents, this automatically gets verified through our back-end system," he says. "We have a process to send people home too, just like telcos do, but it is on request and not used much."
Housing.com has a three-step verification process where its employees collect information on listings, rate the quality of data gathered and give it a composite score called "Lifestyle Rating". The company states: "Housing's Lifestyle Rating is derived from scores on four different parameters: locality, society, commute and neighbourhood scores. The locality score rates flats according to the relative posh-ness of the area they are located in. The society and neighbourhood scores are used to rate flats by the facilities available within the housing society and the neighbourhood."
As we use the Internet for an ever increasing set of needs, we're going to see more scenarios like these, which more thoroughly establish our identities across the Web. Thanks to platforms like Google and Facebook, we're not even maintaining multiple identities around the Internet anymore - these are all being consolidated under one login. Along the way, we're also creating a monolithic identity which contains a lot of information - about where you shop, where you travel, where you live and even the people you date.
While this is a great idea in theory which brings a lot of trust to the Internet, seeing how companies like Uber have threatened to misuse the information available to them, and since most startups don't really take the time to formulate understandable policies on privacy and security, it's possible that we might soon be sighing nostalgically while thinking of the early days of the Internet, when we had the freedom to be recognised - or anonymous.