On Monday, popular restaurant discovery service Zomato announced the acquisition of US-based Urbanspoon, which gives Zomato its first entry into the American market. Deepinder Goyal, Zomato's founder-CEO, has long stated that the US market is not right for Zomato, so when the news of Urbanspoon acquisition first broke, we were curious to find out what had changed. NDTV Gadgets spoke to Zomato COO and Co-Founder Pankaj Chaddah.
"The opportunity came up, and it was the best way to enter the market," said Chaddah. "This wasn't something we were thinking about six months ago. We didn't plan to do this. But when the opportunity came up, we took it."
Urbanspoon was one of the apps featured in Apple's early iPhone advertising, and this helped it to grow quickly, as did its different features, but as the vertical grew more crowded, Yelp would emerge as the top name in the space. Despite this, Urbanspoon remains popular and still has many users in the United States, Canada, Ireland, the United Kingdom, Australia, and New Zealand.
In the past, Zomato has largely grown in smaller markets that don't have a lot of competition in food listings. Its past acquisitions have been brands that are relatively unknown outside their home markets, so integration was simpler. Urbanspoon and the mature markets where it's present represent a new challenge for Zomato. Was the company tempted to retain the well-known Urbanspoon brand? Perhaps, but Chaddah say that would have ultimately been unfeasible.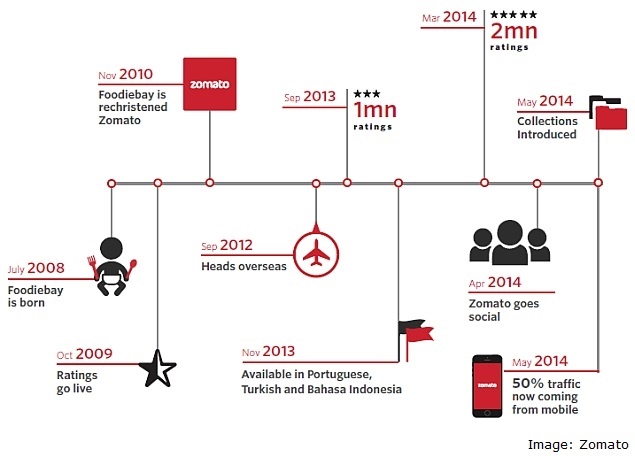 "We would have to keep two identities, two systems, two databases," he says. "It is better to work with one brand, and keep a global identity. We will migrate the product, and keep the Zomato identity."
In the last one year, Zomato has successfully acquired an integrated other popular companies in different countries, and Chaddah is confident that the company will be able to replicate the success in US and other Urbanspoon markets. In August, Zomato acquired Lunchtime and Obedovatsk in the Czech Republic and Slovakia respectively, and in July, Zomato acquired MenuMania in New Zealand. In each of these cases, Zomato integrated the companies into its own brand, much as it plans to do now.
"We have done this in the past with three products, and we think it should not be a problem here either," Chaddah says. "The important thing is communication, to tell the users everything throughout the transition. Urbanspoon is not going to disappear overnight, and we'll onboard the users carefully."
According to Chaddah, one of the reasons why Urbanspoon was so appealing to Zomato was because it brought with it a large number of regular users. Urbanspoon sees over 40 million visits per month, and has over a million registered reviewers, Zomato shared.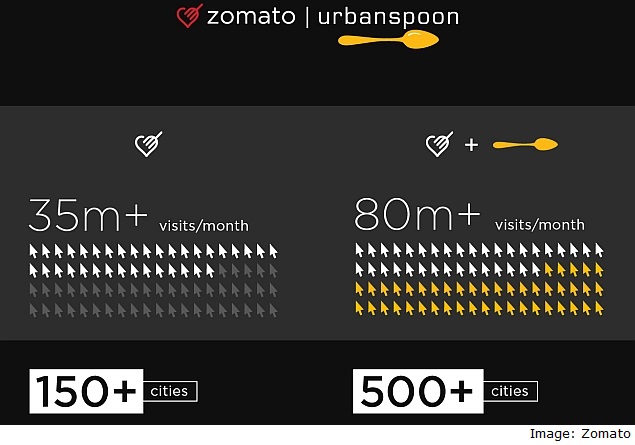 "For us, the most important thing that Urbanspoon brings is the user base," he says. "It also brings huge geographies and experience in those markets, and the Urbanspoon team will continue with us, though we'll be adding to it. They've also been doing some product stuff we haven't, and we'll marry what they do with our own stuff."
For now though, Chaddah says that it is time for Zomato to rein in and consolidate. He confirms reports that there is investor interest, and that Zomato is looking at a figure of $100 million, but Chaddah says that there has been no decision right now, no finalisation of partners.
"When it happens, it will happen very quickly, but at this point we haven't got anything to share," he says.
According to Chaddah, in the next 6-12 months, Zomato will invest heavily in the 22 markets it is already operating in.
"We are going to add more cities in the countries we're in, and consolidate the brand," he says. "We will do less geographical expansion, and more new product features."
"We announced payments in Dubai, which will come in February, and after that we'll launch the feature in New Zealand," says Chaddah. "We're waiting for the 2-factor requirement to go away, and we'll bring payments to India the next day as well."
While he continues to dismiss the notion that Zomato will enter the food delivery space, Chaddah also suggested that the company could launch a table booking feature.
"No one [in India] is doing table bookings in real time yet, so we could create the market," he says.
At the same time, one big difference between Zomato and other companies is that it gathers information manually.
Speaking to NDTV Gadgets in an earlier interview, CEO Goyal had outlined the process: "We take a map of the area, and assign people to streets. Then, employees walk down that street and visit every restaurant one by one. Each time they come back to office, they cover the street on the map with a marker pen. When the map is fully filled, we start over fresh."
Because of this, Zomato's approach to data gathering is very resource intensive, although Goyal had told us that it is also much more reliable than any other method. This - apart from the recent acquisition spree - would also explain why Zomato is looking at a large funding round so soon after it raised $60 million in November.
Whether this approach is enough to help Zomato compete with Yelp is an open question, and one that's not likely to be settled anytime soon. What's clear though is that this is a make or break moment for the company and consolidating its position in the US and other markets with a fresh round of funding sounds like a smart plan - for now.