Shopo, a marketplace for artisinal goods that has been compared to Etsy, was acquired by Snapdeal and relaunched in July 2015. The company's year-long journey has seen it grow while keeping its focus on small businesses that would not be well served on the parent platform, says Sandeep Komaravelly, Senior Vice President Snapdeal - Shopo. What's interesting is that Komaravelly believes that much of the growth the platform has seen in this time has been driven by design, as it has not been strongly marketed as yet. To showcase the point, Komaravelly gave Gadgets 360 a behind-the-scenes peek showing exactly how the design has evolved since July, and why.
We've talked a lot in the past about how Indian startups are turning to design to act as a differentiator in a crowded market. Improved data connections, and better displays on smartphones mean that companies are now turning to glossy magazines for inspiration and moving away from the tired designs that were so commonplace even five years ago.
Good design doesn't just mean appealing aesthetics, though the look is of course important. Design is tied to the overall user experience, the flow through your website or app, and design can determine how usable your product is for the customers.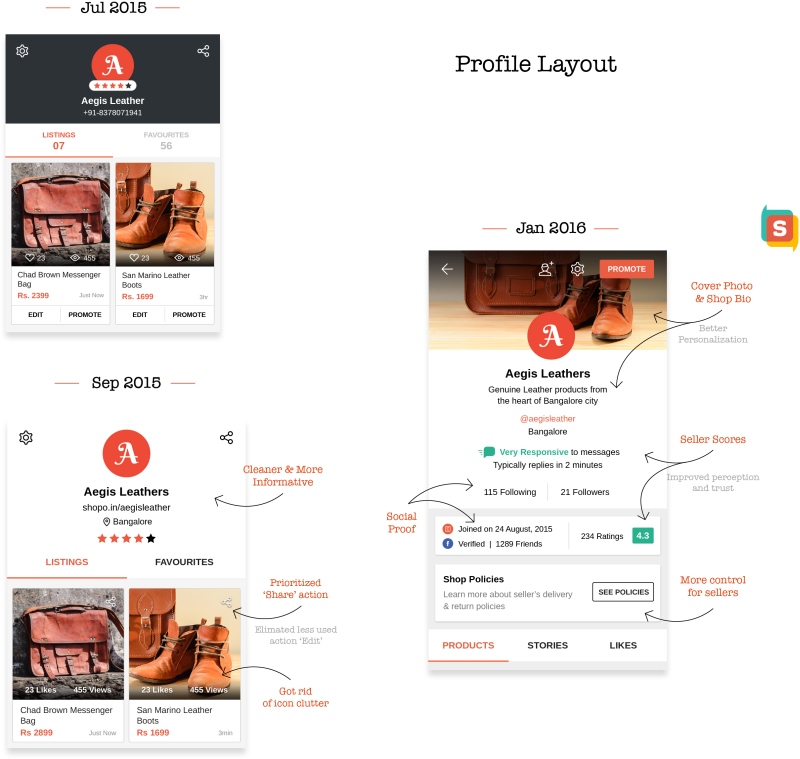 In the case of Shopo, which is a zero-commission marketplace, Komaravelly says that the most important thing that the company could do was to regularly keep tweaking the design, and seeing what changes stuck.
"The way we iterated ws very important, and there is one release of our app each month to keep testing," said Komaravelly. "This way, we keep testing different parts of the app even though the core of the app remains the same. You can set up your shop in minutes, and it's very user friendly, you just need to take a photo, enter a description, and you're ready to sell to another customer."
A customer-to-customer marketplace, the experience sounds a little bit like being a seller on OLX or Quikr, but Komaravelly is quick to disagree.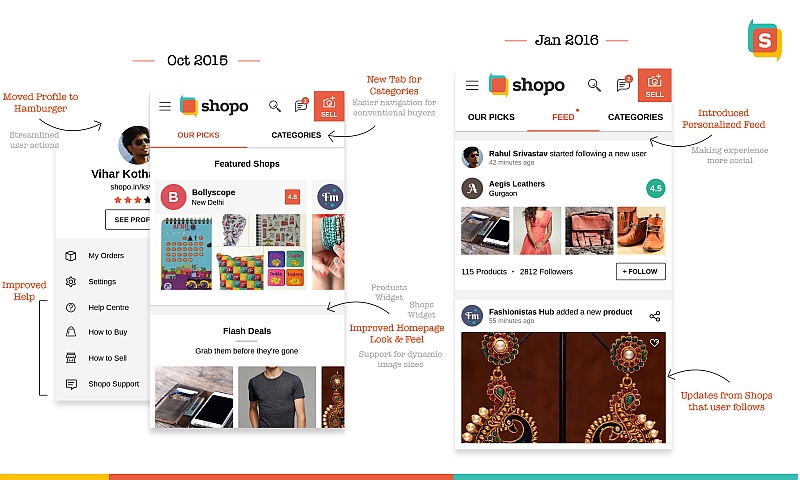 (Also see: The 10 Weirdest Things You Can Buy Off OLX and Quikr)
"We aren't a product driven marketplace, instead, it's about empowering you to create your own shop as a seller, and to have a much more personalised experience as a buyer," said Komaravelly.
The key for Shopo, he said, has been listening to user (both buyer and seller) feedback. "Sellers and users both had their own feedback loops, and we learned from them to make the process easier, and faster," said Komaravelly. "We haven't spent any time educating people, teaching them how to use the platform, and we've made changes where people have had stumbling points to make things easier to use."
One such change was to the chat interface, which Komaravelly calls the heart of the platform. Unlike Snapdeal, where the sellers are large, organised companies, Shopo is designed for small sellers, such as a person making jewellery at home. For such a seller, the total number of items and transactions each month will be low, but they need to chat with the buyer, talk about customisations, even bargain about prices, before making a sale.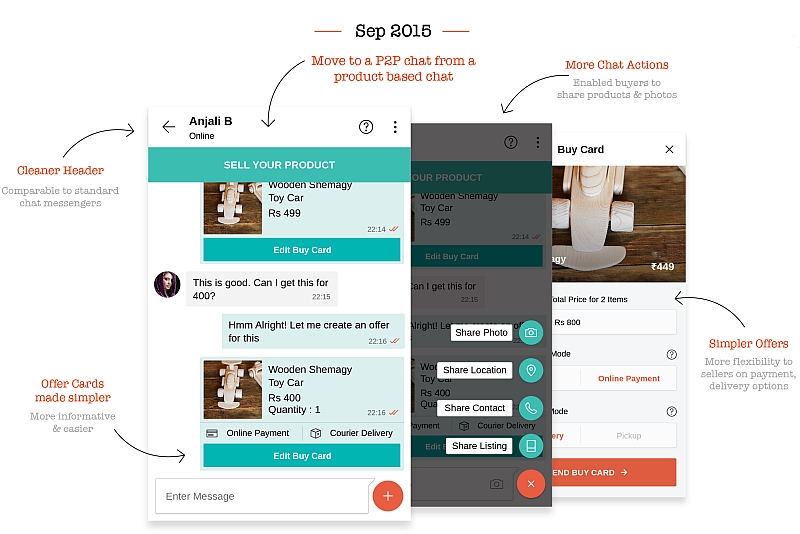 All of this is handled through a chat platform that resembles WhatsApp, with 'cards' for offers. "Chat was earlier on the product level, so if you liked a product from a seller, you could chat about it, make an offer, discuss the sale with the seller," Komaravelly explained. "We changed this to a P2P (peer to peer, i.e. open conversation between the seller and the buyer) because the feedback we got was that you can start off by talking about one product, and then move to a different one, or add multiple payments."
"The result was a lot more like WhatsApp, because we thought, nobody needs to be taught how WhatsApp works, everybody can use it easily," he added. "At the same time, offer cards got more functionality, and lots of chat actions were also added between iterations, whle offers were simplified. This was the core design of the app, and it's something that evolved through user feedback, and lots of iteration to get things just right."