India is generally a very unwelcoming place for unmarried couples looking for some privacy. Most hotels will turn you away, without asking any questions. So it's a pleasant surprise when you see someone taking a different approach.
"Couples need a Room, not a Judgement," reads the tagline on the homepage of StayUncle, a Delhi-based startup that's challenging the country's conservative attitude towards pre-marital sex.
Founded in 2014 by Blaze Arizanov, Nandi Kumar Singh, and Sanchit Sethi, the Delhi-based startup began as a general travel booking platform, but then rebranded itself with a business case around unmarried couples in September 2015. Presently it lists couple-friendly hotels in Delhi NCR and Mumbai.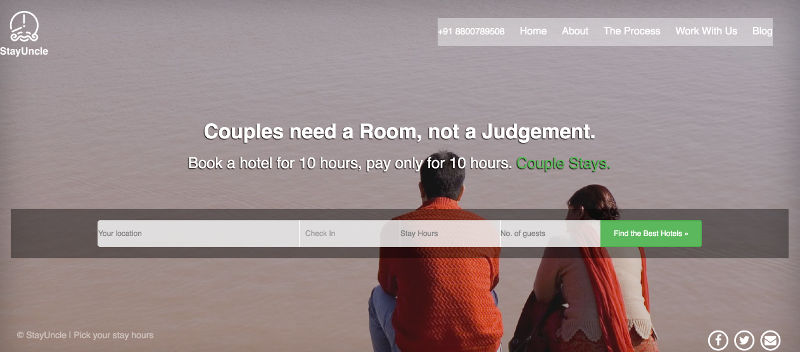 Hotels are known to turn away unmarried couples - according to online travel aggregator Cleartrip's FAQs, accommodation can be denied if the guest is from the same city, or if the couple is unable to provide suitable ID proof. A Reddit thread on the subject reveals how couples must come with a suitcase and carry outstation ID. This may not apply to all hotels, especially in the 4-and 5-star class, but it's an ugly situation any couple would rather avoid.
"We were a young but unmarried couple. They didn't allow us to stay together. And forced us to check out. I don't know why. We travel throughout the country. Never happened earlier with us. Pathetic. Like we are in Mughal Era," reads an online review of an Oyo Room situated in Jalandar.
"There is no law that prevents couples with local ID proof to book a hotel just like any other guest type. Let us repeat that again - There is no law that prevents couples in India from booking an overnight hotel stay," StayUncle's FAQs reads.
"In the next couple of months, our next plans for expansion include Chennai, Kolkata, and Bengaluru. We plan to go to every Tier 1 city," says Arizanov in a phone conversation with Gadgets 360. "People have sent in enquiries from 30 cities in a day, asking if such a service is available in their city. We've had to say no, sorry, we're not there yet, to them. It's a bad feeling, but we've had to go through it, and apologise," he says.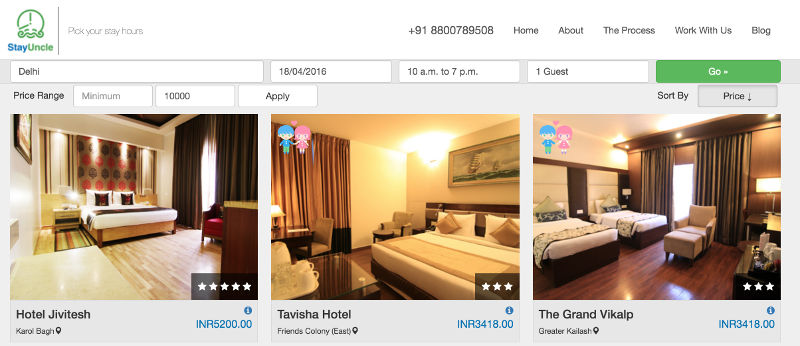 The StayUncle platform lets users book rooms in the hotels that it's partnered with, and you don't need to book for an entire day either - it offers two time slots you can book for, between 10AM and 7PM, or between 9PM and 8AM. Hotels listed on StayUncle are upscale high class hotels ranging between 3-5 star, "handpicked and rigorously checked in terms of security and hospitality," the FAQ reads.
A page explains how they choose the hotels, which include a 50 point checklist and a visit to the hotel. The bootstrapped startup currently supports bookings online and via WhatsApp. On the website, searches for hotels that are couple friendly are denoted with a graphic, and lists amenities and package inclusions, such as breakfast, car parking, Wi-Fi, and air conditioning.
An app launch is on the cards, given a long enough timeline. "We're lacking in technical resources as well, an investment would boost the operations and technology quickly, otherwise, it will take its own pace. The community will help us out in their own way. It's for the people, most of all," Arizanov adds.
Affiliate links may be automatically generated - see our ethics statement for details.