Tech startups seem to have have disintermediated almost every aspect of trade and commerce, including the end of the product's lifecycle. While waste recycling doesn't see as much venture capital thrown at it as say e-commerce, there are some notable companies in this space which have raised funding. For instance, there is Noida-based Attero Recycling, which mines precious metals from e-waste that raised Rs. 100 crore in 2014. Another firm is Karma Recycling, which raised an undisclosed sum during its Series A in July this year. The company buys old gadgets from Tier 1 cities and resells them in India's smaller cities. On its website, it boasts a total payout of 15 crores to its customers.
Waste recycling is a challenge that every Indian city and town has to contend with. Bengaluru-based IT firm Mindtree, through its community initiatives has tried to reduce the quantum of garbage sent to the landfill. Today, we are seeing a few more players enter this space, and hopefully, bring change to our cities.
(Also read: Got Garbage? This Website is Happy to Help)
Two startups that launched operations this year are now applying an app-based, profit-driven model to the waste problem. Pom Pom helps users recycle waste scrap materials like glass, plastic, cardboard, and waste paper. It started its operations in the South Delhi area a month ago. Pom Pom has apps for iOS and Android that you use to schedule pickups, although bookings can also be made using a phone, or through the company website.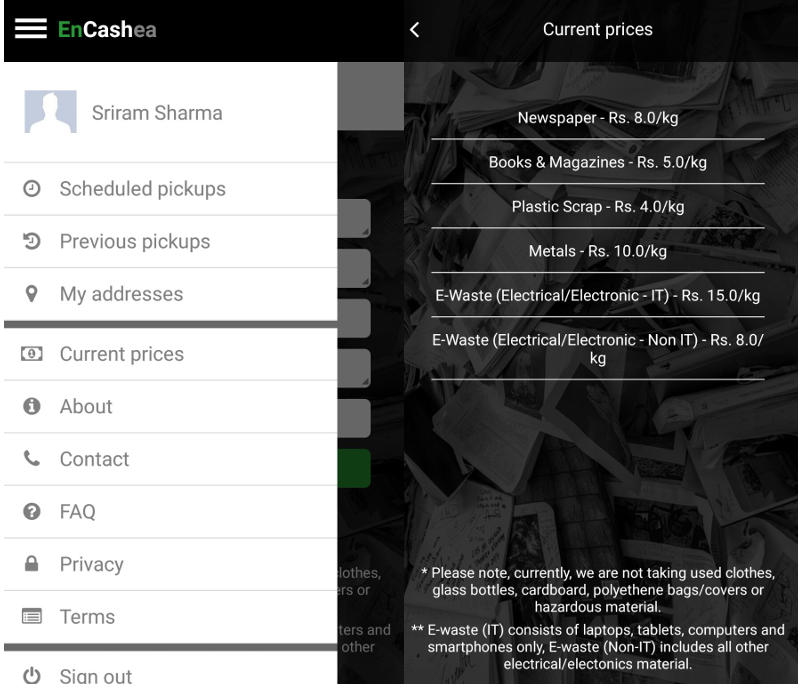 Bengaluru-based Encashea, founded in August this year, also collects scrap waste for cash in select areas of the city, and lists prices for scrap on its website. Encashea has an Android app on Google Play. Gadgets 360 spoke the founders of these startups to figure out how they plan to be sustainable, and even profitable.
"We were into waste management for quite some time. We have been in this sector, and understand where the problems are coming from," says Deepak Sethi, CEO and Co-founder of Pom Pom, while explaining why segregation had failed at the municipal level. "Segregation, recycling, can be done. But at the end of the day, it gets mixed up again, so there's no value to it." Because of this, he says it's better if people give the recyclables to Pom Pom. "We can pay them for it, and give them a professional service. Maybe that will change the mindset," he says.
The founders have more than seven years of experience in recycling waste from the Delhi Airport, Sethi says, with a revenue model purely based on recyclables that are collected from the airport, then segregated and sold. "That's where the confidence came from. We know the value it has, instead of letting it go away as a waste," adds Sethi.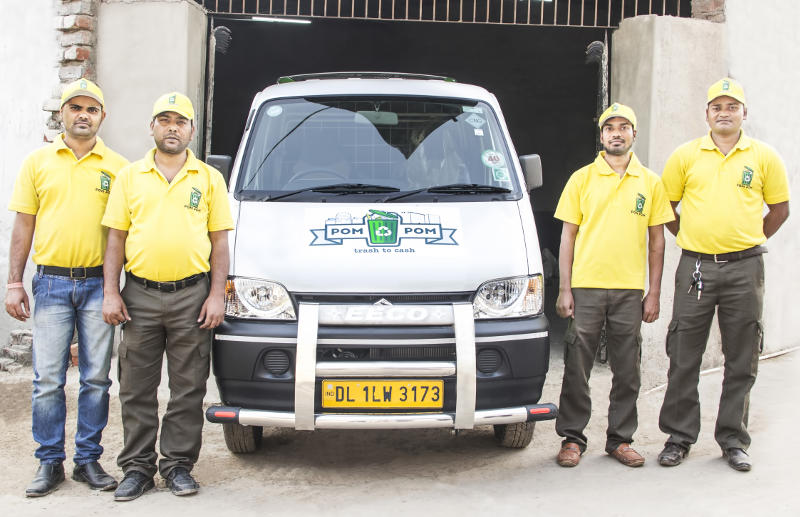 Pom Pom is currently being self-funded, and plans to scale up to entire Delhi and NCR region in the future. The startup chose to focus on a specific area within the city, rather than cast a wide net, as there are a lot of logistical issues when it comes to collection of recyclables. The company has 26 employees and 12 vehicles on the operations side, and another 12 people at the office. The app and branding was outsourced, Sethi says.
Encashea has received an angel funding round so far, says co-founder Harshal Chaudhari, in a phone conversation with Gadgets 360. The Encashea team is currently ten people strong.
"We are basically three founders, other than that we have two people who are working on the IT stack. We have a warehouse manager, two pickup boys, and four helpers," says Chaudhari. "The idea is to expand the operations and scale it up. We're getting a lot of orders from big businesses and industries as well. We are currently developing the expertise to fulfil those orders."
Chaudhari says he developed expertise in the scrap supply chain while working at a manufacturing startup that used to generate a lot of scrap after the machining process. One of his job responsibilities involved searching for people who would buy the scrap, bargaining with them, and having the scrap picked up. The experience gave him some idea of how the business works, he says. "I researched how the scrap market works, who are the vendors, and how many of them exist in the supply chain, which has so many middle-men," he adds.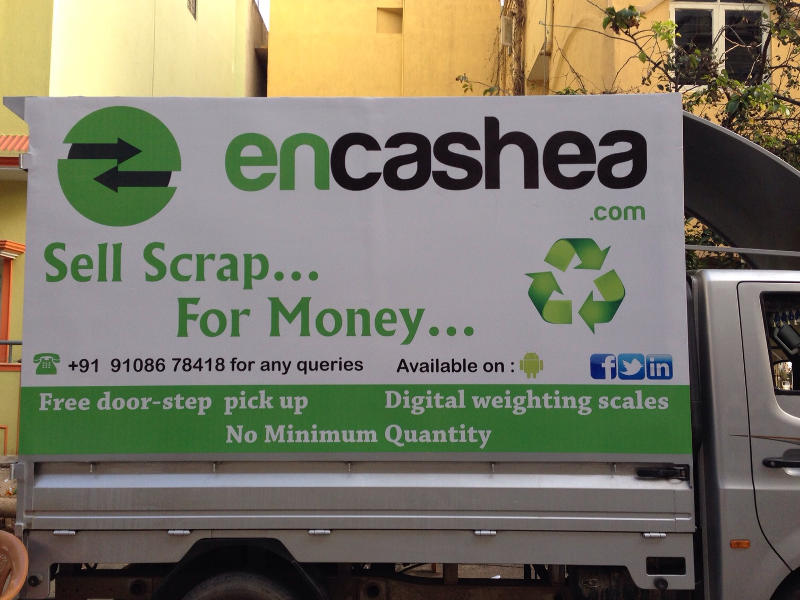 Encashea has tie-ups with at least two recycling vendors in every category of materials, claims Chaudhari, and these vendors pick up the scrap from Encashea's warehouse. "Till now we have completed 500 orders, and moved about 10 tons of scrap items," he says. "We have our own logistics, as well as warehousing. To take the things from our customers, we take bookings from the Android app as well as the website. We basically build a bulk quantity and then sell it to the recycling vendors."
Chaudhari says that the company had seen around 40-50 percent margin on every order, with an average payout of 200 rupees to every customer. To improve the unit economics, Encashea operates as a pre-book service, instead of an on-demand service.
"That gives us an advantage in terms of managing the logistics. For example, in every area, the way we work is that we have a web backend where we have the areas defined," he explains. "When you choose the location and go for the slot booking, the website automatically shows the next available date and slot in your area. We basically go for concentrated orders in a small area, and that decreases the logistics cost."
Right now, Encashea only works in certain neighbourhoods centred around East Bengaluru, areas like Marathahalli, WhiteField, Bellandur, Outer Ring Road, and CV Raman Nagar.
"We are focused on keeping it as simple as possible," says Chaudhari. "In our next app version, we are looking to simplify it even further, so that the app can automatically determine the location, and enable bookings within two taps, letting the user can schedule a date and time."
It seems like both these startups aren't worried about competition, or someone stealing their business model. "In the waste sector, you need to have knowledge about recyclables, you need to know the buyers and sellers, it takes a lot of expertise. That's why people have not made a big attempt on it," says Pom Pom's Sethi.