The Internet is a strange place - we've all come to accept this fact even though we don't always realise exactly how weird the online world really is. But one of the strangest corners of the Web is the listings site Craigslist, where you can find people who have Pope Hats to sell, and someone who will pay for you to soak in pasta.
OLX and Quikr are battling out to be India's answer to Craigslist, and so we wondered how weird these sites get. Pretty weird, it turns out, and here are just 10 of the strange things we saw being sold online:
1. A film screenplay
Asking for merely four lakhs, the seller of this script is based in Mumbai - where else - and at 125 pages, you are paying Rs. 3,200 per page for the work of someone who hasn't bothered to proofread his own ad. We'd say proceed at your own risk, but honestly, if you're thinking of buying this, we'd like to meet you first.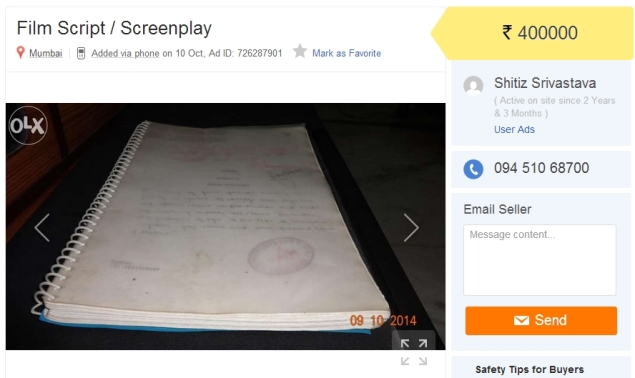 Best line of the ad: "Best Screenplay to but if you are eyeing film festivals."
2. Driver, with auto
We're pretty sure that it's illegal to buy and sell people in India - even online. This enterprising young man in Buxar in Bihar seems to be looking for a patron to fund his transportation business, because you can buy his auto, with driver, for Rs. 1,80,000.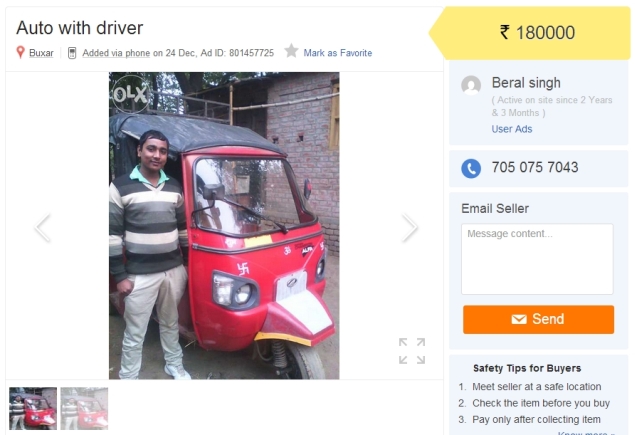 Best line of the ad: "Tampooo.driver.condetion good"
3. Cow, with son
Livestock is a surprisingly popular category on OLX - the ads that focus on selling off old phones and furniture might be missing an opportunity here. You can get cows for a range of seemingly affordable prices and there are a lot to choose from - even if you limit the ads to ones with pictures, you're still left with over 500. This one is our favourite though, because it shows a seller who doesn't want to split a family apart, though he seems a little confused about the gender of his stock. How was he getting that milk?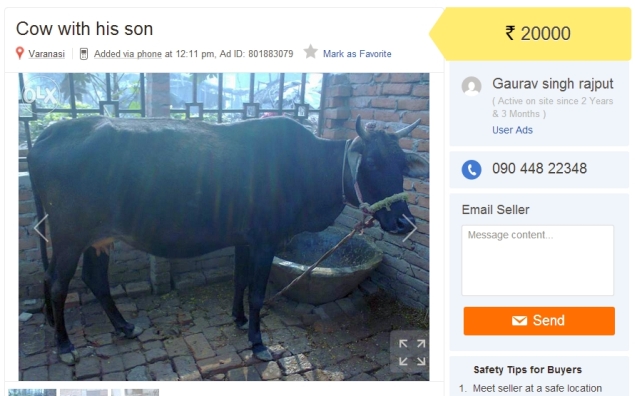 Best line of the ad: "Cow with his son."
4. Paan stall
There's a certain degree of focussed literal-thinking in classifying a paan pushcart as a commercial vehicle. Personally, if you're looking for an interesting piece of furniture that gives your home a unique and quirky look, this could actually be a good buy. That Rs. 35,000 price tag is a little hopeful though - maybe the seller shouldn't have included a picture.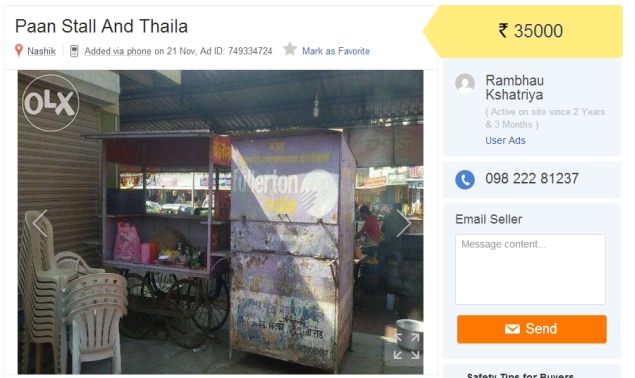 Best line of the ad: Take your pick from"Argent for sell."/ "I do not wish to be contacted by telemarketers."
5. Stud (labrador)
Have you heard of Dogs House Windstar Ring Killer? That is apparently the (very long) name of a "famous and good producer dog" in Nashik, and if you have Rs. 8,000 to spare, his owners will mate him with your female lab - if they pass an approval process, during which we can only imagine Dogs House Windstar Ring Killer handing them forms to be filled in triplicate, with letters of reference and a government photo ID.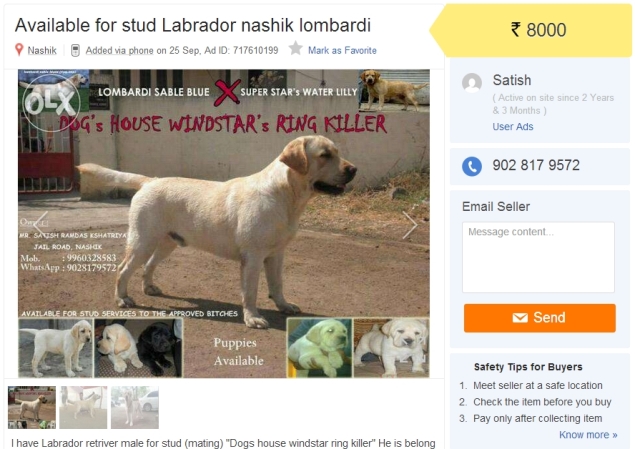 Best line of the ad: "We accept cash basis OR puppy basis."
6. Repairer
Looking for a power steering rack and pump repairer? If you're in Pune, you can contact this advertiser, but it might cost you Rs. 5,000 - the ad is a little tough to decipher. Essentially though, it looks like this spare parts/ accessories ad is actually an ad for the mechanics. Who do some very specific work.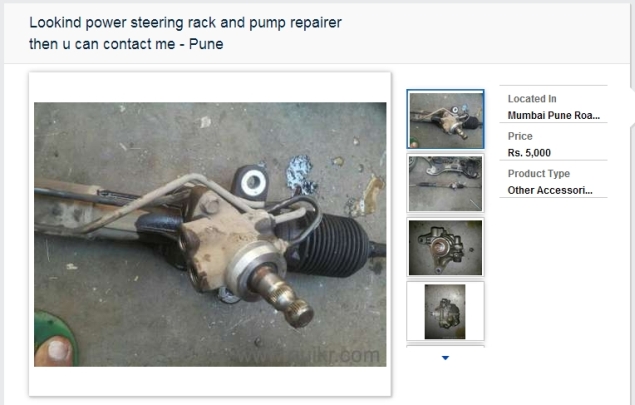 Best line of the ad: "We also repair electronic power steering of Honda city swift sx4."
7. Money for nothing
We're not surprised to see this listing come in from Delhi. Apparently, you can spend Rs. 2,000 to earn Rs. 20, because the notes have "lucky" serial numbers. We suppose owning those notes could be considered lucky - because if someone actually buys them then the person who had them just made an easy Rs. 1,980 profit.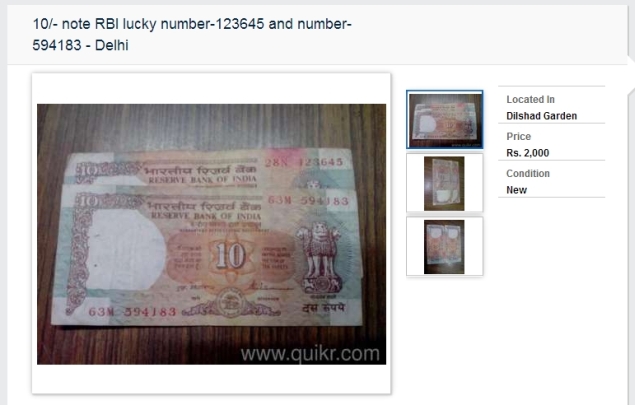 Best line of the ad: "Lucky number 594183"
8. Oh shi*
A seller in Jalandhar has a serious misunderstanding of the meaning of the word "pet" - if you're browsing in that category you can find this ad for "pathian" or dung cakes, at a pretty high price for something that essentially comes for free.
Best line of the ad: "1000 pieces please contact as soon."
9. Voodoo spells
This seller has a voodoo spell available in Mumbai that can bind more than one person together - a love spell to ensure that the people you care about stay together forever. Which would be very awkward when it's time to go to the bathroom but we won't judge.
Unfortunately, the seller hasn't put a price on love and so we can't tell you what this will cost you, but there's a "professor" in the contact email ID, which has to be reassuring, right?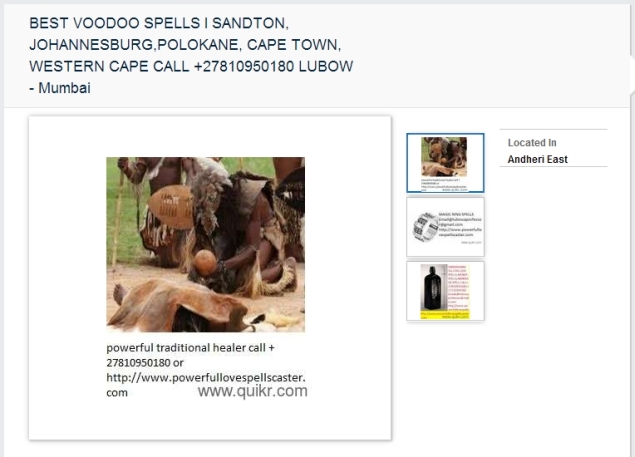 Best line of the ad: "Binding people together is the major task which can be done well with voodoo magic because it has been like this since slave trade error."
10. Aadhar cards
Aadhar cards apparently turn up missing lot, and the lost and found community on Quikr seems like a good place to try and find them. Of course, if you've know the card number, you could just follow these steps to print a new one but otherwise, it might be a good idea to check sites like Olx and Quikr for your card, we suppose.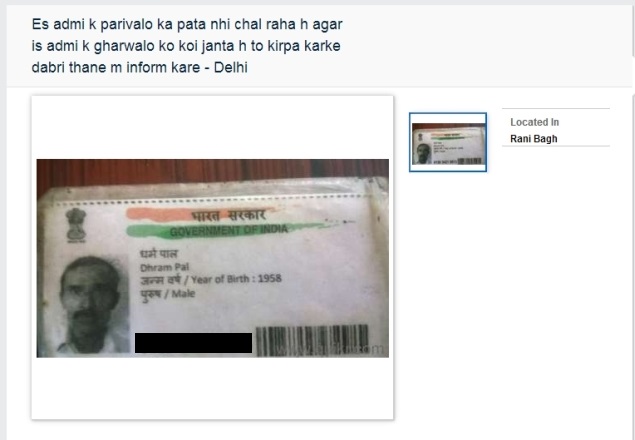 Best line of the ad: "karke dabri thane m inform kare."
These are just some of the many absurd and wonderful things we were able to find online on the two listings sites, and there's really much more available if you have the time to sort through it all. Most of the products you'll find on the site are actually quite predictable and reasonable - but every so often you come across these gems that make it so much fun to just browse. What are the weirdest things you've ever seen on an e-commerce site? Tell us via the comments.