If you're looking to promote a startup or an event - say a hackathon, or a college reunion or a fund-raiser - you probably need to create your own merchandise as giveaway. Research by startup data tracker Tracxn pointed us over to over 50 companies in India that operate in this space online. These sites deliver customised apparel like hoodies, t-shirts, caps, and other memorabilia, like pens, coffee mugs, and stickers.
Myntra, which grew to become one of the biggest online retail companies in India, also got its start with customised products. International destinations in this space include names like Spreadshirt, Stickermule, Cafepress - but their operations are restricted to select markets.
Our roundup of Indian companies operating in this space covers startups that have seen venture funding. Their business models vary; some let you make your own bespoke creations, letting you upload your own graphic or photo, and customise the design using a web-editing tool. Others function as a marketplace for artists, designers, and creators to sell their work.
1) InkMonk
Chennai-based Inkmonk is an online marketplace for businesses to meet their printing needs. The startup delivers customisable apparel, cards, awards and certificates, stickers, posters, mugs, and office stationery. Through Inkmonk's website, users can upload their requirements, and get quotes from suppliers. Inkmonk recommends images be uploaded in the CMYK format at 300 DPI, in psd, ai, pdf, and jpg formats.
We tried out the t-shirt printing tool, which provides a choice of screen and digital prints on five base colours in cotton. Both the front or back can be customised, in print customisable from pocket size to A3. For V-neck shirts, prices range from Rs. 212 to Rs. 368 per t-shirt, depending on whether you want a single or double-sided print, with a minimum order of 20 t-shirts. Shipping costs came to Rs. 450, and you can also ask for a sample from a vendor before finalising your order.
Website: www.inkmonk.com
2) Alma Mater Store
Bengaluru-based Alma Mater is a customised merchandise store that caters primarily to alumni networks and corporate groups. The website claims to ave over 3,500 clients, and has an online design tool called Play, where you can design your own t-shirt, mug, keychain, or phone case and get it delivered in less than 12 days.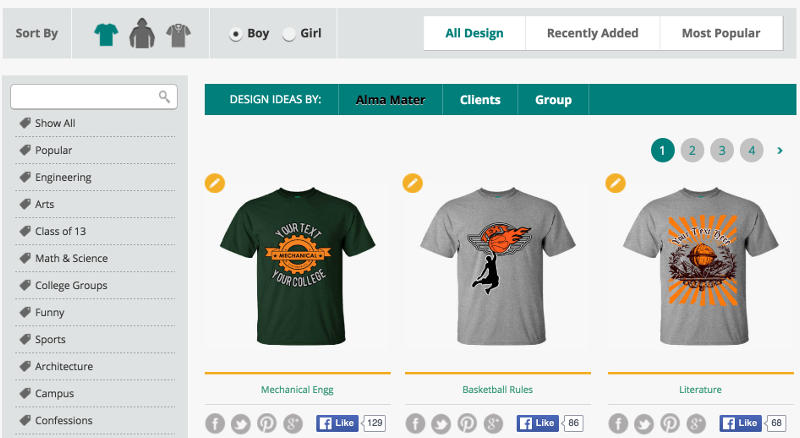 The t-shirt creation tool is quite detailed, providing a choice of 12 colours, letting you add graphics and text on the front and back, and you can save and share your design ideas on social media. The cost of a t-shirt depends on the quantities ordered - a single t-shirt cost Rs. 699, while the cost per unit went down to Rs. 499 for five or more pieces, and Rs. 364 per unit for orders above 10 pieces. The cost of a customised coffee mug was Rs. 249, and a keychain was Rs. 149.
Website: www.almamaterstore.in
3) Gingercrush
Vadodara-based Gingercrush says it officially licenses intellectual property from Disney, Mattel, and Viacom18, and offers customised prints for t-shirts, mugs, and other merchandise. It also offers on-demand printing of t-shirts, in a choice of 3 colours, starting at Rs. 399. Gingercrush has a basic design tool for customising your merchandise, the upload tool recommends that images be uploaded at 300 DPI resolution, and that users confirm the ownership of a photograph, logo, or saying.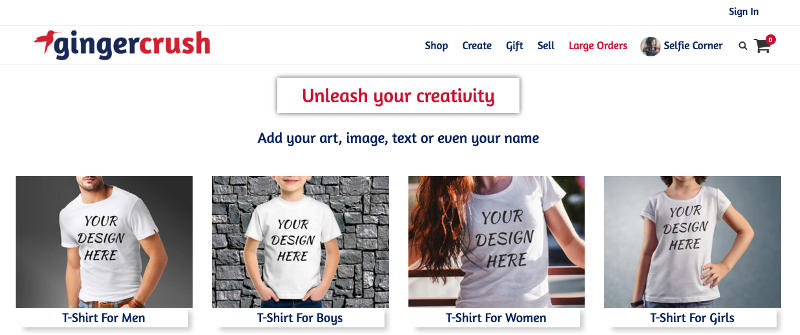 The website also offers customised merchandise like coffee mugs, coasters, mouse pads, mobile and tablet covers, beer mugs, bottle openers, tote bags and photo frames.
Website: www.gingercrush.com
4) Printland
Printland provides personalised printing solutions for clothing, tech accessories, home decor, stationery, and bags, and has an extensive section that caters to pretty much every business printing need. Its online t-shirt printing tool lets users design a custom t-shirt by uploading the graphics and text, and the t-shirt is delivered in 7-10 working days from date of order.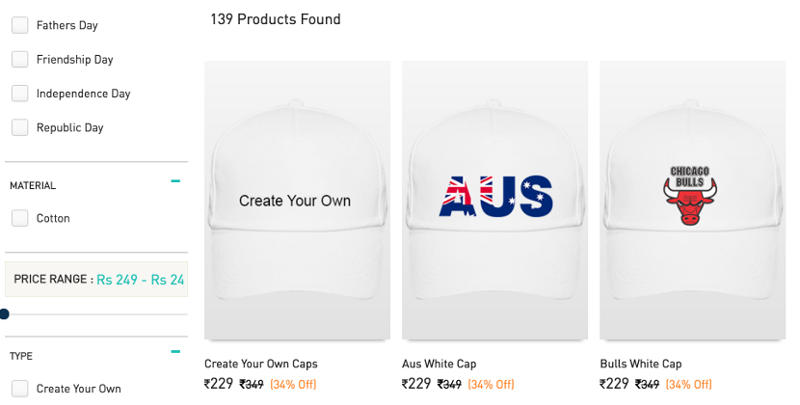 The price for a single-sided print on a crew neck white t-shirt from Dri-Fit fabric (the kind that athletes gear is made from) was priced at Rs. 249, two-sided printing costs Rs. 299. There are a wide range of t-shirt styles and materials that one can choose from, the website is offering discounts of up to 43 percent on some of its inventory.
Website: www.printland.in
5) PrintVenue
PrintVenue caters to business and casual buyers through its portal, where one can customise office stationery and marketing materials, clothing, mobile and computer accessories and home decor. The cost of a round neck dry-fit t-shirt with an A4 paper sized design costs Rs. 499 for a single print, and Rs. 475 for ten prints. The t-shirt personalisation tool recommends that images be of 300 DPI resolution, in RGB colour mode.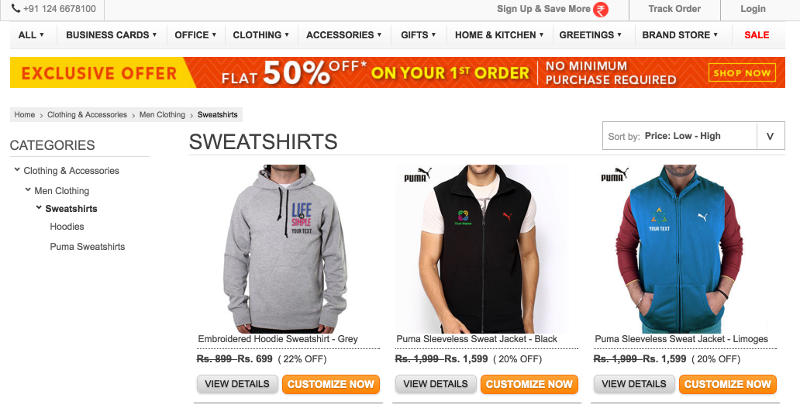 PrintVenue also offers customised prints for polo, round neck, and formal shirts. Orders take around 5-7 days to get delivered the FAQ says, with shipping charges starting at Rs. 50, and going up to Rs. 250, depending on weight. Payment options include cash on delivery, but that isn't available for all postal codes, and requires a minimum order value of Rs. 500.
Website: www.printvenue.com
6) Freshmonk
Freshmonk operates as a marketplace where creators can earn revenue for their prints and designs without investing in inventory. Their t-shirt printing tool lets you add upto ten clothing styles or colours in a campaign. You can set the selling price for your t-shirts at as low as Rs. 300, which will give you a profit of one rupee per t-shirt. At Rs. 600, the profits per t-shirt come to Rs. 10; or Rs. 550 on every 50 units sold. On launching a campaign, you get your own page on Freshmonk (e.g. www.freshmonk.com/yournamehere) - there is no charge to launch a campaign so you don't have to commit any money, just your designs.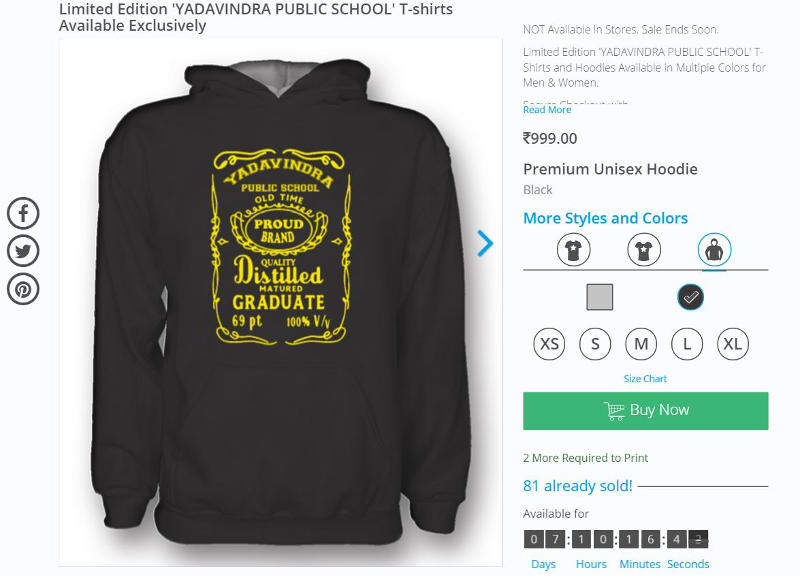 Campaign times range from one day to 15 days. Orders are dispatched within 10 - 14 days from the end of campaign, and profits are sent to your bank account once your campaign has ended successfully and 7 days after the t-shirts have been delivered. According to the Freshmonk website, profits can also be directly remitted to an organisation if the t-shirt is for a fund-raiser.
Website: www.freshmonk.com
Others
Hyderabad-based My Dream Store also functions as a marketplace for crowdfunded apparel, with zero upfront costs to the creator. Pune-based iCustomMadeIt.com can get your t-shirts printed, it also serves as a platform where you can get bids from vetted creators, who offer personalised items like jewellery, handcrafted watches, and customised bikes. It also has a novel 3D printing section where you can print a full body or bust sculpture by uploading the 3D object or six photographs. Engrave leans towards the arts and crafts crowd, with sections for engraved and canvas printed products, ceramics, and pottery.