Indian e-commerce firms have been adopting mobile as a platform very quickly, and more and more people are talking about going mobile-only, beyond just mobile first. Myntra has already taken this step and Flipkart is believed to be doing this too. Ola cabs also followed suit, but not everyone is ready to take this step.
Recently, local services startup LocalOye said it is abandoning the apps only approach, and Cleartrip famously made a long blog post about why it will support mobiles. Snapdeal, which has recently hired Anand Chandrasekaran as its Chief Product Officer, is not likely to go down that path either, he told NDTV Gadgets. In part one of our interview, Chandrasekaran, who joined Snapdeal from Airtel, where he worked on Wynk and Airtel Money, talked about the changes that are taking place in the company, and how it is building a flotilla of apps, a "string of pearls", to address all the different ways in which people want to shop. This thinking expands to why the company isn't looking at going app-only, for now, because Chandrasekaran points out that a one-size-fits-all model does not cover all the needs of customers in India.
At the same time, Chandrasekaran admits that over 75 percent of Snapdeal's traffic comes from mobile, and Freecharge gets over 86 percent its transaction volume from mobile.
"I don't think there's any denying that the revolution in India around the Internet and data adoption is happening through mobile." he said. Chandrasekaran sees e-commerce services like Snapdeal as a catalyst to people coming online for the first time, "with incredibly functional handheld computers".

Smartphones let developers access more user information, letting companies embed features that add both business and user value. Snapdeal was one of the first to release one of these 'shake to get offers' as a feature, he said.
"This device," said Chandrasekaran, referring to his smartphone, "this very smart computer, is able to do a log of things that a human body can - it can see, it has a camera, it can hear, it can sense speed and movement, heartbeat rates, presence of people, location, and more. So I think there's a huge amount of abilities that are offered to app developers as a result. There's no denying that this is obviously a good thing. At the same time, we're also realising that this is not everybody."
Snapdeal recently had an-all hands meeting inside the company, where employees were asked if they thought it would be a great idea if Snapdeal became app only. "Literally not even one person lifted their hand," said Chandrasekaran.
"Look, I think these decisions, you've gotta sometimes make in the world where your users live," he added. "It can't be a decision that you make where a bunch of people got together and talked about it and thought its a good idea. I think there is overwhelming evidence that apps are a more engaged platform. We experience the same things that our other industry colleagues experience, which is - apps tend to be more engaged, what they can do in terms of APIs that are available. Google and Apple have done a fantastic job of seeding all these ecosystems well. But that said, the Web is very much alive. It's not like the Web is suddenly dead."
"One of the biggest areas that Google has invested in the last 5-7 years is Google Chrome," Chandrasekaran explains in a bid to make his point. "Chrome actually was not a major platform five years ago - so it's not like the Web is dead. While all these platforms have their advantages and disadvantages, we have to be where our users are today. We cannot make a decision and say that we won't be where our users are. We feel like we will absolutely do innovations that will take our users forward - but we'll also meet the users where they are today. E-commerce has become such a ubiquitous use-case these days that they can't be just in one platform."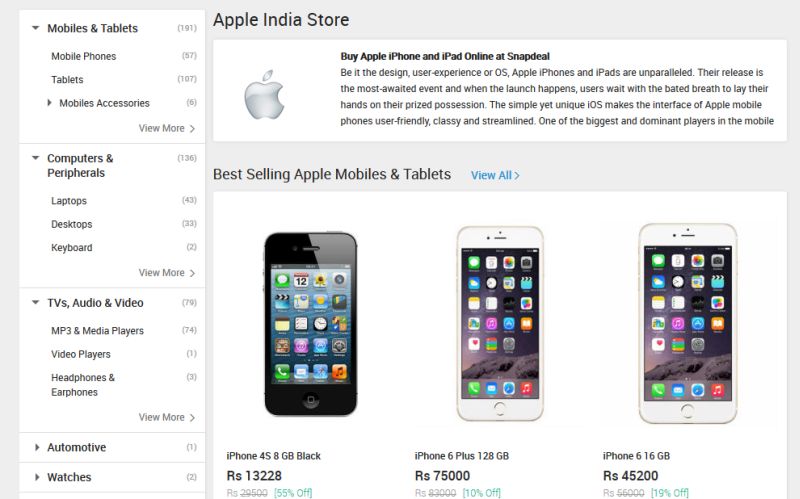 Snapdeal's brand store experiences - sort of mini stores within the portal - include tech companies like Microsoft and Xiaomi, while Chandrasekaran claims that the company is the largest channel in India for Apple, including online as well as offline. Top brand stores end up being responsible for all the volume, even the traffic, he said.
"The brand store partners like the fact that we've horizontally solved a lot of the problems that they would otherwise vertically have to solve," he said. "Whether it is getting traffic, or getting discovered, placing it in the right category, responding to intent."
Speaking on the company's vision to host a million sellers this year, he said that they are not going to be a homogenous group. "If you look at a million digital e-commerce entrepreneurs that are going to set up in this country, there's going to be some person in Surat selling sarees, someone selling cup cakes, and then there's going to be Xiaomi and Micromax, with everyone between," he said.
Snapdeal has pioneered in categories that one wouldn't traditionally associate with online e-commerce. Chandrasekaran mentioned how Snapdeal sells a bike every ten seconds or so, and how a property developer closed a six crore penthouse on the portal.
"I think the broader point is that their needs are not homogenous," he explained. "All of them are finding a fantastic home in a platform like Snapdeal. If you abstract it at one more level, that's why us solving all these computer science problems is so critical. You can't just have this static configuration, one-size-fits-all strategy."