In our Kickstarter of the Week series we try and highlight the most promising and coolest new projects that are available for funding, but it can sometimes be a challenge to find something good, given how many truly awful Kickstarters are being posted every day.
And then something like the potato salad Kickstarter happens. That particular Kickstarter project has now raised over $50,000, and there are still a few days left before it closes. Since people can back out at any point until the funding is closed, it's possible that on the last day that number will drop precipitously. Or just maybe, enough people will still think this is funny, and we'll actually see this project end with a potato salad party.
While the potato salad Kickstarter had an element of originality and humour going for it, not every crazy project gets funded. Here are some of the strangest things we have seen on the site, that were launched in the post-potato salad world.
1. Shrimps and Grits
A wave of food based projects cropped up, such as this one. The project creator wants to raise $100 to cook shrimps, with grits. It's an unusual combination, and who wouldn't want to try a helping? Well, if you pledge $100, then you will get two servings shipped, and the recipe can be yours for the low price of just $25.
2. My Ultimate Burger
This London-based project has a higher goal in mind - it wants to raise GBP 500 to make the ultimate burger. Each pledge of GBP 100 will get the backer one Ultimate Burger and if you pledge GBP 500, then you get five burgers, and a recipe for bacon jam! A word of warning though - the Risks and Challenges section points out that "It might not taste that good. It's my first burger."
3. I Want to Make Tacos!!
Here's a Kickstarter project with a humbler goal - $40. The description is moving - "My neighbor is always talking about how he can make amazing tacos. Just want to show him who is boss." In case that doesn't have you reaching for your wallet yet, then you should know that the funding starts at the $25 tier, and the reward is... "not sure on [sic] what but will be something sweet". Who could say no?
4. Pico De Salsa?
Even more reasonable is 'Pico De Salsa?' which has an $8 funding goal. At the minimum pledge of $1, you get to know about what's being made, and for $5 you can have a hand in choosing the ingredients. For $10 you can even see people tasting the salsa.
Not surprisingly, none of these projects have been able to raise money as yet. The original joke is already playing thin, and if you feel that sharing a recipe is worth a huge donation... then it's worth pointing out that many hugely popular cookbooks are available for less than $10 on Amazon.
Then there are the projects that are more... tangentially inspired. These are a fresh spin on the idea at least, and they've even been able to raise some money:
5. Flappy Potato Salad
Combining two of the strangest obsessions in recent memory, Flappy Potato Salad wants to make a game that's based on Flappy Bird, but with potato salad. The humble $5 goal was quickly crossed, and, at the time of filing this story, funding sits at $66 with 14 backers.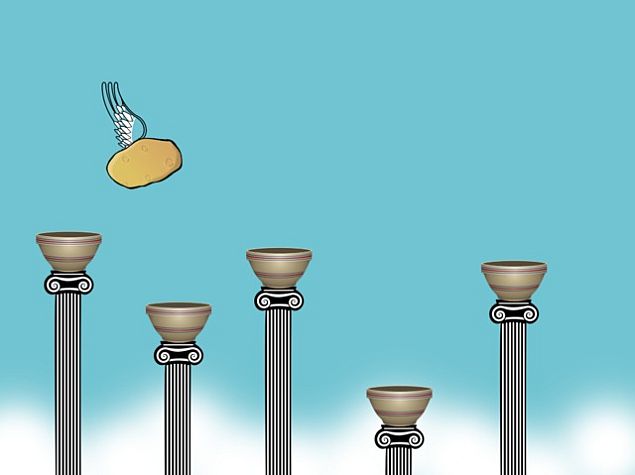 6. Potato Salad Simulator
While Flappy Potato Salad will at least result in a game, Potato Salad Simulator looks much less likely to result in anything. There's a $200 goal and $117 has been reached with just 10 backers.
The description reads: "I plan to use UE4 to create a sim that lets users create and play as a bowl of potato salad, wreaking havoc across the city." There are promises of "potato motion capture" and modelling fluid dynamics of mayonnaise, but hey - if you pledge $25, you get a Potato Salad Simulator t-shirt, which looks funny.
7. Nothing Simulator
The Nothing Simulator had to be the eventual endgame of the various simulation games that are picking up steam these days. Goat Simulator is a bona-fide success, and you've got rocks and potato salad simulator crowdfunding projects, so why not this? The Nothing Simulator is a game about nothing - not even Seinfeld references. There's a gameplay video on the page if you'd like to take a look; it's five minutes of a blank screen, much to absolutely no-one's surprise. The developers want to raise GBP 70, to enter the "game" onto Steam's Greenlight crowdfunded game store, and the project has already raised GBP 40, mostly from GBP 1 donations.
In the end, a little humour is not a bad thing, and after reading a hundred entries about smartwatches and cellphone accessories that promise to revolutionise the world, it can be a bit of fun to see something like the Potato Salad project. That it got funded to such a huge amount of money could become a problem for crowdfunding sites if the joke projects start to heavily outnumber serious ones. Hopefully, with the increased focus on Kickstarter, creators with great ideas will also feel more confident about putting together a pitch.
To see some other not so funny (or lame) projects, check out our weekly Kickstarter series.