For a majority of people today, email means Gmail. That's because Google's email service is actually very good, even if Google does try to force you to use its social network Google+ and cloud storage service Google Drive. But Gmail is far from perfect. Power users often complain about the lack of advanced features, while basic users are often annoyed by Google's clutter in Gmail. There are a number of Gmail extensions that you can install to make it better organised, more powerful, or just that little bit more user friendly.
These extensions all work on Google Chrome, and most should also work on Opera. Where available, we've also given links for Firefox users. We've not included some incredibly useful tools like Offline Gmail, because that is a Chrome app, and not a Gmail extension, but if you are interested in extensions, you should check out our four favourite Chrome extensions. There are Gmail extensions that let you schedule messages, help you master Gmail's shortcuts, and others that tell you whether the person you emailed has looked at your letter yet.
(Also see: Five Safari Extensions That Make Your Life Simpler)
If you want to make Gmail better, then here are our seven favourite Gmail extensions:
1. Know when someone has read your mail
If you have used WhatsApp, then you know that after you send a message, you will see two tick-marks on the screen. The first one indicates that the message has been sent while the second one shows that it has been received. Imagine having that feature in your Gmail inbox. Sounds cool right? MailTrack does something similar. Its a nifty extension that shows you whether your emails have been read by other Gmail users. The only downside is that the extension adds a signature (Sent with MailTrack) with a link at the end of each message you send.
You can manually remove it before sending a mail, but there is no way to disable it. MailTrack can also send you an email alert when the recipient has read your email. You can enable this by clicking the tiny envelope icon next to the send button in the compose window. While testing MailTrack, we noticed that the addon doesn't work when you have enabled appearance tweaks using Gmelius. It also hides the button that lets you use mxHero for Chrome, another extension mentioned in this article.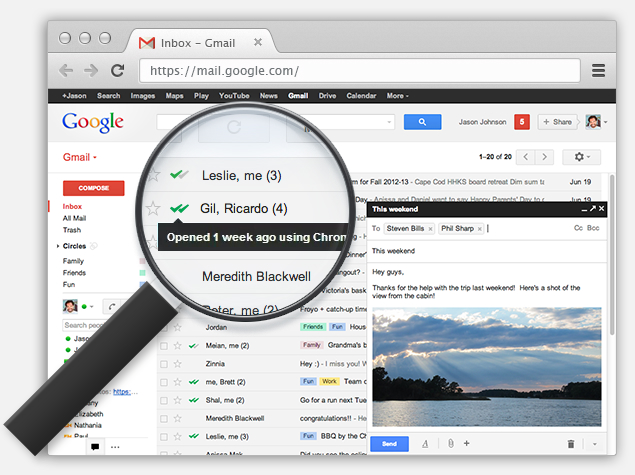 Firefox users, Boomerang for Gmail sends you read receipts if you want to track whether mails have been opened.
2. De-clutter Gmail
We've already written about Gmelius, which is great for cleaning up your Gmail feed. If you want an extension that helps de-clutter Gmail, then this is your best bet. The extension lets you hide unnecessary elements such as the top bar that links to other Google sites, and things like Google+ activity and Google Hangouts as well.
Gmelius excels at helping you focus on what you use Gmail for - email. It has nifty appearance tweaks such as changing the black buttons for delete, archive, etc to coloured ones. Another nice tweak is Gmelius' ability to show you attachment icons in your inbox. Popular file formats such as Word, Excel and PDF show up as a tiny icon in the list of mails in your inbox. Gmelius is a zero-fuss Chrome extension and works flawlessly so you can go right ahead and install it.
Gmelius is available for Firefox.

3. Track and schedule mails, and create self-destructing letters
If these extensions are too basic for you, then you might want to try mxHero for Chrome. This Gmail extension is a power user's paradise. It not only lets you track when emails have been opened, but also whether the recipient has downloaded attachments. You can also schedule emails so that they are sent at a particular time. Still not happy? The extension also lets you send self-destructing emails, which get deleted from the recipient's inbox five minutes after being read. That should cover pretty much everything one could seek from Gmail. Install the extension and you'll see an orange icon next to the send button when you compose an email. Click this button before sending mails to access mxHero Toolbox's features.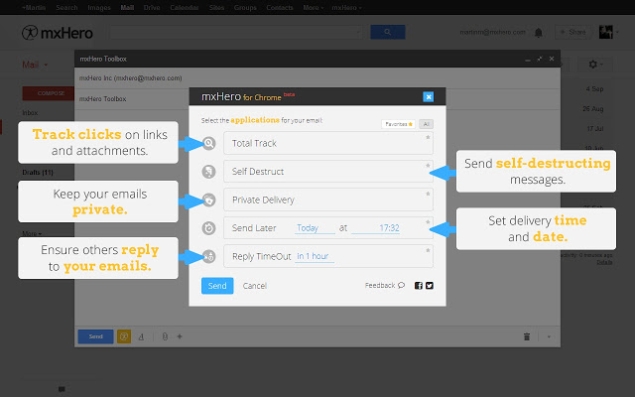 MxHero Toolbox isn't available for Firefox, but Boomerang for Gmail lets you schedule emails and set email follow-up reminders.
4. Get insider information about your contacts
Today, we're using not just mail but also social networks like Facebook, Twitter and LinkedIn to communicate with people. What Rapportive does, is bring all that information together in one place, so that you can quickly see a person's designation (useful when sending an official mail) or their latest status update (so you're up to date on what your friends are up to when you mail) in the sidebar in Gmail, while you're tapping out your latest missive.
You can add contacts to your network via LinkedIn, see recent mail and contact details via Google - all from the sidebar. You can see details such as contact information, recent email conversations with that contact, in the sidebar, which adds context to your emails.
Rapportive is also available for Firefox.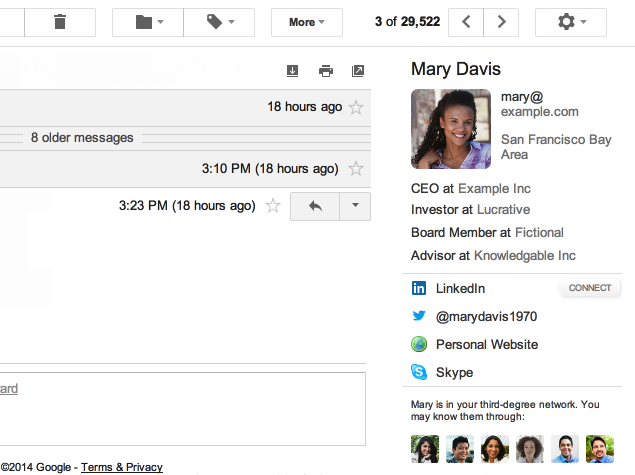 5. Use cloud storage that isn't Google Drive
Google does its best to force you to use Google Drive as cloud storage, but many of you might already be using other services such as Dropbox or OneDrive. If you want to attach files stored in the cloud, Cloudy is the best extension you can ask for. It lets you attach files from Dropbox, Box, Google Drive, OneDrive, Github, and Gmail itself. You can also attach photos from Facebook, Instagram, Flickr and Picasa, and attach notes from Evernote.
If that's not enough, this extension also lets you search for images on the Web and attach them. Gmail lets you attach files directly from your computer or Google Drive, but Cloudy eliminates the need to save files to either of these for attachments. Like MailTrack, Cloudy adds a link to its website at the end of each mail. You'll have to manually delete this link every time.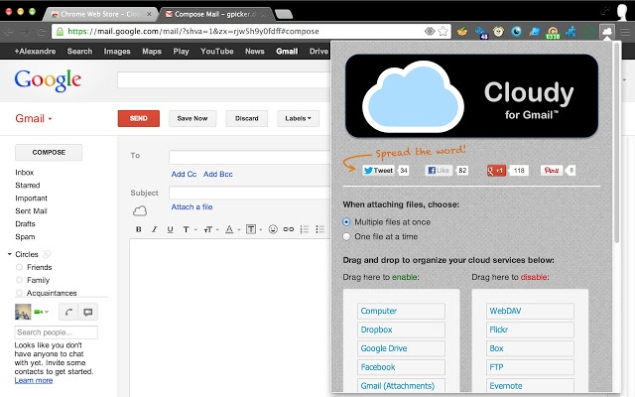 Unfortunately, we couldn't find a good Cloudy alternative for Firefox - if you know of one, let us know via the comments.
6. Easily share links
When you're browsing the Web on your mobile phone or tablet and come across a page that is worth sharing with a friend, it's a matter of a few taps to send the link to its recipient. On a desktop browser on the other hand, you will have to copy the URL, then create a mail, paste the address, and finally send it. No wonder sharing has increased as mobiles become more popular. But it's actually easy to send links to people via Gmail, with the Send From Gmail extension. The extension "provides a button that will create a Gmail message when clicked, using the page title as the subject and selected page text and link address as the message" - all you need to do is enter an email id. The button appears next to the address bar in Google Chrome and worked without any hitch.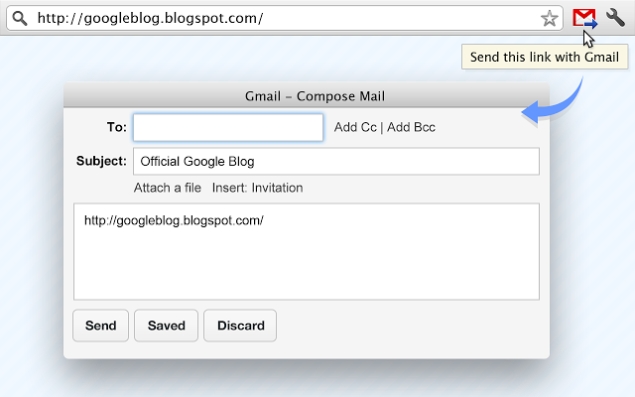 7. Play videos in your inbox
Iframely is a simple extension which finds links to media in your email and shows them in an embedded player. If you get an email with a link to a Vimeo video, you can play it directly from your inbox, thanks to Iframely. This is a handy extension for non-YouTube video links in your Inbox.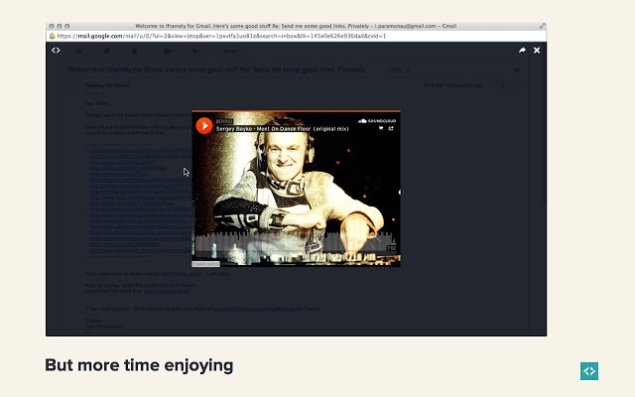 Bonus: Better signatures
WiseStamp is a useful addon if you need to use signatures with images and links. This extension lets you add one signature with a link to WiseStamp for free. If you want to make more signatures and remove that link, you will have to pay. This strict limit for free users is why WiseStamp is a bonus in this list of Gmail extensions. WiseStamp works with Gmail, Google Apps mail and Yahoo Mail.
Firefox users can download it here.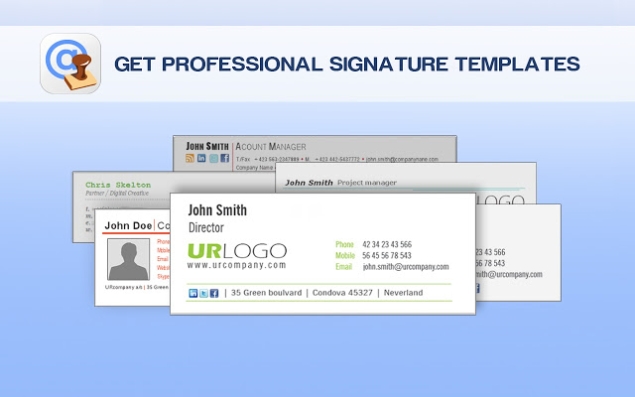 Those are our favourite Gmail extensions, but if there is any amazing extension that we missed or if you use any alternatives to the ones we picked, do tell us via the comments.