A little over a year after its launch, Amazon's next challenge lies in educating sellers to make full use of the marketplace, says Amazon India's Director, Seller Services, Amit Deshpande. Since its launch in India the company has focused on launching new sections such as jewellery, stationary, musical instruments and other sections, and last week it also started a new service for sellers, Easy Ship Product Returns.
Deshpande, who visited Delhi on Monday, says that the company's focus for 2015 will be on seller education, to accelerate bringing businesses online, including launching training courses for sellers in institutes around India, a program it is calling Sellers University. To this end, he says, Amazon will use various different methods to help sellers get on Amazon, and like Easy Ship, these measures are also being planned specifically in India.
"We are looking at both self-service training and also structured programmes with human interaction," says Deshpande. "So for example, on our own site Seller Central and also on YouTube, you can find videos that train people about selling on Amazon."
There are a lot of different videos on Amazon India's channel for sellers - this includes details of Amazon's different seller programs like Fulfilment By Amazon (where the products are stocked in Amazon's warehouse before being sold) and Easy Ship (where Amazon simply acts as the courier service) but it also includes tutorials on how to create listings for different categories, and how to catalogue your products. Another initiative is the Seller Forum, a forum where sellers can ask - and answer - each others' questions, though the forum also has Amazon employees at hand to resolve unanswered queries, says Deshpande.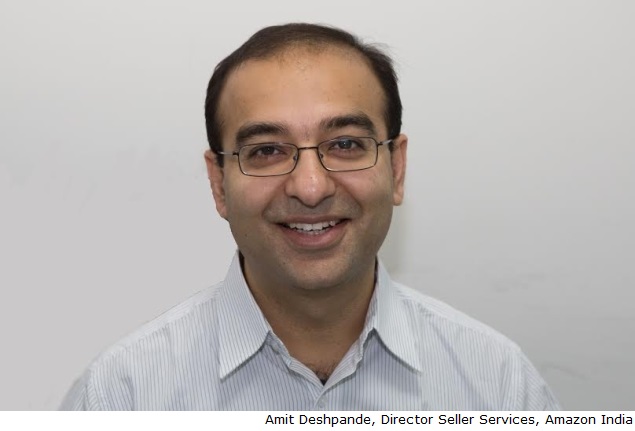 He believes that unlike other markets, in India, a more direct intervention is required. This is also why Amazon launched the Easy Ship program in India in April - "the sellers here don't have the infrastructure in place, and managing a courier, getting cash on delivery support, these were difficult challenges," Deshpande explains.
Easy Ship takes advantage of the courier network created for the Fulfilment By Amazon program, so the sellers no longer need to courier products themselves. Instead, sellers need only pack the order, and Amazon handles the pickup and delivery, with support for package tracking and cash on delivery. This seems like a small change, but Deshpande claims that sellers' ratings have seen an improvement of as much as 50 percent when switching to Easy Ship.
In much the same way, Deshpande says that seller education in India also requires some unique initiatives.
"In person training, where you can ask people questions right away, is the next step we can take," says Deshpande. "We are in the process of setting up courses with institutions, who can train people to become Amazon sellers. The goal is to create an ecosystem of entrepreneurs, who can meet capability gaps."
Tying up with institutes to create Amazon Trained E-commerce Specialists is something that's unique to India, Deshpande says, explaining that there is a lot of opportunity in the market for people to get online and grow their business.
"We ran a pilot program with the Amazon trained e-commerce specialists with 100 people," says Deshpande, "Out of that, 40 are now active entrepreneurs, who work with offline sellers and help them to get online. These 40 people have over 350 clients around India."
These sellers are trained by Amazon but work as independent evangelists for the e-commerce marketplace, teaching others in turn how to add products and create promotions, or manage refunds and returns. Deshpande believes that such experts will be particularly relevant in helping first generation entrepreneurs who don't have business experience to properly grow their businesses online.
The increased seller education focus will likely make it easier for a wider range of goods to be sold via Amazon, but not everyone is happy with this trend. For many offline retailers, there is increased pressure in their business, and even see online pricing as anti-competitive and predatory, but Deshpande believes that given the nascent state of e-commerce in India, people are overstating the issues.
"If you look at developed markets, where Amazon and others have been around for much longer, you still see offline retail," says Deshpande. "Customers want choice, and we provide that. We lower the cost for sellers, and offer good deals for buyers, and sales for sellers. It's win-win, and I believe you'll see offline thriving alongside the online market."