A few weeks ago, music streaming service Saavn launched a program called FreeStream, which promised people on all networks a free data recharge to browse any website they wanted to. The FreeStream Beta was opened to 3,000 users, for 14 days. If you were selected for the beta, you could download the Freestream app, and your account would be automatically credited with a data pack of between 100MB and 300MB. This was rolled out to users of Idea, Bharti Airtel, Vodafone, Reliance, and Tata Docomo, but Saavn wants to expand this list.
The idea is simple. You can use this data recharge to browse the Web, or use any other Internet-connected application if you choose. If you wanted, you could also spend your time listening to a Saavn competitor like Gaana, or Wynk, and you would only start paying after the data consumption crossed the free data was over. If you consume the pack's amount of data using the Saavn app (whether as part of the free pack, or as a paid usage later) then the company will credit your account with another free recharge. Data transferred over Wi-Fi is ignored, a source told us, so you can't try and trick your way into free recharges, but the same source tells us that Saavn isn't imposing any limits on the number of recharges as yet.
(Also see: Gaana, Hungama, Saavn, or Wynk: Which is the Best Music Streaming Service in India?)
A source in the company confirmed that as of now, if you've got a 150MB pack, then you can use that data in any way you want, but the only way to get more free data after that is to have consumed 150MB of data using the Saavn app. Therefore, one way of looking at it is that Saavn is offering free access to its app, in 150MB increments. That's because the recrediting only happens when 150MB of data is used on Saavn. So, if you've used 75MB on Saavn, and 75MB on something else, then your data consumption is paid for at the normal rate, until you've used another 75MB of paid data on Saavn. At this point, it recredits you with another 150MB of data.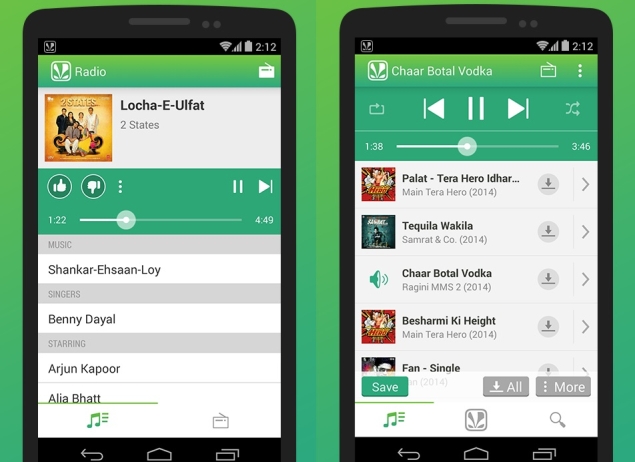 You could certainly use that data on some other service, but then you'd need to pay for an equivalent amount of data on Saavn, to get the next free recharge. In effect, only the data being used for Saavn is really free. Here's the announcement, with the details (emphasis ours):
FreeStream is based on account re-crediting to the user for data they have used for Saavn streaming. Users are given a data pack anywhere between 100MB and 300MB, which they can use for any app on their phone. However, once they consume that amount of data using Saavn, we re-credit them with another (free) data pack. Basically, we're picking up the cost of Saavn listener data to help get more people on the mobile Web, without sacrificing neutrality.
That last sentence was interesting to us, particularly in the wake of the controversy around Airtel Zero - a service Airtel launched that would allow any app maker to pay for the data being accessed by users. The concern many raised against Airtel Zero is that it would enable deep-pocketed companies to beat out the competition by being the cheapest app to use on the market.
(Also see: Airtel Offers Customers Free Access to Select Apps With 'Airtel Zero')
One of the early (and vocal) supporters of Airtel Zero was Flipkart, one of the biggest companies in India. For many people watching the industry, it was a worrying sign of things to come, and Zomato CEO Deepinder Goyal even said that he couldn't have built Zomato, if it had a competitor on something like Airtel Zero. Facing consumer backlash, Flipkart also pulled-out from Airtel Zero, but Saavn's FreeStream seems to be the same thing with a different name. While the first 150MB (or 100MB, or 300MB depending on the pack) is given free, with no strings attached, if you want to get a second free recharge, you have to use the full value of the pack on Saavn. Effectively, only Saavn is free to access. If you use (say) 50MB on Facebook, then you'll have to pay for 50MB of Saavn usage before you have free usage again.
According to a source in the company, Saavn pays the carriers for data consumed at the consumer rates that we all pay, and not a special bulk rate, so this would probably be an expensive test, over time, and not something a new startup might be able to do. So, we reached out to the company to learn a little more about it, and got a written response from the company. Saavn CEO Rishi Malhotra writes about the importance of net neutrality, and states: "It also keeps startup jobs in India, which enables innovation and skills to compound rather than letting only the large companies thrive based on sheer capitalisation."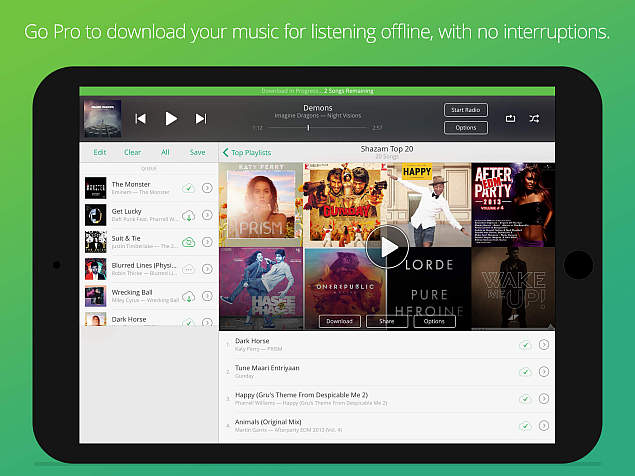 Since, according to Malhotra, the biggest point of friction for users is the cost of data and "not knowing just how much data is being used until, well, it's already used," the company decided to create the FreeStream program to help people to experience the Internet on the go. But he insists that FreeStream supports net neutrality. Malhotra writes: "Our test enables users to access any publisher on the web; it's not restricted to Saavn, nor do we prioritise our data over others. Saavn is a pure play company and agnostic by design. We are not paired with just one carrier or a single media outlet."
While this is all fine, it doesn't address the very basic question of how, exactly, FreeStream is different from any other kind of Zero Rating - something that the people of India made clear is an unwelcome move - but the only response we got to this was from the Saavn product test team. "We are simply testing re-crediting," it responds, which again seems to ignore the underlying question.
This has come up before with music streaming. When Airtel launched its Wynk music streaming service, it offered a plan for Android users who could listen to or download songs without being charged for the data usage involved. Looking at the Wynk FAQ, this seems to be no longer the case.
For a large company like Saavn, or Gaana or Wynk, offering to pay consumers for the data usage would be much simpler than it is for a new entrant to the field. If Saavn's tests are a success, then you can expect all the other major companies to follow suit, and in that case, it will become much harder for a new startup to emerge in this space. Unfortunately, Saavn has not addressed these concerns.
We say unfortunately, because the first part of FreeStream is legitimately exciting. According to our source, you wouldn't even need to have Saavn installed on your phone to get the first 150MB of free data - in other words, Saavn just gave everyone free data to use as they please, no questions asked. It's a great way to get people online, but the only way to get more data is by using this credit to browse Saavn alone. That's very limiting and reduces the value of this plan. With some tweaking and rethinking, it should be possible for the company to come up with a better way to reach people, without entirely stacking the deck too excessively in its favour.