The Reserve Bank of India (RBI) has been discussing setting up a centralised payment infrastructure for bill payments in India for months now, and a few days back, draft guidelines for this "anywhere, anytime" payment system were uploaded to the RBI website. The RBI is now seeking comments on the draft guidelines, and anyone can send a specific and actionable comment via email to giroview@rbi.org.in, until September 5.
The RBI's proposed Bharat Bill Payment System (BBPS) wants to strengthen online payments - the announcement notes that existing systems are safe and robust, but do not fully address the needs of the customers who have to pay a variety of bills, including school/ university fees, municipal taxes, utility bills, and more.
According to the RBI, each year, the top 20 cities are generating Rs. 6,223 billion in bill payments - and these transactions are still largely being carried out by cash or cheque. RBI believes this is inefficient and wants to move a large chunk of this online by creating a layer of interoperability between various bill payment platforms.
Right now, if you want to pay school fees, you will almost certainly have to do so using a cheque, while your phone and electricity services each maintain websites where you can use your credit card to pay the bills.
To get around this, some third parties, like BillDesk and PayTM, amongst countless others, have formed tie-ups with these various bill generators, to let you pay the bills at one place. Now, the RBI wants to standardise this practice.
What the BBPS wants to do is integrate all the existing players in the payments space, identifying and authorising them to function as Bharat Bill Payment Operating Units (BBPOUs) that can handle transactions, settlement and redress.
What does this change?
Let's assume for a second that you are using Airtel Money, and that it has been signed on as a BBPOU under the new system. You might have been using Airtel Money to pay your Airtel Broadband or Airtel DTH bills in the past but not your Vodafone phone bill.
If Vodafone signs up with the BBPS as a bill generator, then it should become possible to pay the phone bill using Airtel Money as well. A service like Oxigen, which lets you fill your digital wallet with cash at retail outlets, could be used to pay all your bills in cash, without Oxigen having to contact all the bill generators individually.
If you are not using a debit card, you could go to a kiosk and pay cash for all the different services you are using, or pay off all the utilities and fees with your card, without the school and service providers all having to invest in their own payments infrastructure.
By interconnecting all the different organisations working in this space, the RBI wants to create a single brand image that can be used anytime, and anywhere.
It is a great idea, one which should bring a lot of benefits to the customers. But getting all the different agencies on board is key to its success - it's a move that could help e-commerce a lot, for example.
Right now, all online stores use different payment gateways, and some like Flipkart and iBibo have built their own payment gateways - PayZippy and PayU respectively. Some of these are better than others, but as customers, we don't get to choose between the different platforms, whether we'd like to or not.
The BBPS would not necessarily bring that choice to customers either, but right now, if you want convenience, you're going to have to store your details with dozens of different companies, and trust them not to mishandle your data, probably leaving you vulnerable to fraud.
A centralised service would mean that industry norms would have to be standardised too, and it could simplify your payment processes hugely.
As per the RBI's plans, BBPS will be responsible for setting business standards, rules and procedures for technical and business requirements, and security standards. This could mean that a service like PayTM, Oxigen or RechargeItNow could become the single point of contact for every single service that you need to use.
Existing companies are not affected
To understand the impact of this new announcement, we spoke to Meher Sarid, President (HR,Brand MarComm and Corporate Affairs) at Oxigen. According to her, the new guidelines are a step in the right direction, which will help recognise the infrastructure role being played by companies like Oxigen. Instead of replacing the existing companies, the BBPS will include them in the process, and most will continue in their roles under the BBPOU category.
"There is a huge amount of protocol that needs to be done to tie up for billing," says Sarid, "and we can't charge for rendering the service. We get a commission from telcos for recharges, and for DTH recharges - nothing from the customers of course - but the utilities don't pay a commission."
The introduction of the BBPS could change that, she says, which would be helpful in the building of a stronger, more widespread, online payment infrastructure. By bringing all the bill generators in place, she explains, the new regulations would make it easier for processors (such as Oxigen) to better serve customers.
While companies like Oxigen and PayTM have spent money in building networks and relationships with bill generators, Sarid feels that the market has a lot of scope for growth right now, and if the new norms make it easier to participate in this economy, that is a good thing for all companies.
"The volume is so huge, the space is so large, that we can all easily grow and grow alike," she says. "The National Payments Corporation of India will bring all of e-commerce, all government functions like the fees to renew your passport, into the system, and this is hugely beneficial for people, because they will be able to make all their payments in one place, at one time, from their computer or phone."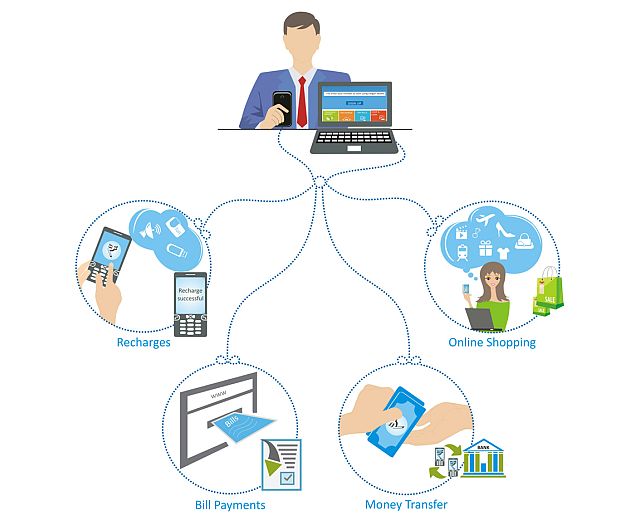 Virtual wallets and digital currency
One aspect of these measures by the RBI that isn't immediately obvious is how the move could well help us shift towards greater use of virtual wallets. Right now, companies like MobiKwik and Oxigen have digital wallets - you can put in money and use it to pay various bills. Right now, the usability of the wallet is limited to sellers that have tied up with the wallet provider - however, the BBPS could remove this requirement.
With a centralised system, you wouldn't need to have an account with the wallet that a seller supports - as long as the seller/ bill-generator is connected to the BBPS, and so are the virtual wallet companies, it would become possible to use the digital wallet for any number of expenses.
With this step, our money can take another step towards going digital - it's already possible to use apps to order food, book a movie ticket (or a plane ticket for that matter), hire a taxi and get to work, and pay your TV, phone and electricity bills. People who don't have access to a credit card could still pay cash to a BBPOU and fill up a virtual wallet, and then use this for their spending to various vendors.
Hopefully though, the BBPS will largely be about interconnecting existing networks, instead of trying to build a new framework from scratch. Third-party websites have made a lot of progress in building the ecosystem, and getting service providers on board, and it makes sense to use this work to speed up the process of building the proposed centralised network, instead of going back to the drawing board.