There are many reasons why you should be using a VPN while browsing the Internet. It's a way of shielding your browsing from a public Wi-Fi provider or your ISP, keeping your identity private so that you're not being chased by intrusive ads wherever you go, and if you're doing anything sensitive (important for journalists, researchers, students and many others) then using a VPN is the first - but not only - step that needs to be taken to ensure privacy.
You might also want to use a VPN to mask your location - many sites (including YouTube) have region-locked content, and so even if you're ready to pay for their content you'll find yourself blocked. A VPN can make it look like you're visiting from the US (or any other location) and thus circumvent these types of blocks.
There are plenty of options if you're using a VPN, ranging from free ones with data limits to some where you have to pay. There are apps that you can run on your PC, or extensions that you can add to your browser. Now, Opera is getting in on the action, and on Thursday Opera rolled out a bundled VPN with its PC browser for Mac and Windows both.
Gadgets 360 tried out a demo build, and we also spoke to Krystian Kolondra, SVP, Opera, about the initiative and what comes next. The way it works is really simple - there's a straightforward toggle right in the browser, and you just need to switch it on from the preferences menu. At the time of testing, you can set your virtual location as US, Canada, and Germany, though more locations will be available soon according to Opera.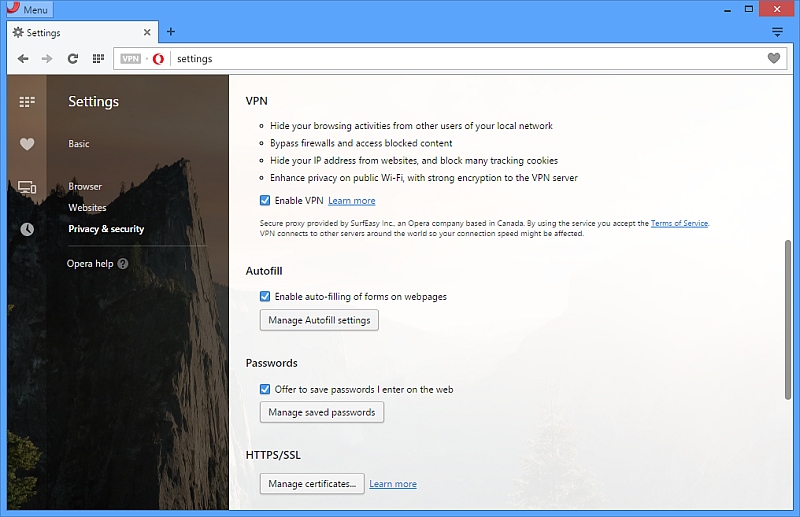 That's all there is to it - there is no software to download or install or set up - and you can start browsing right away. What's more, the VPN is free and unlimited, featuring 256-bit encryption, and it masks your IP address so you can browse the Web anonymously, all your data is encrypted, and so it's secure to use in public, and you can use it to circumvent geo-restrictions on content. And the best part is that all of this is free, and according to Kolondra, there are no plans to make this a paid feature in the future either.
"Users want to be anonymous, they want privacy from ads, there are a lot of reasons why they should be using a VPN," he says. "By adding a free, unlimited VPN to the browser, no additional download or extensions from an unknown third-party provider are necessary."
He points out that while tech-savvy users are going to be able to set up a VPN for themselves, and will be able to choose one of the trustworthy providers, many people will find this challenging.
"It's still pretty complex for many users, and also it requires administrative rights to the computer which you may not always have," explains Kolondra. "With the VPN bundled into Opera, it will work right out of the box, and you only need to change one setting. There's no setup, there's no administrative rights required, and you don't have to pay anything."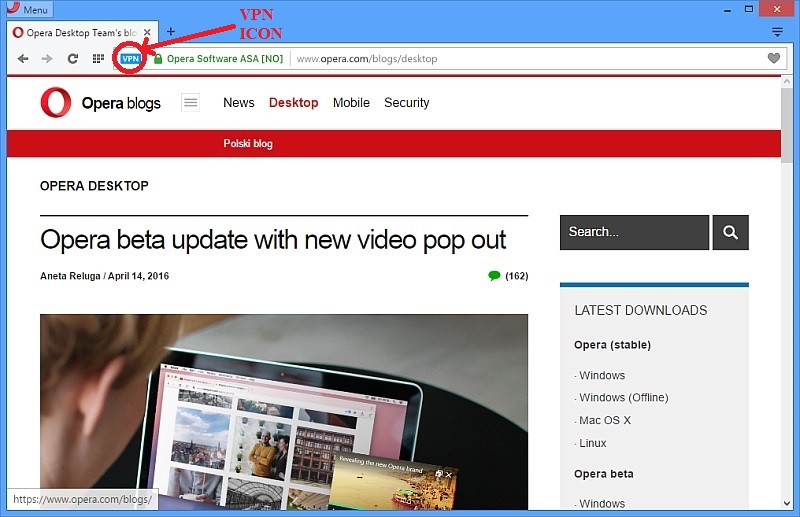 The next step for Opera is to bring the service to mobiles, though the usage patterns on smartphones are different according to Kolondra, and for this reason, Opera won't be bundling the VPN into its mobile browsers. "On mobile we're going to launch the Opera VPN application, which we will be able to share more details about soon," he says, "which will take care of all of your apps. This is because on the PC, everything happens on your browser, but on your phone you use a lot of apps that also connect to the Internet, so it makes sense to protect everything with the VPN. Of course, this will also be free."
He also added that Opera is committed to the privacy of user data, and said that Opera can't see any of the encrypted content that is being served through its browser. "It's also important to remember that this keeps your data secure on public Wi-Fi, or from your ISP," says Kolondra, adding, "Opera has been a name to trust for 20 years now, that's better than letting your data be open to a hotel Wi-Fi."
Of course, while Kolondra and Opera keep stressing privacy and security, geo-restricted content is a big reason why many people use VPNs. So much so that Netflix is cracking down on VPN use. In our testing with the developer version of the browser, we were able to access Netflix US, but Kolondra says this could change.
"Some companies like to block VPNs, and if that happens to us we will of course work on that, we are not happy that someone wants to block our IP address," he says. "But we believe that in the next four to five years PCs will change so much, they will be much more mobile, many more convertibles and this will require a number of new features in browsers. If a browser drains your battery it will be no good. And if you're on the go then you will use much more public Wi-Fi, so you will need VPNs."
Opera is betting that the changing nature of computing will make the discussion around banning VPNs a moot point, though it certainly doesn't look like that right now. However, it is clear that the browser will have to keep evolving - whether it's features like the VPN, ad-blocking, data-optimisation, and much more.
The VPN feature is available in the Opera developer browser, which can be downloaded here.