Reddit has long called itself the front page of the Internet, but the turmoil on the site last week proved to anyone watching that it may have gotten too big for the site's owners to effectively control. The site has grown on the basis of content (on boards called subreddits) created by the users, managed by an army of unpaid volunteers called mods, and a handful of employees called admins. Tensions between the mods and the admins have been brewing for ages, because of what some users claimed was high handed treatment being meted out by the company, and the firing of one of the few popular admins kicked off a revolt as much of the content on Reddit was made private, unavailable to people visiting the site.
(Also see: Reddit Goes Dark as Users Revolt)
Reddit's Director of Communications Victoria Taylor was laid off a few days ago, and she was one of the few administrators who had a good relationship with the mods. Taylor was an active member of the community, and also played a big role in Reddit's r/IAmA subreddit. This subreddit is one of the most popular parts of Reddit thanks to hosting regular interactions (called AMAs) with movie stars and even US President Barack Obama. Redditors participate in AMAs and anyone can ask pretty much any question - so it's easy to see why the subreddit is popular. So much so, in fact, that Reddit even created a separate app just for AMAs.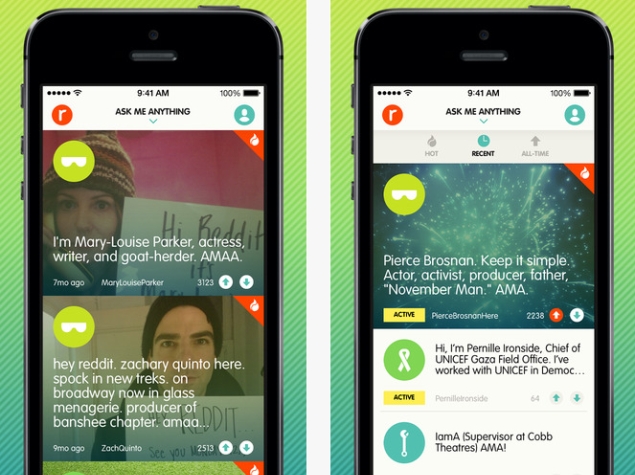 And Taylor was seen - by the mods that run r/IAmA - as essential for helping the community grow, and for managing the different interactions with celebrities. So, r/IAmA went private - basically, it became inaccessible for everyone except registered users. This was soon followed by r/Science, which also used to host a lot of AMAs with scientists, and soon other subreddits were following suit.
Reddit has grown massively thanks to the efforts of the users of the site - members who bring in content and contribute to discussions, and moderators - who do the work for nothing more than their love for the community or passion for the subject - keep things on track and ensured the quality of the content. The company has been valued at $500 million, but it's still entirely dependent on its users and if they move, then Reddit could be in trouble too.
(Also see: Reddit Turns 10 - Do You Know the Front Page of the Internet?)
There's a fairly recent example that Reddit's leadership must be thinking about right now with some amount of concern. That's Digg, another social bookmarking site that was actually pretty similar to Reddit. Digg was valued at over $160 million at its peak, but eventually got sold for a paltry $500,000.
Digg was once a thriving community driven site, but between Facebook, Twitter, and most importantly, Reddit, saw its users move away as features didn't evolve and the site remained static. Today, Reddit seems to be in a similar place, with users constantly in a state of foment over the site's policies.
The protest over Taylor's firing is just the tip of the iceberg, and this particular protest has lost steam after just three days. The r/IAmA subreddit went live two days ago, and r/Science also became public again. But in those three days, a lot of bubbling resentment also came pouring out.
Many Reddit users have been angrily talking about leaving the site, and have spoken out due to the banning of different subs. Posts like this one have compared her to Chairman Mao of China, censoring free speech; there's an entire subreddit dedicated to "the Blackout", urging people to sign a Change.org petition urging Reddit to fire Pao, and the top posts on the front page for the last few days have all include links to coverage of the turmoil taking place on Reddit.
Most of the times when people have threatened to ban Reddit for censorship, this has not been an issue that people would rally around because of the content being censored; such as the time Reddit cracked down on the distribution of stolen celebrity nude images, or the times it banned hate groups and harassment. But with the firing of Taylor there was a lightning pole for all the resentment that had been building up.
This was followed by a Change.org petition calling for the firing of Reddit CEO Ellen Pao. Pao, who became the interim CEO in November 2014 after Yishan Wong resigned, has been largely disliked by Reddit users, who blame her for changes taking place on the site. The petition has (at the time of writing) nearly hit its target of 200,000 supporters, though of course this won't necessarily compel Reddit - a private organisation - to fire Pao. This was accompanied by various threads on Reddit - which we will not link to - that all disparaged Pao, with users writing long, crude personal screeds against her.
The various mods have not supported this visibly; Reddit's founder Alexis Ohanian has been active on the site, and has been working closely with the mods of r/IAmA for example, to bring about a hands-off system that would help the mods with the problems they have been talking about.
But watching the upheaval from the sidelines, it's clear that the admins didn't really have much choice. This particular uprising might have been short lived, but it was far from civil and the site was essentially taken hostage by its users. It's the kind of thing that could effectively sink Reddit - the big difference between what's happening now and what happened with Digg is that there isn't an alternative to Reddit in place yet - but that's something that could happen at any time. And when that does, will Reddit be able to keep its flock in place?
After Ohanian's first response, things cooled down a little and now, interim-CEO Ellen Pao has also issued an apology. Pao apologised for not communicating well enough with the site's users on big changes like the dismissal, as well as for a history of broken promises made to the community. "We screwed up. Not just on July 2, but also over the past several years," Pao said in a post on the website, adding that Reddit was working to improve tools used by mods, writing, "We will improve tools, not just promise improvements, building on work already underway." Of course, this doesn't specify what Reddit is doing to improve things, or when users can expect to see changes.
So far, the site's leadership has decided that it needs to handle the community with a light touch; it's effectively put the inmates in charge of the asylum. How long this can last is the question because Reddit's more vocal users have also been loud in their support for content that is clearly objectionable. With the company treading carefully, will formerly banned content make a comeback? And if so, what happens next?