A 13-inch
MacBook
Pro featuring an Intel i7 chip retailing for Rs. 57,330 or a
Nokia
Lumia 920 for Rs. 14,000. Sounds unlikely? It's true.
There is a catch though. These are devices which have been refurbished. At first glance there is no distinction between a brand new unit and a refurbished one. The devil, however, lies in the details. For instance the laptop features a maximum battery usage of 150 minutes, much less than what you would get on a new unit.
This is the world of refurbished electronics where old is almost as good as new, and definitely less expensive.
Refurbishing electronics is also termed as end-of-life product management. While the concept can date back to as old as 'used-cars' dealerships there is a marked difference between a refurbished and a used product. The biggest difference being refurbished products are tested in factories by experts to ensure there are no defects in them. A used product on the other hand does not give any such guarantee of sorts.
Rahul Chowdhury is the CEO and Co-Founder of Reboot, which started in November 2012. The firm sells refurbished electronics, which includes computer peripherals, laptops, mobile phones amongst others.
"More often than not, a product is rendered obsolete even before living 50 percent of its lifetime," says Chowdhury. "This could be because of a new technology, or a new model. These products then find their way to 'e-graveyards' faster than usual, where cannibalisation and extraction is done in a hazardous, unregulated manner."

"On the other hand there is a huge section of the population that cannot afford this technology because it is very expensive," Chowdhury adds. "We try to connect these two segments. We help people get more money for the discarded products, and then we refurbish them. Post it, it goes through stringent levels of functional and stress tests, then it is authenticated, certified, and warrantied and finally sold to consumers at a lower cost."
Another firm in the refurbishing space in India is online portal Reglobe. The company was started in 2009 by Nakul Kumar and Mandeep Manocha, and has been working both online, and offline. A major chunk of its business happens offline, but their online presence helps them stand out from the rest of the market.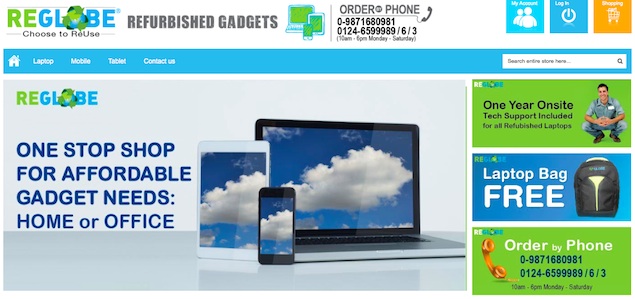 "The offline refurbishing market in India is a very big market and is non-organised," says Kumar, adding, "If you sell a damaged mobile to a mobile shop, which also repairs mobile phones, the dealers usually repair the phones and sell them at a lower price to a new customer. This market is unregulated and also that breeds uncertainty in the mind of a customer. A refurbished seller, who is based on a national level and has the expertise as well as the capital to actually not just repair but also certify that the product is as good as a new one, helps to add credibility to the same."
The companies also point out they help expand the reach of these products to a market that desperately needs it.
"PC penetration stands at 9-10 percent in India. So there is a very huge audience for the digital divide," adds Chowdhury. "The only way it can be bridged is by first showing the people there is a cheaper alternative and by assuring them it is perfectly safe, legal and authentic."
Good as new?
The biggest issue in end product or as Kumar puts it mid-life product management is the availability of the products. "It is ironic, isn't it?" says Kumar, adding, "We generate thousands of tonnes of e-waste every year, but availability is very difficult."
According to Kumar, convincing customers to part with their old laptops or cellphones is not easy. One of the major issues is the price.
"People refuse to sell a laptop bought in, say 2004 for Rs 70,000, [they don't want to sell it now] for Rs 12,000 and it is actually not easy to convince people that the device is outdated and it cannot fetch the kind of money they ask", he says. "So customers prefer to keep the device rather than give it up. What they don't realise is, no one is benefitting. Not the customers themselves nor someone who requires to have access to that means of technology."
"The first part, therefore goes in convincing a customer to sell the product. For that we have a price calculator which provides a fair price for the device depending on the usage and model. We have catalogued over 7,000 laptops and 200 mobiles so that the sellers can have an instant selling price which is fair."
"Once the seller sells it we go about examining the devices for cosmetic damage as well as internal damage. The necessary repairs are then undertaken followed by a 16-point quality check on the devices. It is then sold at a price which is around half of the original, or even lesser."
While the online portal accounts for 30 percent of the sales for both Reboot and ReGlobe, a major chunk of their markets are formed offline through a dealership network or exclusive stores and kiosks.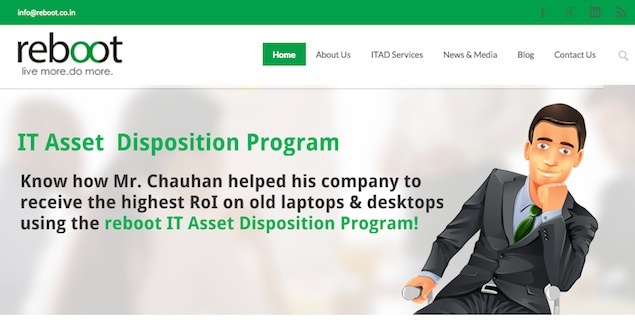 "We currently have 10 stores operating and 30+ potential stores in the pipeline (to be opened before the year-end)," says Chowdhury. "Our eventual goal before FY ending 2016 is to have 220+ stores across Tier-2 and Tier-3 cities apart from our online store. In order to help people to rid themselves of their apprehension regarding buying refurbished products, they need to actually see the product and try it for themselves before buying it. A physical presence helps in this."
Kumar says Reglobe has tied up with local dealers who can help its regular customers make better choices, owing to the comfort levels the dealers share with the customers.
"At the end of the day, the user base that we are targeting, is not one that can afford to buy a brand new device," says Kumar. "So even if they are spending around half the price of an original device, they want to be completely assured. A local dealer, who they have been going to always helps convince them, after letting them see and use the device for themselves. It is important for the customers to be completely assured of the product before purchasing it."
As a part of the after-sales services Reboot provides a 12-month replacement warranty on the desktop range, a three-six month replacement warranty on laptops and one month warranty on refurbished smartphones. Reglobe provides a year-long, onsite tech support and a month-long warranty on all its products. For many people, that sounds good enough.
Neither company gave details on the sales or total volumes that they are dealing in, but both men claim it's a fast growing economy.
Greendust, another popular name in the segment, did not respond to requests for an interview, but it is spending heavily and advertising on television as well.
Clearly, there's a business to be had in helping people reach aspirational products.
"It is all about providing people with a chance to own technology that is seen as expensive," Kumar signs off.