"There's so much scope for digital payments, and there are enough unbanked even in the city, that you can tap into with only a little effort," says Nitin Misra, who heads Paytm's payment product pipeline. "We can offer a lot to the unbanked and the underbanked, and for the small percentage of the population that is actually fully banked, we offer safety and convenience."
A week after his appointment was announced, Misra is talking to Gadgets 360 at Paytm's Noida office. Between sips of tulsi tea, he explains why he's feeling very excited to be working with Paytm, and he talks about the importance of marketing in helping educate the customers about what a payment bank is, and how it can help them.
For Paytm, the last month has been eventful. In August, it was one of the 11 entities to get the RBI's approval to launch a payment bank. Since then, it's made progress in partnerships.
(Also see: What Are Payment Banks - What The Can and Cannot Do and Who Will They Affect?)
Leading restaurant guide and food ordering service Zomato now lets you pay via Paytm, and Paytm has also tied up with educational institutions such as IIT Mandi, Career Launcher, and Delhi Public School, amongst others, for cashless payments, with more such partnerships in the pipeline.
At the same time, Paytm also claimed to be the first Indian product to have over 100 million registered users, and there are rumours about Paytm entering the ticketing space to compete with BookMyShow, and it might purchase Jabong from Rocket Internet. Misra, who's previously worked with Samsung and Airtel, tells Gadgets 360 that he hasn't felt this excited about work since he was with Airtel in 2004, when the data revolution in India was just about to kick off.
(Also see: Paytm's Vijay Shekhar Sharma on Plans for the Payment Bank)
The entire business of Paytm is undergoing an overhaul; the payment business has to be separated entirely from the bank, and although Paytm has been largely associated with its founder Vijay Shekhar Sharma, it's clear that a second rung of leaders needs to become more visible to drive the different parts of the company. Which brings us back to Misra, who - just four months ago - was working on Samsung's Android and Tizen portfolios.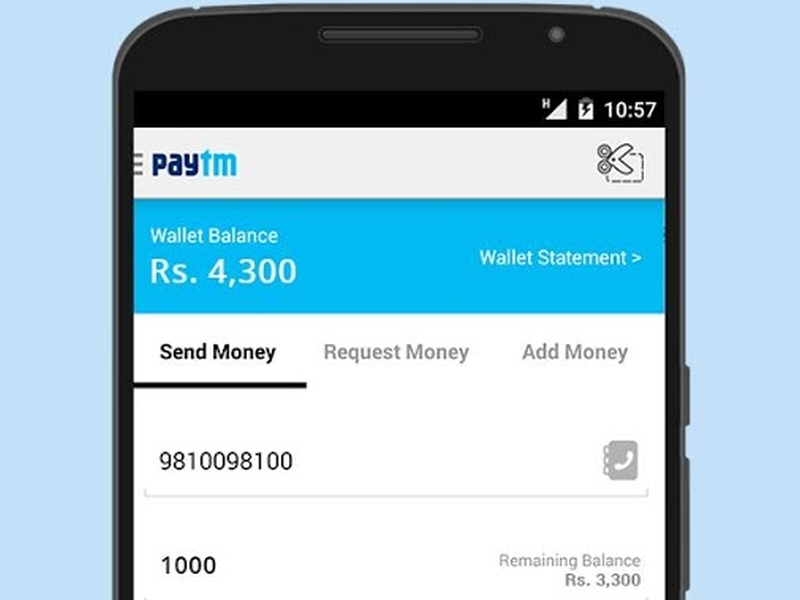 "We don't want to be just a bank, we want to make sure that we are actually giving the customers something more than that," he says. With the payment bank license being granted for 18 months, it's clear that Paytm has to move fast, and try and launch its payment bank before the end of the financial year, at most. "We don't really want to make an announcement, but yes, we're definitely going to try and launch this before anyone is expecting," Misra says.
The idea, he says, is to look at new types of services, such as payday loans.
"Let's say that you're someone underbanked, part of the 90 percent who have less than Rs. 1 lakh in the bank," he explains. "Your salary is coming in next week, but you want to buy a pair of shoes. They're worth Rs. 1,000. So I could loan you the Rs. 200, and you pay me back in a week. It'll be very transaction led, and we can look at different ways to incentivise [digital] payments via cashbacks on offline payments."
Offline payments are a simple way for cash to enter - and exit - the digital ecosystem.
"Today, it's Pizza Hut and Costa Coffee. But that's just the starting point," says Misra. "You could have a system using QR codes to help people select what they want and make the payment without lining up in a queue, which is something the retailers also want. Or we could give an auto guy a printed QR code to keep in his rickshaw, and when it's time to pay, you scan the code, enter the amount, and his account gets a credit instantly."
And of course, Paytm can offer a cashback for using its service in the offline world. This kind of thing will encourage people to use it, and create habits, but there is a risk that the business then becomes a commodity used only because it's offering the best deal. Misra says that Paytm is mindful of this, and has been keeping a close eye on incentives. "This will taper down, and in fact, that has started already," he adds.
(Also see: Discounts Have Cost E-Commerce Websites Around Rs. 1,000 Crore in Losses: PwC)
At the same time, while Misra is talking about financial inclusion, the underbanked and the unbanked, he freely admits that many of the new features and partnerships - such as tie ups with brands like Zomato and Pizza Hut - are clearly more suited for people at the top of the pyramid. He compares this to the early days of cellphones. "Adoption of technology typically stars at the top of the pyramid, and then trickles down to the rest," says Misra. "This is what we'll see now as well. People might start by paying for an Uber with Paytm, but eventually, we want to kill cash."
Disclosure: Paytm founder Vijay Shekhar Sharma's One97 is an investor in NDTV's Gadgets 360.