These days, moving to a new city for work is a common thing, and for many people, hiring people to work around the house can be quite a challenge. There are of course any number of services through whom you can engage full time or part time help, but if you're in a job that requires a lot of travel, making a long term commitment can be a problem.
That's where KushGhar - a newly launched, invite-only service - comes into the picture. The company wants to make it easier for people to hire domestic help on a freelance basis, and at the same time, it is trying to provide education and employment to the underprivileged. The site has been launched and its founders have a long-term plan in place, but they have been trying to speed up the process with a crowdfunding drive. However, since they're not offering any tangible benefits for funders, it's gotten off to a very slow start.
(Also see: A Crowdfunding Project to Make Domestic Chores Simple, and Help the Underprivileged)
According to Ramakrishna Tummala, the Managing Director of KushGhar, the crowdfunding will help accelerate the site's growth, but early response in Hyderabad has already been positive. Tummala is a serial entrepreneur, who has been investing in BPO startups for years now. He's pulling double duties and still works as the Managing Director of another company he started, called Doctus, a medical transcription business. Like KushGhar, Doctus also has a social angle.
"We didn't set up in a city, but instead have built a rural BPO, which provides employment to 50 people in one village," says Tummala. "Having the unit in the village is good for productivity and also for high quality output. If these same people were to work in Hyderabad, they would have to live somewhere in the outskirts of the city, and would spend two hours each day. They will be tired all the time and their work will suffer. Also, in cities, after people have been trained, they start switching jobs regularly."
"In the village, people live close to the office, and so they are not tired, and since you're the biggest employer, people are proud to work for you and very loyal," he adds. "The quality of the work goes up as well. It's a model we want to grow in the different districts."
This mixture of business sense and altruism is what's behind his newest venture KushGhar as well. The site was recently launched by Tummala, with two friends in the US, Scott Yacko and Sanjoye Gaddipati, whom he has worked with before. The Indiegogo project, Tummala says, was Yacko's idea.
There's a strong social element, as the company plans to recruit people from villages, give them language training, and also useful training to increase their earning potential, and allow people to choose how much or how little they want to work, while providing a minimum guarantee of income - a far cry from how domestic help is paid or treated in India at present.
At the same time, Tummala notes, "It is a business opportunity which has a lot of demand and little competition. If we can provide a good experience to people then it can become a big business."
The idea is simple - instead of hiring a full time maid for often as little as Rs. 5,000 a month, you visit the site whenever you want your house cleaned, and pay around Rs. 200.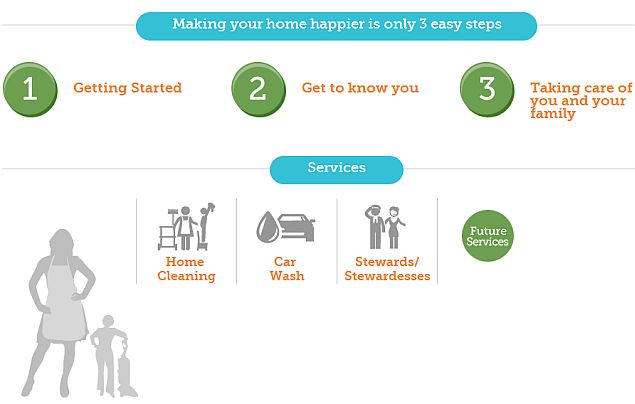 "We're working out the exact modalities still," clarifies Tummala. "The idea is to charge enough that a person can earn Rs10,000 per month, by putting in five hours a day."
Much like an in-app purchase, getting a single cleaning is a small cost, and Tummala reasons that for a lot of young professionals, having professional cleaning done one a week will be enough to keep them happy.
KushGhar will ensure full background checks, guarantee safety, and provide training not just in the work that the domestic staff will do, but also in deportment. But most of all, the goal is to automate the system.
"Scott and Sanjoye are completely process driven," he says. "The idea is to make it as simple as booking a radio taxi. You visit the website and enter your requirement, and the system finds the nearest worker who is free and informs them about the job."
And, much like radio taxis, it's up to the workers to decide if they want to take up the job or not, before a confirmation is sent to the client. In this way, people can work as much or as little as they wish, although these are future plans.
For now, Tummala says, KushGhar has a full-time staff of 20 people, who are paid a minimum of Rs.8,000 per month, and more if they get more jobs. "The first 50 people with the company will be full time, to ensure that the customers have a good experience. Because otherwise we won't be able to guarantee that someone is available when you need them."
After the first year though, Tummala believes that things will become easier, and that KushGhar will be able to spread its services beyond the posh Hyderabad neighbourhoods like Banjara Hills where it currently operates.
What's also interesting is the training that these staff receive. KushGhar has tied up with the Jubilee Ridge Hotel in Hyderabad, which helps KushGhar to train the workers in the cleaning methods used for room service. "They're trained in professional cleaning in a way that most house workers can't do," says Tummala. And as a result, interest is coming not just from the young professionals in Banajara Hills that Tummala was expecting but also from families, and stay at home housewives, who want the place to look "extra special".
These are the things that give Tummala the most hope, right now, though he's the first to admit that the first year will be particularly difficult for the company. However, he's still dreaming big, and says that if it works out, he wants to grow the brand to an all-India service, and then look towards Mexico and Brazil. Is this something that will actually happen? Only time will tell.