Are you a cricket fanatic? You're probably watching the ICC World Cup 2015 matches whenever they take place, no matter how early in the morning. But you want more, and that's where the Internet can really help you out. Aside from following along the action when it takes place, social networks are also a place to catch up with the best moments of the day, and follow your favourites.
(Also see: How to Watch Cricket World Cup 2015 Live on Your PC, Smartphone, or Tablet)
Following the ICC Cricket World Cup 2015 on your favourite social networks is pretty easy. Twitter and Facebook have both created special hubs where you can follow all the matches. To follow the match action live, just visit the Cricket World Cup hub on Twitter. It's a custom timeline that's following all the important Twitter accounts so you can see the live scores or switch tabs to see the latest commentary or photos and videos.
You can also follow individual handles to follow your favourite teams - India is @BCCI, while Pakistan is @CricketofPK. The match scores are tweeted by @ICCLive, and @cricketworldcup is the official account of the ICC World Cup 2015.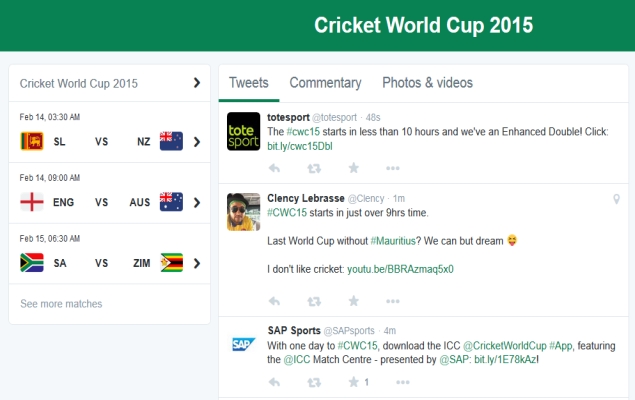 Many players are verified tweeters too - from the Indian squad Rohit Sharma is @ImRo45, while Ishant Sharma, who had to pull out of the World Cup 2015 at the last minute, can be found tweeting at @ImIshant. Suresh Raina is @ImRaina, Dhoni is @msdhoni and Virat Kohli is @ImVkohli. And if you ever want the God of Cricket's perspective on things, follow @sachin_rt.
(Also see: Have Fun Following Cricket World Cup 2015 With Online Fantasy Leagues)
Facebook has a few pages that you should follow as well. The first place to check for news is the verified ICC Cricket World Cup page, where you'll find links and pictures. Liking and following the ICC Cricket World Cup page will allow you to track the latest updates on Facebook, but aside from that, you should also check out the Facebook Cricket Hub. For the duration of the ICC Cricket World Cup 2015, Facebook will be curating content shared across the social network and posting it on this page. This isn't something new that Facebook is doing for the World Cup - so cricket fans probably already follow the page, but if you hadn't come across it before, now is the time to start. Much like Twitter, many cricketers also have verified Facebook pages you can follow, though there is a lot of overlap in content, so we'd suggest just following them on the network you use most.
Fans should also visit the official ICC website where you'll find columns from cricketer's like Sachin Tendulkar, Wasim Akram, and Muttaiah Muralidaran, along with photos and videos.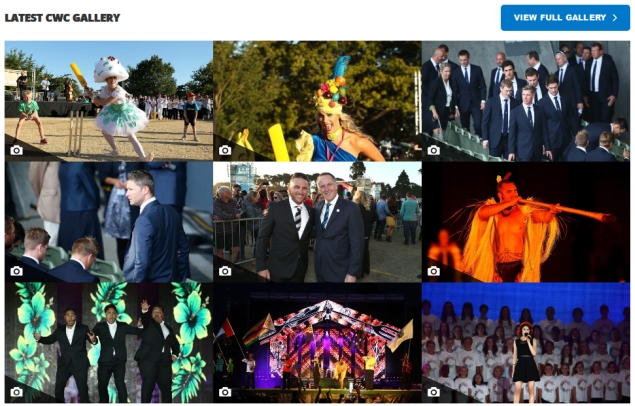 Google Now is another great way to stay up to date with the action on your phone - if the service thinks that you're a cricket fan, it will keep trying to push content at you in the Now Cards as notifications from time to time. Making sure this happens is simple.
Just launch Google Now, and click on the three-horizontal lines in the top left to open the menu. Tap on Customize and then tap on Sports. At the bottom, tap on Continue to get sports updates? and tap on YES. Next, you'll want to tell Google about the teams you're interested in. Tap on Add a team and then enter the name of the teams you want updates from - for example "Australia Cricket Team" or "India Cricket Team".
(Also see: How Star Sports Is Bringing the Cricket World Cup to Your Living Room)

That's it, Google Now will now send you updates about this team's matches, and you can add more teams too.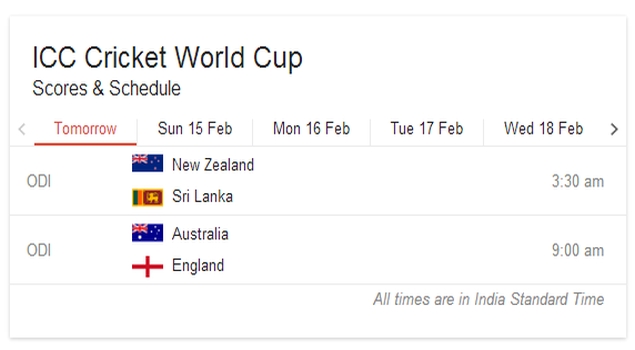 Messenger app Hike has also launched a new feature that will provide Google Now style updates on scores and wickets and other important moments from the matches through the app. Hike users can get real time scores and updates for the ICC Cricket World Cup 2015. The information is being provided by Cricbuzz, and to view it, you'll just need to tap on the World Cup 2015 card that's been added to your chat list. This will show Google Now-style cards with the latest updates.
Also, if you don't want to miss any matches, check out this calendar tool from Star Sports - it adds the dates and times of all the matches to your calendar, and works with Google, Outlook and Apple calendars, so you'll be up to date no matter what device you're using.
(Also see: How to Block Cricket World Cup 2015 Online)
There are also several news sites and discussion forums you could visit, but those are too many to list. Even without going into those though, the sources mentioned above should give you a more than abundant supply of cricket, to keep you occupied when the matches aren't happening, or even when they're happening slowly.