You're sitting on your sofa. You want to play a game of chess. You issue a command to the glasses you are wearing and a virtual chess board appears in front of your eyes. Welcome to the world of Augmented Reality (AR) where the virtual world meets the real world. That's the idea, anyway; reality still has a little catching up to do.
AR is a concept where real-world elements are mixed with virtual video, audio or text. Think of the ticker feed in a news show. The anchor and the studio are the real world setup and the news feed is virtual. Now imagine if you could see a ticker all the time - showing you the best restaurants in a mall you're visiting, or the show-timings at the multiplex you're walking towards.
The technology has been improving over time, and thanks to smartphones, we're starting to see it implemented - in advertising and shopping first of all. Hash Media, a startup based in Ahmedabad is doing some interesting work in this domain. One of its AR offerings is software it calls 'Virtual Mirror'. This is a technology that allows you to try out different clothes from the comfort of your home, with the help of webcam, says Hash Media founder Harshit Lalpura. The idea isn't new, but Lalpura has an interesting take on how the technology can be used.
"We are trying to build kiosk and retailer versions of the technology. We can put them [Virtual Mirror kiosks] in the stores, and reduce the hassle of the trail rooms," says Lalpura. "E-commerce websites can place kiosks in malls for people to try out their product range virtually. We are planning to include lipstick and make-up options in our Virtual Mirror."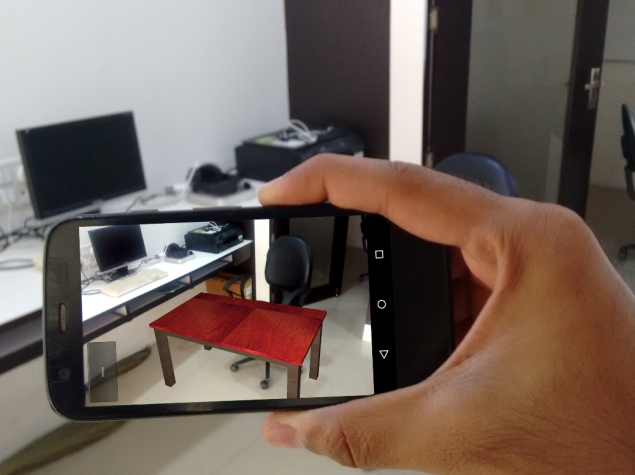 He hopes that a company like Myntra or Jabong will be able to use Hash Media's technology to go beyond the digital world. These kiosks would be a relatively simple way to help people shop online even if they are not net savvy.
The company is also working on another AR product called Real Room. This app helps you to plan your furnishing at home. Point at your room with the phone camera, and Real Room will try and measure the size of objects as well. On the phone's screen, you'll see the object you want to buy, sized proportionately, and you can tell how it will fit into your room. This technology could be useful to a company like Pepperfry or Fab Furnish.
Another start up to adapt AR is Lenskart. The company sells eyewear online and lets you virtually "try" on different frames. When you visit the Lenskart website, you'll see the kind of catalogue you see on any e-commerce site. There, you can click on the "Try Online" button next to every frame. Now, you can either upload a saved photo from the computer or use the webcam to take a picture, and then see how the frames look on your face. You can swap out frames and check out different looks to figure out what looks good on your face, without having to go to a store.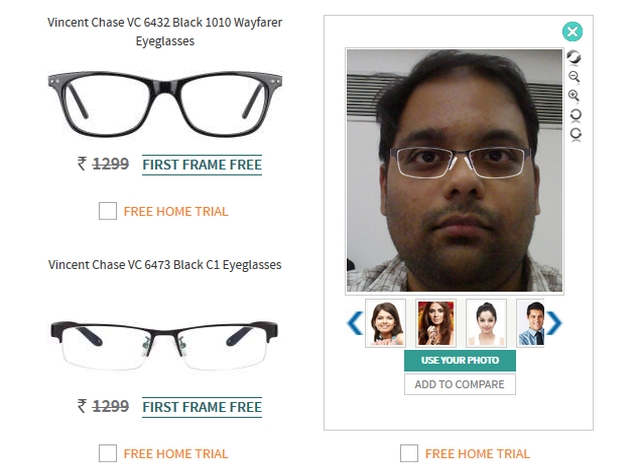 There are some differences between Lenskart's technology and what Hash Media is working on. For one thing, Lenskart takes a picture and then works with the static image. Further, the basic product that Lenskart is offering is also pretty simple. The shapes involved with faces and eyewear are much simpler than apparel. If you're buying jeans, for instance, then the exact curve of the leg is going to matter a lot more.
When you start to do this with a live image, the experience becomes even more compelling - Qualcomm has been demonstrating this with its Vuforia technology, which it showcased to us for uses such as bringing children's toys to life.
For now though, the most prevalent use of AR seems to be for making interactive brochures, business cards, and even wedding invitations. One of the most well-known companies in this field is Alive, which is a part of the Times Group. Other companies like Blippar and Wowsome also deliver a similar product. How they work is simple.
The apps recognise images - these could be anything from a logo printed on a soft drink can, to a picture in a newspaper, to a symbol in a poster (or even the whole poster). When you start the app and point your phone at the image, it identifies the content and can carry out a related action; this could be used in a number of different ways. A 2D print ad could for a car could show a 3D interactive model on your phone; a movie poster could launch a trailer; or, a wedding card could automatically show a map when you point your phone camera at it.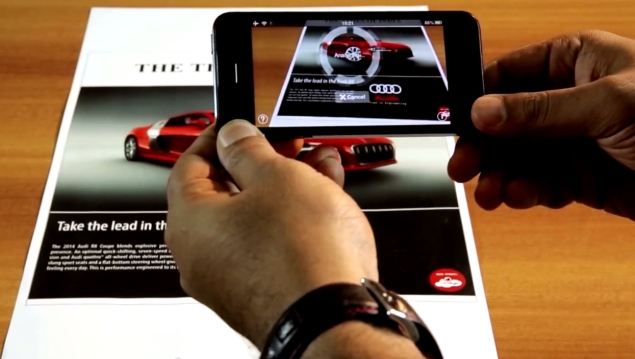 While we're waiting for concepts like Virtual Mirror to be ready, fully immersive Virtual Reality (VR) is also gaining steam in India. While AR places virtual objects in the real world, VR places you in an entirely virtual world.
Generally a headset is used to recreate the universe through 3D models. These devices have been a niche interest for a really long time, but the technology has been improving and is looking extremely impressive.
The most famous example is the Oculus Rift, but there are other projects too, such as Project Morpheus from Sony and HTC Vive by Valve and HTC. But these will all be very expensive. The real game changer could be Google Cardboard.
A cheap DIY VR headset, Google Cardboard can be used with certain Android phones having NFC capabilities. It won't give you the experience of the Oculus, but it is an amazing first step in the VR world.
And we're already seeing companies take advantage of inexpensive VR, such as online real estate platform Housing.com, which is building a product that will offer virtual walkthroughs of properties.
"We are developing a VR product called Slice," says Housing's CTO Abhishek Anand. "This will be limited to some properties initially. But we are working with real estate developers to have more listings on board. We want to eliminate the need of visiting the property."
Similarly, CommonFloor has introduced a new initiative using the Google cardboard called Commonfloor Retina. The company is distributing a Google Cardboard headset and a free companion app that will allow you to explore different properties without leaving your home. We tried the VR headset and we had a pleasant experience. The app has "Learn" and "Experience" buttons on the landing screen. Choose Learn, and you can see the tutorial on how to use the headset.
In the Experience menu, you are presented with the option of various cities. Under the city selection, you can explore various properties. Once you select the property you can select the house size in terms of 1BHK, 2BHk, 3 BHK. At this point, you have to connect your smartphone to the VR headset. We used a OnePlus One phone to test the headset.
You can select the house type by moving your head and clicking the selection button present on the side of the headset. Once you are in the house you can move your head and explore the room. Clicking the button again changes the room.
You can always look down and find the back button to exit the property. The animations were smooth and visualisation of the property made you feel like you're exploring it in person. There's room for improvement, and the app needs to be redesigned to avoid getting your smartphone out of the headset every time when you need to go to the next property.
But CommonFloor Retina is just the first step for VR, just like Lenskart's virtual trial is only a baby step for AR. What these things prove is the potential for such technologies beyond just games. E-commerce could be exactly what was needed to take VR and AR to the mainstream.