At the start of December, Chennai was flooded after it received more rainfall than it had on any single day since 1901, according to Nasa. Many lost their lives during what was an immensely difficult time for people in the city, and there was tremendous property damage too.
Plenty of startups and tech companies helped out with the floods that engulfed Chennai and its surrounding areas, even as most parts of the city of over four million went without electricity, food, or potable water. For many of us living outside the city with friends and family who were trapped, there was no way to contact them and reliable news updates were few and far between. At this time, Twitter, with its real-time data relaying capabilities proved to be the first port of call, and many volunteer groups used it to spread information directly from the ground.
"Any disaster is a lot of data, making sense of it is what separates how effective the response a disaster is," says Raheel Khursheed, Twitter India - Head of News, Politics and Government. Twitter had responded to disasters earlier, with efforts in Assam and Orissa among others, and this meant that the social network already had a template in place when the Chennai floods took place.
By December 2nd, Twitter had already lent its voice to channeling relief efforts with three hashtags - #ChennaiRainsHelp for those seeking help, #ChennaiVolunteer for anyone providing volunteer and supply support, and #ChennaiRescue for those stranded and in desperate need of rescue. The conversation around the #ChennaiRainsHelp hashtag peaked at 980 tweets per minute on December 1, at 10.36PM, The hashtag eventually saw 1.4 million Tweets from December 1 to December 4 on Twitter.
Volunteers took to Twitter, sharing updates about water-logging, about homes where people could stay, the phone numbers of doctors who could help, and other disaster-related information. Soon, people had started to put together a Google spreadsheet with all the information, and this in turn was organised into chennairains.org, which would become the go-to destination for the disaster response efforts, with over 200 volunteers working on the website, and providing area updates every five minutes. People outside the city could follow the Twitter feed and keep checking for verified updates from different areas, or visit the website for a more comprehensive picture.
"It all started when I logged on to Twitter on December 1, 2015 to ask for information about rains in suburban Chennai. My aunt and uncle lived there, and they complained that water was entering their house," writes Sowmya Rao, who created a Google spreadsheet which would pave the way for the volunteer efforts in Chennai, in a post on Twitter blog that chronicles the online relief efforts.
"They were wondering if they should stay or evacuate to a friend's apartment - and I offered to go online and check. Twitter responded urgently with 'Get them to higher ground'. I relayed the message, and stuck around online, feeling helpless, knowing that the areas beyond where they lived were probably facing the same plight. They didn't have enough information to know where they could find shelter, and who was offering it."
From there, Rao decided to start sharing whatever information he could find, and he created a Google spreadsheet so that other people could also add their information, all in a centralised database that would be easy for people to access.
Karthik Balakrishnan, the Web developer behind chennairains.org, says he got the idea to make the website after he pinged Sandhya Ramesh, who was actively coordinating relief efforts on Twitter at the time. She in turn linked him to Sowmya Rao's Google spreadsheet. It showed the crowdsourced list of beds available, connecting people who were displaced from their own houses, and were looking for places to stay. Balakrishnan and Rao chatted along with the spreadsheet at two in the morning, following which Balakrishnan booked the domain and posted the site by 3.30am. "Little did I know then, that the hastily-put together spreadsheet would bloom into a multi-faceted, volunteer driven, highly energetic online movement to help Chennai that would be used by police officers, government officials," Rao adds.
"Twitter is the first port of call for people responding to a disaster, as we're a live, real-time public platform," says Twitter's Khursheed. "The advantages of that are manifold, you can have conversations around organising relief at scale, you can form groups quickly, you can group DM with ten of 15 people and start a conversation around coordinating relief efforts."
Twitter tied up with all the volunteer groups who were working together on the #ChennaiRainsHelp campaign - these included InCrisisRelief, TheNewsMinute, Airtel, Zomato, goonj.org, Bhumi, Uday Foundation, and Practo, with data support from Delhi-based SocialCops.
"The partners we were working with were responding to the disaster in their own way, so we thought it may be a good idea to just get everyone onto the same page, and help them with data," Khursheed says.
Technology wasn't able to solve all the coordination problems and challenges presented though. "We didn't have a list of government relief centres sorted by PIN code," says Khursheed. "To put them on a map, you need a lat-long of these locations. Volunteers spent a day assigning pin codes to those locations."
By December 5, the chennairains.org team had a new type of problem problem statement - they had data all the way from the beginning, but did not know how much of it was relevant and how much of it was now outdated. The team needed a quick way to close out things that they shouldn't be looking at anymore and look at fresh data, while making sure not to forget or omit old data that still had value.
With Exotel, a cloud telephony provider, chennairains.org developed an SMS system which sent out messages to numbers listed.
"The SMS basically said you have three numbers here, if you still need help with food and aid, please give a missed call on this number," explains Balakrishnan. "If you are safe, give a missed call to this number, if you are in urgent need, this number, and that's tied into our database, and we coordinated people to drive relief efforts."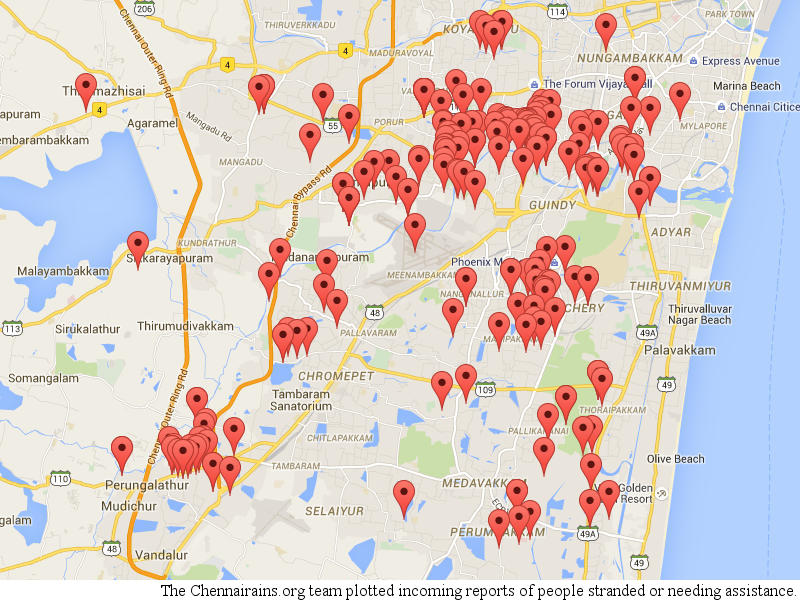 According to Balakrishnan, a volunteer team of at least 50-60 people kept track of everything online, manually matching relief efforts on a rotation basis, 24 hours a day. It required knowledge of the city, and Tamil. Getting a location from a plaintext address to an addressable place on Google Maps was a manual effort.
For about 75 to 80 percent of the areas, the team was able to get the lat-long coordinates on a map by just searching on Google's Location API. For the 20 percent, where the landmarks where vague, the team coordinated over phone calls.
Based on Google Analytics data, Chennairains.org saw 600,000 pageviews on December 6th. "On average, each person of the 200 member team made about 200 to 250 phone calls over a period of four days." Balakrishnan says, explaining that the volunteer team made phone calls to coordinate with people on the ground, to verify and find out if people had gotten any assistance. The code for chennairains.org was open-sourced and hosted on Github, and went on to power cuddalorerains.org.
Along the way, Balakrishnan, Rao, and the other volunteers have proved that the open Internet and free access can make a valuable contribution, and the open nature of the website allowed it to be set up quickly, in time to make a real difference to people in need.