Online content in Indian languages remains limited, although many media companies are making serious inroads into the space. Video content in Indian languages is highly popular though, and international sites like Facebook have been localised with Hindi support. What's missing in all this is shopping - very few e-commerce sites allow you to shop in your own language. Both OLX and Quikr support Hindi (Quikr supports seven Indian languages in all), but these sites don't handle the transactions, and the listings aren't translated. While this article from July last year says Flipkart, Snapdeal, and Jabong were all working towards launching support for Indian languages, but only Snapdeal appears to have done this successfully.

One of the latest companies to enter this space is also one of India's most successful online businesses. MakeMyTrip launched Hindi support near the end of November last year. A few months later, the company is very close to launching support for more Indian languages despite some unexpected challenges along the way.
"We are looking at Indian languages as a strategic initiative," explains Pranav Bhasin, Head of Mobile Product at MakeMyTrip. "Hindi flight booking was just the starting point, and we're going to be rolling out rail services in a number of languages including Hindi, Tamil, Telegu, Gujarati, and Malayalam."
Less than six months down the line though, Bhasin tells us that the process of building support for Hindi came with a lot of unexpected challenges along the way.
"The concept seemed really simple to us at the time," says Bhasin. "All the technology is in place, and we just need to change the text, that's all. What we found though is that actually translating is quite difficult to get right, and it's a different market, a different customer."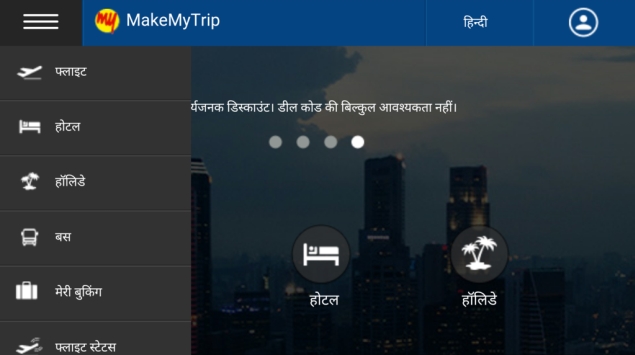 The problems that the customers have are different, for one thing, Bhasin tells us. Payments are particularly an issue, and to work around this, MakeMyTrip is now weighing the pros and cons of solutions such as cash-on-delivery for rail tickets.
People prefer their languages, but understand English
"But the big thing was just that the language we used for translation was all wrong at first," says Bhasin. "Our users were English aware - they could already book a ticket, for example - but they wanted something more easily understandable."
(Also see: Are Indian Languages Ready to Replace English Online?)
This was something that was also observed by Snapdeal. The company launched support for Indian languages around a year ago, and claims that customer feedback has been quite positive.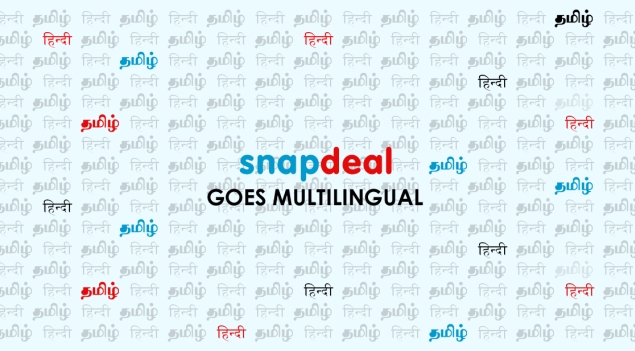 Snapdeal's Amit Khanna, Senior Vice President Product Development also believes that there is a definite preference for people to use Indian languages over English.
"In the Indian context, people prefer reading in their local languages," says Khanna. "The buying behaviour is not that different on our site, but we see much better engagement with content."
According to him, Snapdeal isn't reaching entirely new audiences with Hindi content - just serving existing users better.
"People understand English, but aren't always comfortable," Khanna says, "so now the users spend more site, use more content."
Payments are finalised by banks, so those pages remain in English, but Khanna says that this is not a problem because the pages are very standardised and familiar - as long as you have some understanding of English, the pages are accessible.
E-commerce needs real-time translation
There's another wrinkle to be considered today - the e-commerce sites rely heavily on content from third-party sellers. Travel sites like MakeMyTrip also rely heavily on their partners for information, so even in this case, there's a lot of information coming in that won't already be in Hindi. Unlike a media site which can manually translate the content it requires, e-commerce has to use live translation.
According to Snapdeal's Khanna, part of the problem was that there weren't too many standard solutions that the company could just "plug into".
"Our content keeps changing, there are thousands of pieces of new content each day," says Khanna. "And these are real time listings. So we needed a solution. There were very few companies that existed when we were starting this, and we worked with them to create our own technology on top of that as well."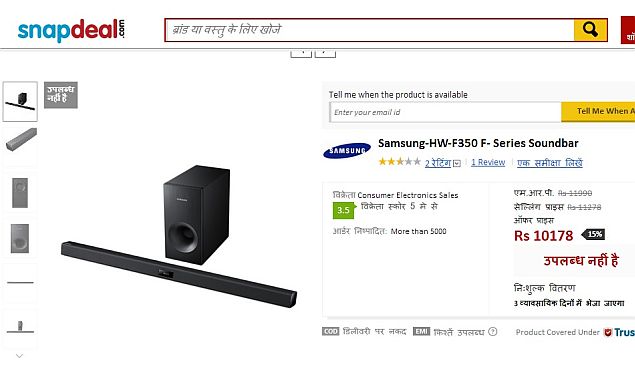 Of course, with translation there are the unexpected problems that follow as well - a Samsung Galaxy phone, for example, had its name translated too. "The Samsung Galaxy became Samsung Aakashganga," Khanna tells us. "We had to program all these exceptions so that the system didn't make mistakes."
This was the problem that MakeMyTrip also grappled with, and eventually the company decided it had to build its own translation technology, which includes a self-learning system that improves suggestions over time, the way your phone's autocorrect can learn new words these days.
A direct translation was not always easily understandable.
"No one wanted pure Hindi either," Bhasin says. "Hindi numbers for example, people are very used to the English script. We had to make fine adjustments like this all the time, to find the simple words people would understand after four or five iterations."
This meant accepting Hinglish phrases, like "Book Karo", or simplified language, like "Aana-Jaana", instead of "Aagaman-Prasthaan". There were even technology issues around using Hindi. "Our characterset was not initially Unicode, and so when we started using Hindi, it wouldn't work with our database," says Bhasin. "We had to make technology changes up and down the line, and now all our content is Unicode."
Isn't it still too soon?
This seems like a lot of effort to cater to an audience that both Bhasin and Khanna tell us is very small, and likely to remain so far a few years at least.
"The demand for the Indian languages won't be anything close to English languages for the next few years," Khanna says, but he doesn't think that Snapdeal has entered the space too soon. "Content has been available for a while, and we wanted to see how deeply we can also integrate Indian languages. The market remains to be seen, but I wouldn't say we entered this space ahead of time."
MakeMyTrip's Bhasin also agrees with this assessment, and says it will be years before the vernacular Web becomes as important as English is in India.
"Before we launched Hindi, we set up our own expectations with very low hopes and a two year profitability goal," says Bhasin. "With that in mind, we see a lot of activity on this product. A lot of the users are in the metro cities for now, whom we believe grew up in smaller cities and then moved to the big cities."
"We're seeing more users from tier-2 and tier-3 cities switching to Hindi, even though we're not really marketing it right now," he adds. "With around 75 percent of our users from tier-2 and tier-3 coming on 3G or even 2G, we'll probably see the numbers rising up as connectivity improves and 4G starts to grow."
One this next wave of users comes on board, it's very possible that more e-commerce companies will also have to explore Indian languages. For now though, as the audience moves steadily towards mobiles and apps, companies like Snapdeal and MakeMyTrip are ensuring that new customers who prefer Indian languages will install their apps - something that is only going to keep getting more important over time.