Recently, Yes Bank announced that it has implemented a multi-nodal blockchain transaction, to fully digitise vendor financing for Bajaj Electricals, integrating blockchain technology with Yes Bank's API-banking platform. Looking beyond the jargon, what this means is that Yes Bank has rolled out a commercial solution that helps Bajaj Electricals to quickly pay its vendors, without the long trail of paperwork, in a system that's both transparent and secure. We talked to the bank to find out a little more about how this works, and what it means for others beyond Bajaj Electricals.
To understand the solution, you first need to know what blockchain is. Brock Pierce, Managing Partner Blockchain Capital, a venture capital firm that invests in blockchain technology companies, explains the blockchain as a public-private ledger of transactions, which does not have any central control or single authority, or repository of information. Since the data about the transactions is decentralised between all the various stakeholders, no one party can make changes without the others knowing - in this way, the blockchain is both transparent, and secure, as every transaction is recorded, and visible to all stakeholders. That's why it's the underlying technology used for digital currency Bitcoin, and why so many banks are now interested in implementing it as well.
What Is Bitcoin? A Look at the Digital Currency
What Yes Bank has done is create a B2B solution that it can sell to others for their vendor financing, the first client for which is Bajaj Electrical. "For any company, there are a lot of vendors that they are working with," explains Anup Purohit, Senior President and CIO, Yes Bank. "For example, they'll need to pay their distributors, their logistics partners, the partners who supply equipment and raw materials, everyone needs to be paid."
Typically, the way this happens is through the following process: first, the company sends an order to the vendor, who then does the work/ delivers the goods. At this point, it sends an invoice to the company, which now has to do its verification and ensure that the work has been done. Next, the countersigned invoice is returned to the vendor. The vendor then presents this to the bank, which in turn has to verify the invoice, and finally a payment is made to the vendor by the bank, Purohit explains, in a process he says takes four to five days for every invoice, though the real world experience of anyone who's done business in India will tell you this time can be a lot more.
Ex-Google Engineer Launches Blockchain-Based System for Banks
"The whole thing has to be done with manual intervention at every stage, so it's not so efficient, and that's one of the reasons why we have introduced this new technology, which is also more transparent and even more secure," he adds.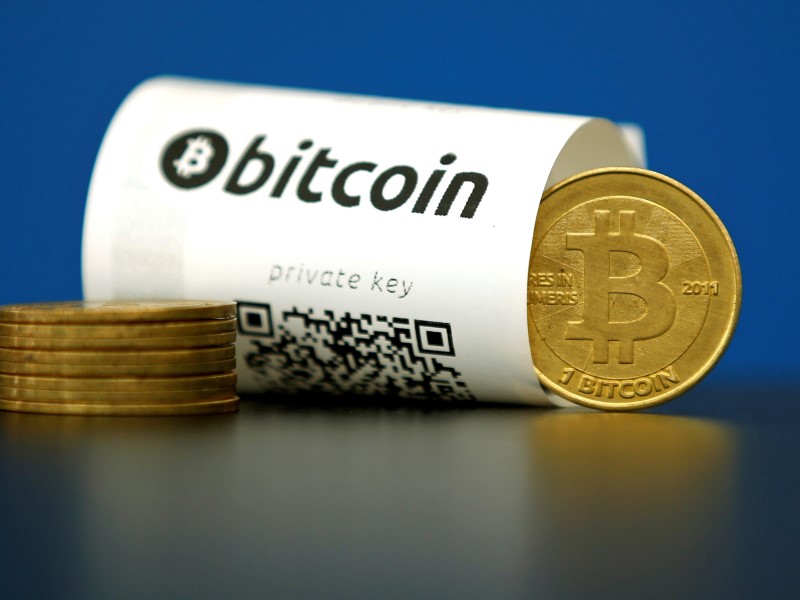 "We are glad that Bajaj Electricals is undertaking this technological leap and working with us to solve the current challenges in vendor financing solutions by effectively utilising blockchain capabilities," says Rana Kapoor, MD and CEO Yes Bank. "I strongly believe that we are only at the tip of the iceberg, and envision that blockchain coupled with IBM's cognitive solution on cloud will make a significant impact in the global transaction banking space."
There are a number of companies that have built blockchain solutions today, and Yes Bank's technology is based on IBM's Hyperledger fabric. Here, Bajaj Electrics gets integrated into Yes Bank's system, to digitise the process of payouts to vendors.
In a Post Demonetisation World, Some Indians are Giving Bitcoins a Closer Look
The rules for authentication of transactions are secured in a "smart contract" chain code, and it allows for automated debits with minimal intervention. "There is still full oversight, but this increases the efficiency dramatically, you can get things done instantly now," says Purohit.
"The BlockChain solution by Yes Bank is a significant step towards digitally integrated solution for supply chain financing," says Shekhar Bajaj, CMD, Bajaj Electricals. "This solution enables us to do timely processing of the vendor payment through vendor financing from the bank without physical documents and manual intervention. It also enables us and our vendor to track the status of the transactions on real time basis."
According to Purohit, the big advantage is speed, but it also helps to remove the paper trail and manual intervention. At the same time, using Blockchain instead of other technologies such as Yes Bank's banking API (which gives bank partners access to specific functions, such as making payments) also makes things more visible to all the partners involved. "The vendor can see whether the payment has been made, and the company can see the invoice status, every stage of the process is now digital, with no paperwork needed," explains Purohit.
Equally, these transactions can not be deleted by anyone - any altering of the blockchain is permanently recorded, and this can't be changed even by the bank. As a result, it's something that all the stakeholders can rely on, and use.
This is why Yes Bank hopes that other partners will also adopt the blockchain technology it's offering, and Purohit says that the bank is open to all forms of innovation, and if there are good implementations for general customers, it will enable these as well. For now, the areas where it would be most applicable include letters of credit, documentary collection, foreign remittances, and trade finance, he adds.