If a webpage you wanted to open is not accessible - for which the reasons could range from a temporary network issue to a page being removed from the website entirely - then you don't need to lose hope. It's actually possible to recover backed-up versions of most pages from the Internet with just a little know-how. The whole process is incredibly simple, and you'll find it very useful if you're to research a topic, and you discover that the links you've been saving for weeks or even months no longer work.
If you want to read a webpage that has been deleted or is otherwise not accessible anymore, this is what you can do.
Wayback Machine
Archive.org's Wayback is probably the best tool to recover any deleted webpage. It is a part of the Internet Archive, a non-profit organisation that tries to duplicate all content on the Internet. It has saved over 435 billion Web pages, which probably isn't all the content on the Internet, but is still impressive. Pages are captured multiple times so for example we used the Wayback Machine to look at the NDTV Gadgets homepage across several different years, and saw our design evolving with time.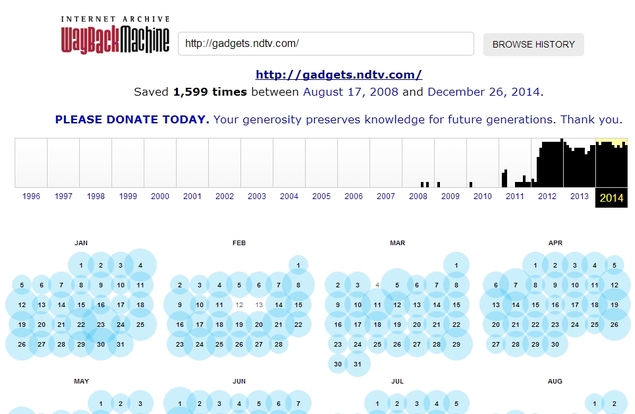 Here's how to use it.
Open the Wayback website.

Enter the URL of the missing website or webpage that you want to open in the box at the top.

Click Browse History.

You'll see a calendar view. Select the year at the top and then date from the list of months below.

That's it! You'll be shown a saved version of the page from that date.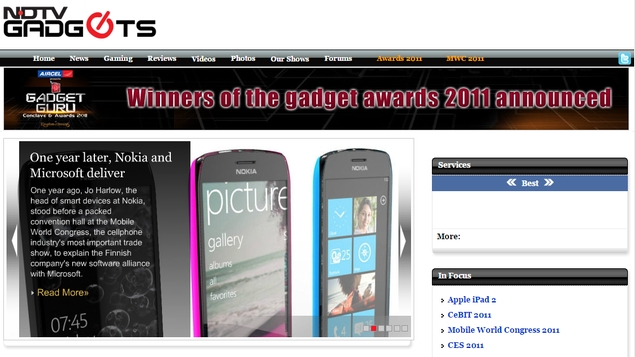 Search Engine Cache
If you're looking for a page that was deleted recently, then it might be easier to find it through a search engine such as Google, Yahoo or Bing. As long as you're able to find the webpage in a search engine, you should be able to load a backed up copy of the page as well. This is how it works:
Open the search engine you like. Google's caching is very good, so we suggest you use it.

Paste the link of the missing webpage in the search bar if you know it, or just search for the page to find the link you need.

Under the blue text of the link, you'll see a line of green text, which is the URL of the webpage. Click the down arrow next to the green URL text.

Click Cached. This will show you a saved version of the page you wanted, along with details of when the backup was made.

If this page does not load properly, you can try clicking Text-only version on the top right side. This will lose all images that were in the page, but if it isn't loading correctly, this will still let you get to the important data you needed.

Save webpages you need
In case you want to keep webpages for research purposes, a better idea is to save them beforehand. Doing this from a browser is simple:
Go to the website you want to save.

Press Ctrl+S.

Give it any file name and click Save.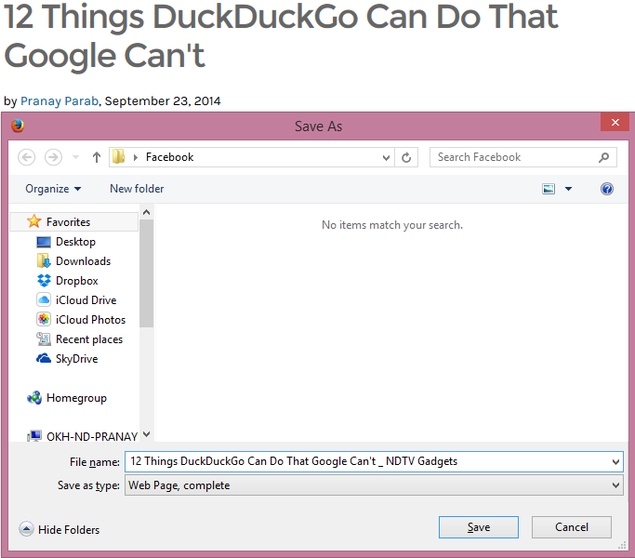 This will store the page on your computer and you can access it anytime. If you are not using your computer, you can always use third-party services such as Pocket to save webpages for offline reading - once you install the extension, saving pages is as simple as clicking the Pocket button in your browser when you're reading a page you want to save, or right clicking a link and clicking on Save to Pocket.
For more tutorials, visit our How To section.