Amazon Great Indian Sale has kicked off, seeing huge discounts across a wide catalogue of products. The Amazon sale for the next four days will see discounts, cashbacks and other offers for products ranging from mobiles, tablets to laptops, TVs and more. Of course, the problem with shopping online, including on occasions such as the Amazon sale, is that you don't see a product before buying it, and have to pay before you can try whatever you're buying. We recently had to return some items to Amazon India, and if you're ever in the same position, then this is what you need to know to easily make a return.
Amazon Great Indian Sale Starts: How to Get the Best Deals
If the clothes you bought do not fit, or if you get an old, damaged copy of a book, you can return the product without even calling customer care to get this done. Amazon has a really simple interface for returns and scheduling a pickup. Here's how to do that:
Go to your Amazon orders page.

Each order will be in a box. Scroll down to the order you want to return.

Click the Return items button on the right side.

Click the checkmark next to each product you want to return.

On the right-side of the products you want to return, select a reason for return from the drop-down menu.

Briefly explain the problem in the box that appears below the drop-down menu. This box will appear once you select a reason for return.

Click Continue.

In the next page, Amazon will offer a way to resolve the problem. In most cases there will just be one option selected by default - Refund. Click Continue.

The next page is where you schedule a pickup. Select a pickup date from the drop-down menu.

Your delivery address will be displayed by default. If you want to schedule a pickup at another address, click Change address.

When you're ready to complete the return process, click Submit. Amazon will send someone to pick up the goods you want to return. They'll give you a return receipt. Keep that safe until the refund is credited to your account.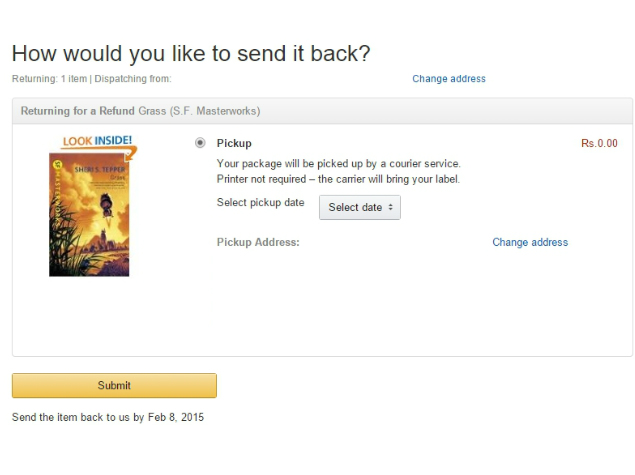 Have you ever had to return items purchased via Amazon or any other e-commerce portal? How was your experience? Let us know via the comments. For more tutorials, head to our How To section.
Affiliate links may be automatically generated - see our ethics statement for details.
For the latest tech news and reviews, follow Gadgets 360 on Twitter, Facebook, and Google News. For the latest videos on gadgets and tech, subscribe to our YouTube channel.
Related Stories