It's that time of the year again - a major sporting event is rolling around, and most people you know are going gaga about it. The ICC Cricket World Cup 2015 is almost here, and that's going to turn the Internet into a very annoying place for people who don't care about cricket, or sports in general.
If that describes you, then don't despair, or give up on the Internet entirely. There are a few simple tools that will help you to turn the Internet into a cricket free zone, with very little effort. The first and most obvious step is to not visit sites that will have a lot of cricket content. If you're going to a site like Cricinfo and then complaining about seeing news on the World Cup, then you have bigger issues to deal with.
If you get most of your news online, then this can still be a problem, because even general news sites will have articles related to cricket. You could avoid news sites altogether, but that's probably not a good idea. A more practical solution is to try an extension for Chrome called Tiny Filter or ProCon Latte Content Filter, if you are a Firefox user. These tools allow you to filter out content from the Internet based on the use of keywords, and they are really effective and easy to use.
Here's how to go about it. After installing the extension, click the Tiny Filter icon and go to the settings. There, click on Blocked Keywords, then scroll down to add words like cricket and world* cup. Click on Advanced Settings, and tick Stop all traffic. Scroll down to the bottom and click Save, and your browser is now completely cricket free. It's a little extreme though, and you'll not just lose the World Cup news, but every page that mentions the word. This is why we suggesting tolerating a bit of cricket in your life.
Twitter and Facebook
Your friends, on the other hand, are usually a lot more insufferable than passing mentions of the World Cup on social sites. There's a lot you can do about it though, on both Twitter and Facebook.
On Twitter, the first thing you want to do is start muting your friends. The sports fans. The compulsive news tweeters. And if they're the news outlets you follow start turning into a firehose, start muting them too. You can unmute them all later, but for now, it's just going to be easier to cut them off for a while. You'll also be able to filter out a lot of content by simply muting certain hashtags, if your third-party Twitter client has this feature. Simply right-clicking - or long tapping - the hashtag should let you mute the hashtag, or you can go to the preferences of the app and manually add #cwc15 (the official hashtag of the Cricket World Cup 2015), #cricket and other similar hashtags to the mute list.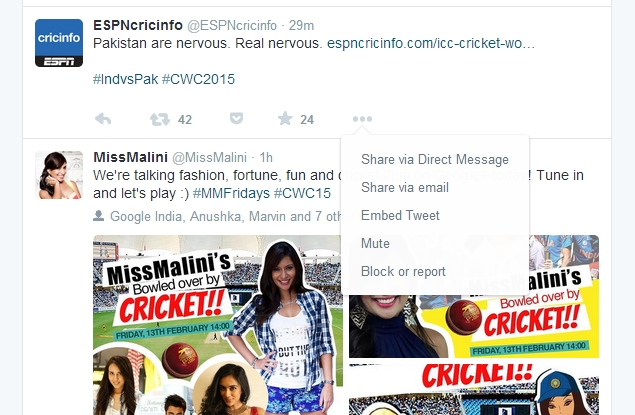 On Facebook, you can't mute topics directly, but you can reduce posts from certain sources. To do this, first click on the downward facing arrow on the top right of any cricket related post you see. Click on I don't want to see this. The post will be removed from your news feed, and if your friend posts too much cricket-related content, you can even click on See less from (your friend's name).
There are third-party solutions that'll let you more. For example, simple Social Fixer extension for Chrome and Firefox gives you full control over your Facebook feed. To get away from the Cricket World Cup 2015 via Social Fixer, install the extension and go to the wrench icon in the top right corner, and click on Edit Social Fixer Options. Click on Filtering and in the "Other" box, type the text you want to block. First, enter something like cricket or #cwc2015, and then tick Hide in the "Action" box. Now, click on **Add New Filter at the Top".
A fresh filter table will replace the one you just filled. In the new "Other" box, enter world cup. You can repeat the process to filter out the names of individual cricketers your friends love as a safety measure. Once you're done, click on the big Save button at the top of the page, and refresh the page for the filters to take effect.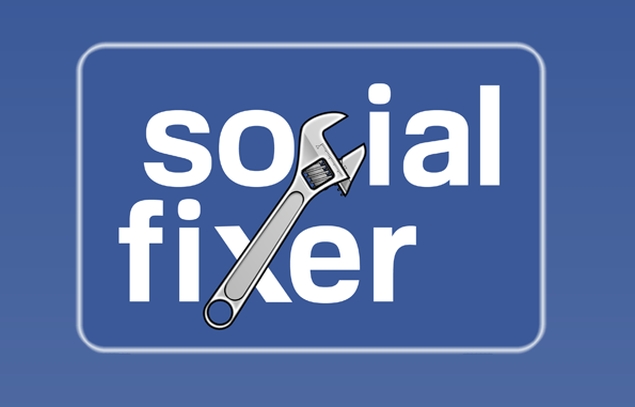 Silencer does the same thing, but for Twitter as well. Install the Chrome extension and you'll see a little icon that looks like a man holding his finger up to his lips next to the address bar. Click on it to enter terms to filter, and you'll watch them disappear from your timeline right away. We prefer Social Fixer for Facebook, since it also allows you to split your timeline into tabs depending on the source, and to preview thumbnails and change the layout and design of the page if you want, but if you're looking for the simplest solution, Silencer is the way to go.
Beyond the desktop
These methods only work on your desktop browser though - on the phone, there's no simple way to filter out World Cup related posts. That's why we'd suggest also muting people, and hiding Facebook posters manually first. It won't be foolproof, but it'll make your mobile experience a little more tolerable.
If you're on Twitter and visit using the mobile Web, the site is pushing a link to some users showing them how to follow the World Cup, which you can't do much about, other than ignoring the tweet.
Google Now is another potential offender - if the service thinks that you're a cricket fan, it will keep trying to push Cricket World Cup related content at you in the Now Cards. Fixing this is simple, and will work across platforms.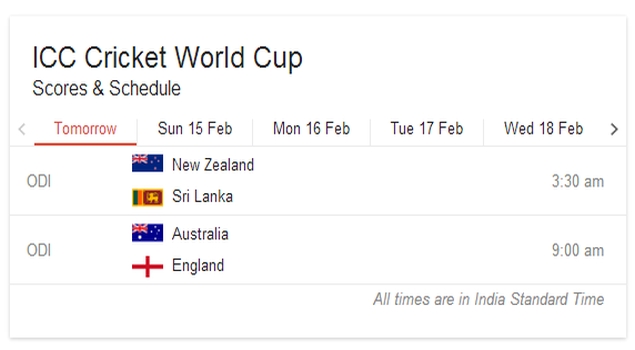 Just launch Google Now, and click on the three-horizontal lines in the top left to open the menu. Tap on Customise and then tap on Sports. At the bottom, tap on Continue to get sports updates? and tap on NO. That's it, Google Now is now sports free!
Between these methods, you should cover up almost all mentions of cricket on the Internet. There's no completely foolproof way to avoid it entirely unfortunately, and for the next two months, you're just going to have to put up with a little annoyance. Our advice is to grin and bear it, but no one who uses social media in any form is ever capable of that, so the next line of advice is for all your cricket loving friends: the steps mentioned above can also be used to block out people complaining about Cricket World Cup!