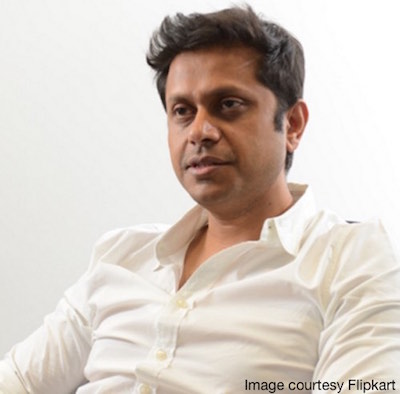 Mukesh Bansal, the head of Flipkart's commerce platform, has in a letter to his co-workers, said, "My two years with Flipkart has been nothing short of fairy tale!"
Bansal, 40, is quitting the country's biggest e-commerce firm along with another senior executive, chief business officer Ankit Nagori. Both executives said they were leaving to start their own separate ventures. Though Bansal stressed in his note that he will first enjoy "a long break" and catch up on "reading, travel and fitness" along with spending quality time with his kids to "catch up on all the fun I have missed with them all these years."
The departures came a month after restructuring at the company that saw co-founder Binny Bansal, former chief operating officer, become chief executive. "Binny, along with the leadership and the amazing talent pool at Flipkart will do justice to any mandate," said Mukesh Bansal, amid talk that he was upset with Binny Bansal's new designation.
Mukesh Bansal said he would leave at the end of March while Nagori said he would be with the company over the next quarter.
Mukesh Bansal founded Bengaluru-based Myntra, India's leading online fashion retailer, which was acquired by Flipkart in 2014.
Flipkart, launched in 2007 by Binny and Sachin Bansal, two former Amazon employees, is competing to retain its primacy against Amazon and Snapdeal.
Here's the letter sent by Mukesh Bansal to Flipkart employees in full:
Time to pass on the Baton!

Hi All - My incredible journey with Myntra and Flipkart comes to an end. It has been amazing nine years filled with lot of learning, privilege to work with outstanding people and chance to participate in building future industry of India that will impact hundred of millions of people.

When Ashutosh and I started Myntra in 2007, we never dreamt in our wildest imagination that we will come this far. What's even more amazing is that it seems we are just getting started and the journey ahead for Flipkart/ Myntra is going to be even more fascinating and at the scale that India has never seen before.

Today, Myntra is by far the best fashion destination in the country and is run by a strong, passionate leadership team led by Ananth. I am confident that this team will make Myntra an iconic company which will change the face of fashion industry in India. Myntra is leading the industry with premium service, differentiated shopping experience, unique in-house brands and lot of progress towards achieving profitability. I am particularly proud of the culture at Myntra which is a huge source of strength and differentiation and inspiration for entire ecosystem.

My two years with Flipkart has been nothing short of fairy tale! Sachin and Binny have built a very unique company that has practically created the eCommerce industry in India and consistently led in innovation like COD, eKart, 30 Day Returns and mCommerce. The Audacity, Flipkart first and Bias for action have been cornerstone of the Flipkart culture that enables us to dream big and consistently beat our own expectations. We are well on our way to build India's first real tech company, drive genuine innovation and transform commerce in India through technology.

I have enjoyed every minute of my time with Flipkart and felt inspired every moment. In last two years, we have established very strong leadership in Fashion, transformed the business into Marketplace model, increased our Smartphone market share to 60% and built differentiators in Large. We have pivoted to completely mobile first company with 60% mCommerce market-share for the group. We have embarked on the journey to be a strong product/tech organisation with very high caliber talent. Last year, we set out to build the best leadership team in India and we have done exactly that. With the caliber of this team, I am very confident that Flipkart is in safe hands and this team is eminently capable of charting the course for next phase of Flipkart journey.

I am very excited with Binny coming in as CEO and my transition will enable him to work directly with CP leadership. Binny's ability to drive execution rigour, objectivity and long term vision for Flipkart will give us best shot in dealing with the challenges that lie ahead. Binny, along with the leadership and the amazing talent pool at Flipkart will do justice to any mandate and continue to push the boundaries for eCommerce/Internet businesses in India and beyond. I will transition my role to Binny and will be available as long as required to ensure a smooth and successful transition. With this team in place and the momentum on multiple fronts, CP is in great hands and I feel confident that this is right time for me to move on to next phase.

Even though my journey comes to an end, I will always be deeply emotionally connected to Flipkart and Myntra. I will continue to be available from outside as sounding board and mentor to the team. Last nine years have completely transformed me as a person and I will cherish every moment. The hardest part will be to part ways with all the incredible people I had the privilege to get to know and work with. I will seek you out over next few weeks to say my good-byes in person and to celebrate what we have achieved together.
For the latest tech news and reviews, follow Gadgets 360 on Twitter, Facebook, and Google News. For the latest videos on gadgets and tech, subscribe to our YouTube channel.
Related Stories