In its second consumer research survey, classified site OLX found that a massive Rs. 56,200 crores worth of unused goods are lying around in people's houses across India. That's just over $9 billion, and it's a number that OLX believes will continue to rise. For the release of the survey, OLX gathered a panel consisting of OLX CEO Amarjit Singh Batra, along with Santosh Desai, CEO of brand consulting firm Futurebrands, Dhiraj Nayyar, CEO of public advocacy think tank Think India Foundation, social scientist Shiv Vishwanathan and actor Tara Sharma.
OLX's customer survey was carried out across 16 cities, and 5,800 people were asked about unused products in their houses - what goods they were currently using, which ones they planned to sell, and which ones were simply being stocked at home for any reason.
According to OLX, on average, there is around Rs. 8,400 worth of goods lying around in houses across the country gathering dust, and that figure is Rs. 19,500 across tier-1 cities. Multiply this by the numbers of households across the country, and you arrive at the mind-boggling number OLX is talking about.
Mumbai has the most hoarders, with 99 percent of the people surveyed admitting to hanging on to goods they weren't using; Kolkata was at 98 percent, while Delhi rounds out the top five at 'just' 82 percent.
Most of the unused stuff people are hanging on to are clothes, kitchen utensils, and books. "Nearly 20 percent of the things in your house are irrelevant to you," says OLX CEO Amarjit Singh Batra. "You can just sell them without thinking."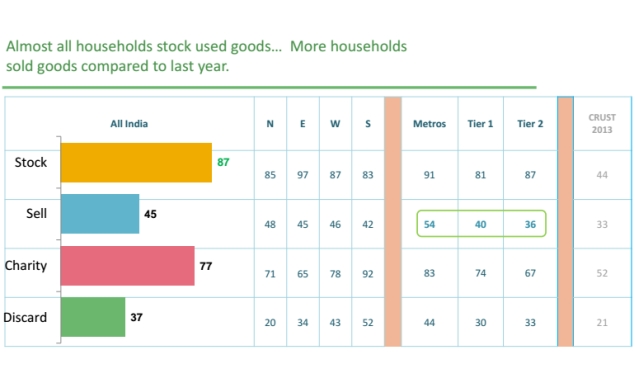 However, only 48 percent of the people surveyed in North India said they sell old goods - and this was the highest number around the country. However, things seem to be changing, thanks at least partially due to the marketing blitz by classified sites like OLX and Quikr encouraging you to, well, sell everything. 85 percent of the sampled audience in Kolkata said they plan to sell their used goods in the future.
(Also see: OLX and Quikr battle it out to be India's Craigslist)
Mobile phones and other consumer electronics are commonly sold on OLX, but books are the most popular category, with 17 percent of the correspondents surveyed admitting to having used the site to sell unused reading material.
"As people become more aware of the fact that they can easily sell their unused old goods, we'll see more secondhand sales taking place," says Batra. "Part of the reason for this is that earlier, we used to use goods till the very end of their life. But today, if you're buying the latest phones and gadgets, then you have to dispose of the old one. So today, people are using maybe 25-30 percent of a product's lifecycle."
Futurebrands's Desai agreed, saying that consumption is now very fixed in the present. "People keep wanting to buy the latest thing - it reflects on their personality and is a statement," he says. "In earlier times, we had the philosophy of 'paisa vasool'. So an old product would be recycled within the family, you'd get your brother's hand me downs, and you bought things expecting them to be in use for years. That's changed and so you'll see the formal used goods economy grow as a result."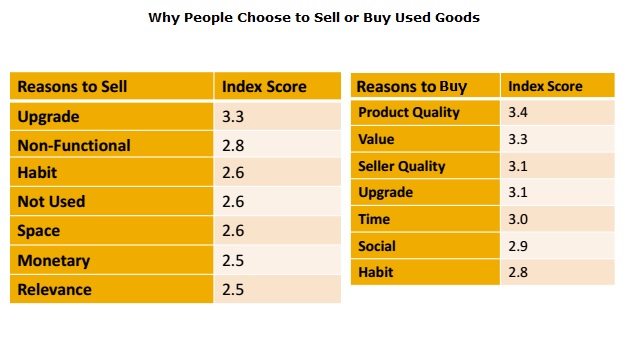 (Also see: The 10 Weirdest Things You Can Buy Off OLX and Quikr)
Part of the change is also in the more aspirational market we live in today. According to OLX, 51 percent of people sell their products because they want to upgrade to better ones. At the same time, 69 percent of all respondents said they shop on OLX since used goods are less expensive.
"We're all buying more and more expensive things," says Batra. "If you are buying an expensive phone, you won't give it away as a hand-me-down. And so you're not using it, and you end up hoarding it instead because you don't want to waste its value."
But sites like OLX and Quikr also make it much easier for sellers to get feedback from buyers without middlemen. This makes it easier for people to properly judge the value of their old goods.
"We never talk about used goods because they're considered inferior," says Think India Foundation's Dhiraj Nayyar. "This creates a problem because someone like me, for example, doesn't know what value his old things have. I have stuff lying around at home that I don't use, but I have no idea what it is worth, and people don't want to sell it for too low a price either. You don't want to feel like you made a mistake."
"That's why sites like OLX help, because they provide the tools to price used goods," he says. "Otherwise, I may not know what the actual value of my things is. If I bought a fitness station for Rs. 20,000, can I sell it for Rs. 2,000, or Rs. 5,000, or Rs. 10,000?"