Former Snapdeal CTO Amitabh Misra is keen to make a mark in the travel industry next, and interestingly, his startup GoFro is being backed by MakeMyTrip. Top leadership includes other senior executives from Snapdeal and MakeMyTrip, and the company isn't actually competing with providers such as MakeMyTrip - rather, it wants to be a marketplace that everyone can use to offer their services. Misra says that the real competition is the offline travel agent.
The travel industry in India has been due for disruption for a while now, and as Gadgets 360 has written in the past, part of the gap exists in the role of travel agents, who still provide a much wider range of services than you'll get from most online travel agents such as MakeMyTrip or Cleartrip.
The problem, according to Misra, is that travel is a much more complicated category than e-commerce. "There are many more variables involved, and we have to keep everything in sync," he says. "With e-commerce, you had your cart, you had your items in the cart, and then you had checkout. Here, you've got to manage a number of different cities in an itinerary, you've got to make sure that the dates for each are in sync, that the travel dates and the hotel dates are matching, that the activities are in the right locations, it's much more complex."
"We want to transform the market, and make things more efficient," says Misra, "it's the same process as Snapdeal but in a different domain. Today, the marketplace as a business-model is spreading, and you just have to look at Uber to see how this can work."
The way GoFro works is simple - the site (which launched only last week) currently supports six destinations (Thailand, Singapore, Malaysia, Bali, Mauritius, and Dubai), and will be adding more over the coming months, wants to help you arrange every aspect of a holiday; from your tickets, to hotel bookings, to activities, and even to help with travel related services such as visa applications, forex, and local SIM cards.
Of course, there are other sites that also offer this kind of experience, bundling together various different services and products. According to Misra, one big differentiator for GoFro is going to be the fact that it doesn't own any of the products, and is acting merely as a marketplace. "We are going to just be a technology company that makes it possible to put together something easily on your own," he explains, "we're not limited to anything and any company that offers a travel related product should come and list with us."
Despite some companies making a move in this space, Misra believes that for international holidays, which is the current focus for GoFro, the space is still almost 100 percent offline. "Some people want to buy air tickets online and have arrangements to stay with friends, or maybe they're getting tickets using their miles and need to book a hotel," he says, "but most people are looking at more complicated plans than that, and typically they go to the travel agent for that."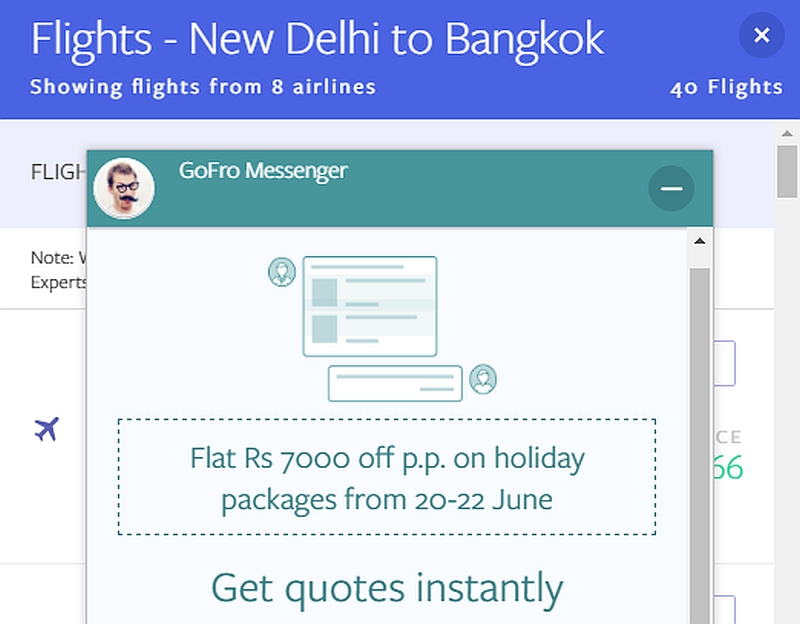 "So what we wanted to do was give you a single page experience, and that doesn't just book your tickets, but we also connect you with local experts," he adds, "so they can see your plans, and suggest changes, suggest activities, and then if you have to change your dates, they can do that right away for you, it's fully seamless. Otherwise you first go to one place, you research your holiday, and then you go to another place to book your tickets but then you see that the deals aren't lining up, so you're back to doing the research, it's a lot of wasted effort and we can change that."
At the same time, the site will use a recommendation engine that can help personalise trips and help find special deals and upgrades - this part of the experience is fully machine driven, Misra clarifies, saying, "Your typical travel agent can't do that."