When the Garbage Bin Facebook page was created back in December 2011, it got two 'likes' in the first month. Understandably so, for there was nothing to show save for some early renditions of a comic strip involving a boy with scraggy hair, slacks, and a sweatshirt.
Come January 2014, the
page
is closing in on 6 lakh likes. In the two years since the page was formed, and with it the now wildly popular comic strip Guddu and Gang created by Faisal Mohd, there have been many changes. The humble beginnings for the comic strip are evident at the yellow-tiled apartment in Noida, where Faisal stays along with his friend and business partner Mohd Shah Nawaz.
The comic details the adventures of pre-teen Guddu, his best friend Shaan, and the rest of the 'gang'. Amongst the many recurring themes in their gags are their comic capers with the boys from the neighbourhood, their angst at completing school homework, Guddu's mother making him do everyday chores, feeding him 'Tindey ki sabzi' and the gang's quest to play Contra, Mario and other arcade games.
"I don't even know how we got here," grins Faisal. "Shah Nawaz was into developing games, I was interested in working with flash animation and would make doodles about a mischievous kid either on the laptop or on a notepad. The idea to create complete gags first came to me in the middle of 2012 and when I began uploading them, they found a connect with the audience."
"Guddu and Shan too are extended personifications," says Shah Nawaz excitedly. "If you notice one of the reasons they have garnered a huge fan following is because they are human and fallible. And they bring along, with them, a sense of nostalgia for anyone who has grown up in the 90s."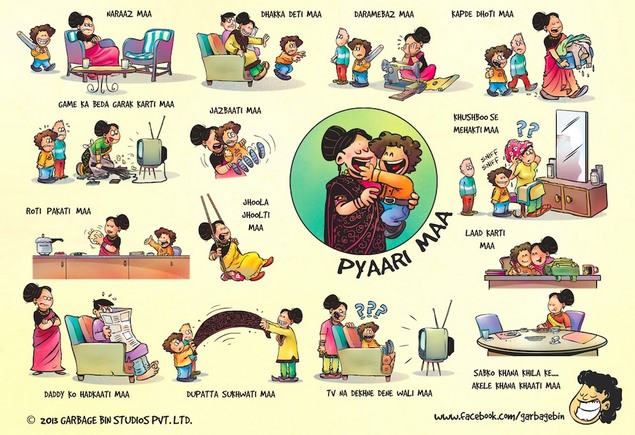 The most popular Garbage Bin comic strip till date.
There was a time when Faisal worked at a STD booth in his hometown Sahranpur as he looked to save enough money to come to Delhi and work as a comic artist. From a job that paid bare-minimum, to learning animation, and Garbage Bing, it has been a long journey.
As the conversation shifts gears, Mohd Shah Nawaz, who is currently working on designing the Garbage Bin app, comes into the picture. In his case, there have been jobs with software firms that 'lack empathy' and failed US visa applications. Having grown up together with Faisal in smalltown Uttar Pradesh, it's no surprise to find that Shaan in the comic is modelled after him.
The developer, like his friend, has a jaunty smile fixed to his face. "2012 was an important year for both of us," he says, as he takes off his green Converse jacket, and sits down in front of the heater, visibly shivering. "It was the first time we got a whiff of the power that the Internet wielded."
In 2012, when social worker Anna Hazare's anti-corruption movement was at its peak, Faisal came up with the idea of creating a game in his support. Shah Nawaz worked on the development of the game and Faisal on the characters. That was how the (now defunct) 'Angry Anna' game was born. It was the duo's take on the Angry Birds franchise, save that it was Anna Hazare, Arvind Kejriwal, Kiran Bedi battling politicians only too well known to be named. The free Web-based game went viral virtually overnight, thanks largely to social media.
Faisal admits the popularity of the game and the raised aspirations - he mentions venture capitalists getting involved at one point - ensured that work came to a standstill. "That is when we decided to stay low, hit the kill switches, and concentrate on our own individual work spaces," says Faisal.
Shah Nawaz got himself a freelance gig at a game development studio, while Faisal chose to give his doodles a serious life, while teaching animation on the sides. Bit by bit, characters like Guddu's parents, Amit ji, Shaan, Luncher paaji, Kachua sir the neighbourhood 'chokras', and the very 'pretty' Laila came to life. With them came the Facebook 'likes'.
There are frequent posts asking Faisal how he designs the gags, and indeed even come up with the ideas. Faisal, who occasionally interacts with fans, smiles when the question is put to him. "Usually they are born out of ordinary conversations. I make a note of them immediately. When I am working on a gag, I go to these ideas and think on devising something on these lines," he says.
Once an idea finds firm roots, it's time to involve his trusted lieutenants, the MacBook Pro and Wacom digital drawing tablet. "I start designing the gag on the tablet using Adobe Flash Professional CC. It is done in three layers. The first layer is designing the characters. The second layer is the text and the third layer is merging the two." Once complete, he sends the rough gag to his close circle of friends via Dropbox or Whatsapp. "If responses are positive, then I go ahead with cleaning and finishing the gag using Photoshop CC. If they are negative, then I go back to the tablet to redesign."
After the gag is completed, he uploads it to the Garbage Bin page on Facebook - at 7:30pm IST. There is a reason behind that too. Faisal says the vast majority of the people who have liked the page login during that time. "So a new gag gets maximum views beginning then. From then on till midnight I track the status of the gag. Once it hits a saturation point it goes stable and I stop tracking, deleting, and blocking off unnecessary posts," he says.
A typical Guduu gag
As much as Faisal is spontaneous and creative, Shah Nawaz is planned and organised. For him, the day involves meetings and drawing up future plans for Garbage Bin Studios, and the night involves coding the forthcoming app, balancing his freelance work all along. "I work well at night," he says, adding, "I refer to the Stanford University tutorials, and read up on app development, follow blogs for developing iOS apps, coding, testing, and refining it."
The idea of releasing a comic online for free is noble. But how does it help the long-term sustainability of the duo? They admit that they have a few monetisation ideas including selling Guddu and Gang merchandise via their newly-launched
website
, and the forthcoming mobile app, which will be ad-supported. "Everyone wins," says Faisal. "People get comics for free, we get to make them happy, and also make money out of it."
There are a couple of niggling questions before we wrap up, about the name Garbage Bin, and, second, why after every three dozen or so gags, comes one, where the comic creator comes on a podium to discuss his achievements but is mercilessly booed off? Explaining both, Faisal says, "I am heavily inspired by the artistes from MAD magazine, who have always labelled themselves as garbage, despite their work being top notch. As for the second one, the comic is a reminder that we are not, and nor will we ever be, bigger than the people who have made it popular."