It's that time of the year when people try to figure out all the paperwork associated with filing tax returns. Some can manage it on their own, but most approach a chartered accountant and try their best to appear as if they understand what is being said. If you are one of the latter, we have some good news - filing tax returns online is easier than you think.
The problem is that one look at the Income Tax Department's e-filing website is enough to intimidate most people. The page has some simple links which can help you to find out how much tax you need to pay and how to file your returns, and even pay taxes online - it's all presented in a wall of links though, that can be overwhelming, particularly if you were feeling confused about taxes to begin with.
Luckily, there are some good alternatives available which make the process simple. While there are a lot of websites available, here are our four top picks.
ClearTax
If you want a site that is easy on the eyes, and keeps things simple, then ClearTax is your best bet. It has a nice interface and is very easy to use. The moment you open the website, you'll see two buttons - an orange button that lets you manually fill in details and a green button that offers to scan your Form-16 PDF and fill in details automatically. That's about as easy as it can get. All you need to do is create an account and fill your personal details such as name, PAN, address, etc.
In case you get stuck, ClearTax has a nice section with step-by-step guides to filing your returns, understanding Form-16, etc. All of this is free of charge. For those who need a CA's assistance, Cleartax offers CA-assisted e-filing starting from Rs. 499. The website says that Cleartax's accountants do the e-filing for you if you opt for a paid plan - they gather all the details over phone calls and email. The free tier doesn't include support over telephone, so you'll have to rely on email.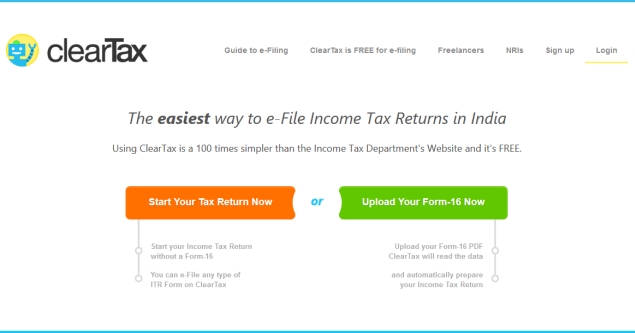 H&R Block
Much like Cleartax, H&R Block has a nice, clean interface and lets you file your returns for free. This website also scans your Form-16 PDF and automatically fills in most details from it. One differentiator from ClearTax is that H&R Block has "agents ready to help" even on the free tier. The process of e-filing is quite straightforward here, check the video to see it for yourself.
This website lets you get your return forms checked by a CA for Rs. 499, but if you want a CA to prepare your returns, the cost is Rs. 999. H&R Block is good if you are ready to file your IT returns online, but Cleartax's guides section makes it better for those who want to get their basics right before proceeding with e-filing. One extra advantage for H&R Block is that you can callon the office number if you need assistance.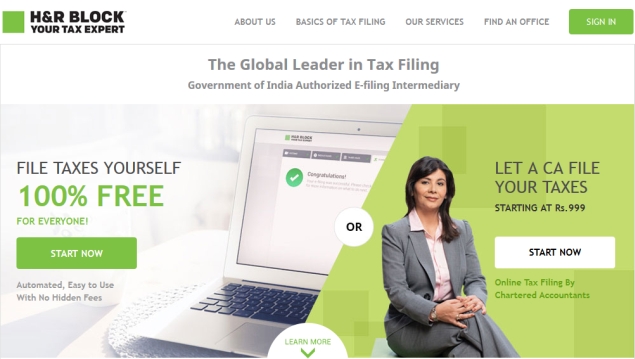 Taxsmile
The first thing you'll notice about this website is a prominent sticky window with a phone number, an email address and a link to live chat support. Having a dedicated support helpline available for free gives Taxsmile an advantage over other websites that let you e-file tax returns. While H&R Block lets you call its offices, a dedicated support line is always welcome.
The website is a little cluttered but not so much that it's confusing. Taxsmile offers free e-filing for those with net taxable income of up to Rs. 5 lakh. You'll have to enter all details by yourself, which is a disadvantage compared to the two websites mentioned above. For Rs. 500, you can upload your Form-16 and let Taxsmile take care of filing.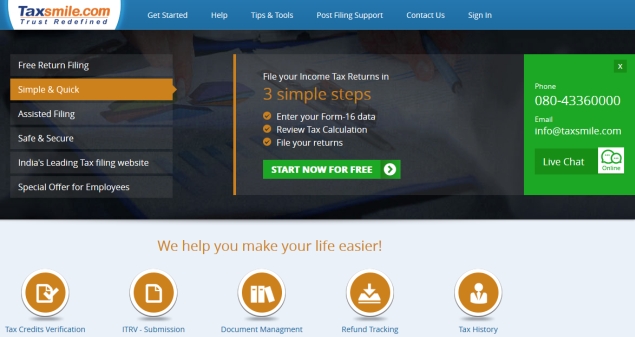 Taxspanner
While the other three websites we have listed all have free options, Taxspanner only has paid services. Even if you want to fill in all your Form-16 details yourself and file your returns, you will have to pay Rs. 449. While that puts it at a disadvantage against the websites mentioned above, Taxspanner might appeal to those who have accounts with State Bank of India because they are offered a discount of almost 50 percent.
Taxspanner doesn't have the best-looking website, but the e-filing process is quite simple. Most people should be able to follow the steps necessary without any trouble and they offer support via live chat and email in case one gets stuck. One feature that it lacks is automatic reading of Form-16 PDFs.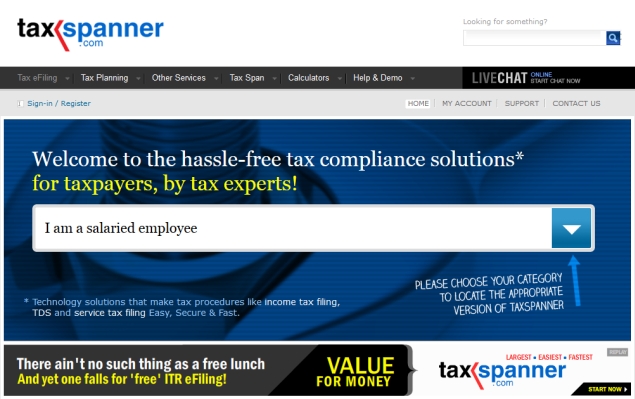 This website isn't the best option for those who fill their tax returns themselves, but it might appeal to those who need more than just copy-pasting Form-16 details and e-filing. Taxspanner offers annual subscriptions (starting at Rs. 1,499) for salaried employees, investors and businesses. Through these, the service offers access to a CA throughout the year and checks income to provide "tax-efficient options".
We hope these websites helped you file your tax returns without hassles. As always, leave a comment to tell us about any e-filing services you prefer or your experience with the services we've listed above.