Reliance Communications and Facebook announced on Tuesday that the two are bringing free access to several websites for Reliance's mobile users via Internet.org. During the event, Gurdeep Singh, Chief Executive Officer, Consumer Business, Reliance Communications said the goal is to deliver "zero bandwidth content" and the speeds are dependent on the user's phone as well as the kind of connection they have (2G or 3G). From Reliance's end, networks in the launch circles have been strengthened and Internet.org ensures that the destination site is as light on bandwidth as possible.
At the event marking its announcement we got to check out how the service works and it left as feeling there's a lot to be desired. Here's everything you need to know about Internet.org in India.
Who is this for?
To use Internet.org you have to have to be a Reliance Communications customer in Mumbai, Maharashtra, Chennai, Gujarat, Tamil Nadu, Andhra Pradesh, or Kerala. While all Reliance customers in these circles can use it, the target audience is people without data plans - over 70 percent of mobile phone users in India, according to Singh. The idea is that this population can either not afford Internet access or don't realise what Internet can do for them, and hence don't have a data connection. Internet.org can address both these concerns.
The company plans to roll out Internet.org to Reliance Communications users across the country in the next 90 days.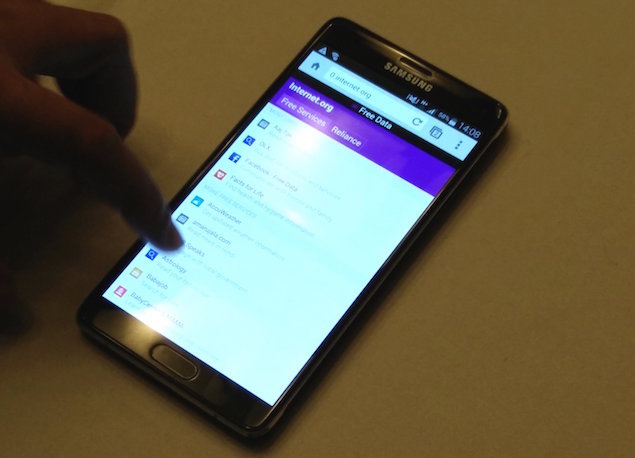 "It acts as a great lever at the point of sale, it is far more consumer friendly, network friendly, and it's a win-win for all," Singh said. Our time using Internet.org wasn't very consumer friendly, but the free access should still bring a lot of people on-board - to at least try out the Internet for the first time.
How does it work?
Internet.org gives Reliance Communications customers free access to 40 sites, which includes Wikipedia and WikiHow, various news sites, some e-commerce sites, and of course, Facebook and Facebook Messenger. To access these sites for free, Reliance users need to log onto Internet.org from their phones using either Opera Mini or UC Browser for Internet.org. While these browsers come preloaded on many low-end smartphones, the kind Facebook and Reliance are targeting with Internet.org, you have to wonder how those with the stock Android browser are supposed to use the service. Reliance users can also call 1800-300-25353 (toll-free) and be greeted by a voice menu that will send the URL of the service they wish to use to their phone via SMS.
If you're on an Android device, you can also access the 'whitelisted' sites via the Internet.org app - there's no app for iOS or Windows Phone yet. If you try to access a site that isn't a partner with Internet.org, you're charged for the data used. So, for example, a Bing search can be used to look up information, but opening one of the search results will cost you money. You are given a warning before leaving free access.
If you are not a Reliance Communications customer in the above-mentioned circles, visiting Internet.org just gives you an error message, and a nudge to buy a SIM from Reliance.
Leaving free access
You are taken to a page that explicitly asks you if you want to continue browsing, warning you that you will incur charges on the data plan the phone is under currently. And if it is not on a data plan, you can purchases several packs listed on the page itself. Interestingly, while Twitter is not a partner with Internet.org, we saw a 15 day Facebook pack for Rs. 15, and a 1 day data pack for Rs. 9 which included 1GB of 2G data, and unlimited access to Twitter, Facebook, and WhatsApp.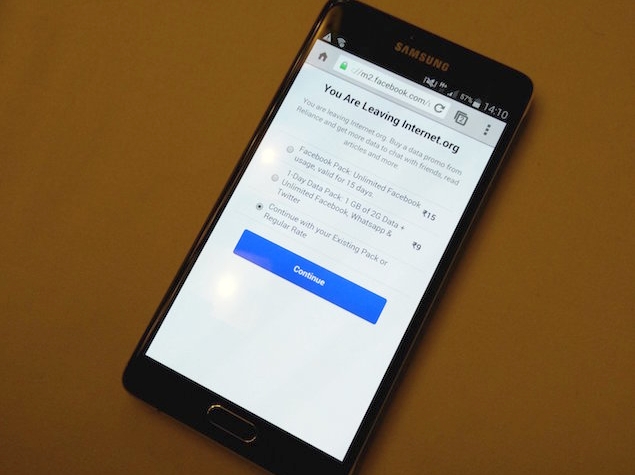 I'm a Reliance Communications customer and I use Facebook and/or other sites via Internet.org regularly, how do I know what I'm not being charged?
Unless you're using the Internet.org app, access via browser is free only if you see a small message at the top of the screen labelled as "Free Data". However, the full-fledged Facebook app, is not free, and neither is the full Messenger app, with its support for stickers and calls. The whittled down, spartan experience via Internet.org is what you'll get for free.
First impressions
On checking it out on a demo smartphone, we were greeted by an interface that would be right at home in an era prior to phones being smart. Internet.org sports a flat, unremarkable design with few colours and sparse amounts of text.
It harkened back to the time of WAP websites, an era when responsive design was just a dream. For what is positioned as the gateway for over a billion potential new internet users, it felt surprisingly barebones, and not exactly the best looking means of trying to get first-time Internet users online. Nonetheless, it was functional and did more than enough to let users know what to expect from the host of sites are available for the magic price of free.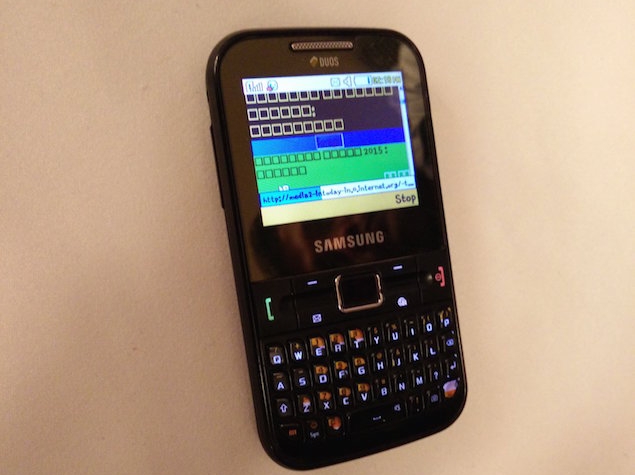 Getting to these sites was another thing altogether. Tapping on a site took fairly long amount of time before it opened, loading slowly at 2G speeds. The sites themselves look much like their mobile equivalents, exactly what you'd expect. Trying it out on a feature phone resulted in some unexpected errors, which we were told had to do with the phone not having the right font set required to display webpages.
On trying to browse outside the cozy confines of the free sites, we were greeted with a message prompting us to purchase a data pack or venture forth on the existing plan the phone was equipped with.
A mixed bag of sites
As for the sites that promise free data usage, news, health and social welfare made up the biggest categories, so your need for news and malaria prevention are taken care of. Most of the categories available make a lot of sense, be it search (via Bing) or Sports (ESPN Cricinfo). What's interesting though are the choices of some of the sites themselves. For instance, there's no presence of e-commerce sites, barring Olx and Cleartrip. There is no Flipkart, Amazon, or MakeMyTrip. These may not be sites visited by the intended audience but how many people using Internet.org will buy air tickets from Cleartrip?
Internet.org has also apparently deemed that the next billion accessing the Web don't need email, and can use Facebook Messenger instead. While Facebook claims to be all for net neutrality, it's the selection of services on display that make its claims questionable.
(Also see: What Is Net Neutrality? Here's a Simple Explanation)
"I think that the principles of net neutrality are around pro-access. And the principles of Internet.org are pro-access as well," says Chris Daniels, Vice-President of Internet.org at Facebook. "The thing that we're trying to do is bring access to many more people through Internet.org. So I see that the philosophies of this and net neutrality are entirely aligned." Daniels does not agree when we say that there is a conflict here, as Facebook is essentially restricting access by offering only specific services for free.
(Also see: DoT Forms Panel to Examine Impact of Net Neutrality on Telecom Operators)
"I don't see the conflict there actually, the net neutrality discussion today really focusses on the people who are already online," Daniels says. "And what it needs is to also do is be inclusive of the people who are not online. So bringing more people online we view as pro-access, right in line with the principles of net neutrality as well."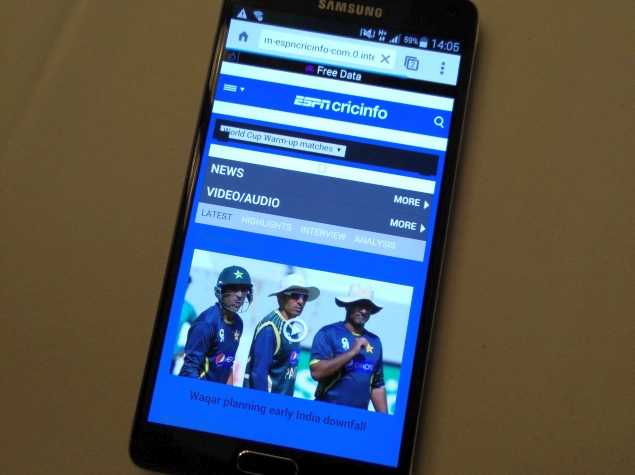 With Internet.org rolling out today in seven circles, and both Reliance and Facebook also keeping mum on key issues such as which parties are paying for the bandwidth.
The privilege of power brokers
In the past, Facebook has tied up with other operators such as Airtel to bring Facebook for free via 0.facebook.com. Facebook has also tied up with Airtel in regions of Africa, but for India, the company's placed its bet on Reliance.
"When Mark [Zuckerberg] was here in October we met with the team at Reliance," says Daniels, "and we found that we shared the same vision, we shared the same passion, not about just bringing people connectivity, but more importantly bringing the benefits in people's lives that connectivity can deliver."
This move puts Reliance in a very enviable position of a powerbroker for a host of Internet-driven businesses and violates net neutrality and "pro-access" that Facebook apparently believes in. Given that the people usually gravitate towards anything free - even at expense of user experience and functionality in most cases such as this - we doubt that many would complain.
For Internet.org to truly become as transformative as Facebook claims or wants, it needs to include a much wider selection of sites, and include access to its competitors. For now, its goals are not clear - for example, we asked Daniels what happens after a number of people are on-board. Is the goal to transform them into paying Internet users who access the open Web? He however stresses that the goal right now is simply to bring people access to useful content, and that these questions will be answered over time.