If you're a new entrepreneur interested in knowing how startups go about raising funds, or interested in avoiding some of the pitfalls in the fundraising process, you need to check out Termsheet. The Chennai-based company is an online platform that helps startups looking to book seed rounds. Its website has a page with standardised documents for investments that any startup can use.
Including itself, Termsheet has closed five deals on its platform - Ather Energy, Cupick, Aisle, and LiveBraille are the other startups so far - and is in the process of closing two more deals.
Termsheet raised $100,000 in a pre-seed round of funding in April, and is in the process of raising another round of funding, while expanding its team to 15 from five. It held a four-hour event called Moneyball in September in Bengaluru. The event matches members of the TermSheet Fellowship program with founders and investors with the objective of discussing and closing seed funding deals.
"I was a geek who became a lawyer, and spent ten years in that profession. I found the profession highly inefficient from the perspective of a geek," says Vivek Durai, founder of Termsheet, explaining the journey of why he chose to solve this particular pain point. "I found that we as lawyers were incentivised to prolong our work, and find ways to introduce friction rather than remove friction from the transaction," he adds.
Durai has written about his personal journey as an entrepreneur, the months when he coded Termsheet all by himself, and when he landed his first customer.
Durai had setup his own law firm, and over time, moved out of that law firm to Humble Paper, a contract automation startup that used machine learning algorithms, incubated in IIT Madras in 2012. "We still have a lot of machine learning code lying around,which analyses the structure of legal documents. Unfortunately, we weren't able to find customers," he says.
By December 2014, he had pivoted seven or eight times, with different product names, looking for different segments to find customers. "We tried to create a Github for documents, a contract negotiation platform, but none of them gained traction," says Durai. The final pivot that came from a lot of these experiences was Termsheet.
The reason fundraising is problematic is because it has many moving parts. It takes quite a bit of time, and most folks don't know what to expect until they've been through the process, Durai says, adding that term sheets are meaningless in the entirety of the deal, and a bit of a facade.
"It's a summary document that is sent out. What is important is the shareholder agreement that is finally executed," he says. "There's a big difference between the summary document and the actual agreement that is signed. The agreement will not exactly reflect the details that were there on the termsheet. Most people aren't qualified to actually know if what we've got is what we've agreed on when we shook hands with an investor.""I set out to acquire a customer without launching a platform. I set out to validate before rather than after building. I worked harder, silently at first, with my first early adopter startup to figure out the core value prop with which to go to market. My product was my customer's user experience and not some fancy technology or an app. I lived the MVP," Durai wrote on his blog, when his firm closed the $1 million funding deal for Ather Energy. That turned out to be a good sales pitch for his website, which was yet to validate itself as a platform.
"That was a great start for us. Within a month we had 500 founders, 150-200 investors. Suddenly we had a platform," Durai says about the events in December 2014, when his website had its moment in the sun.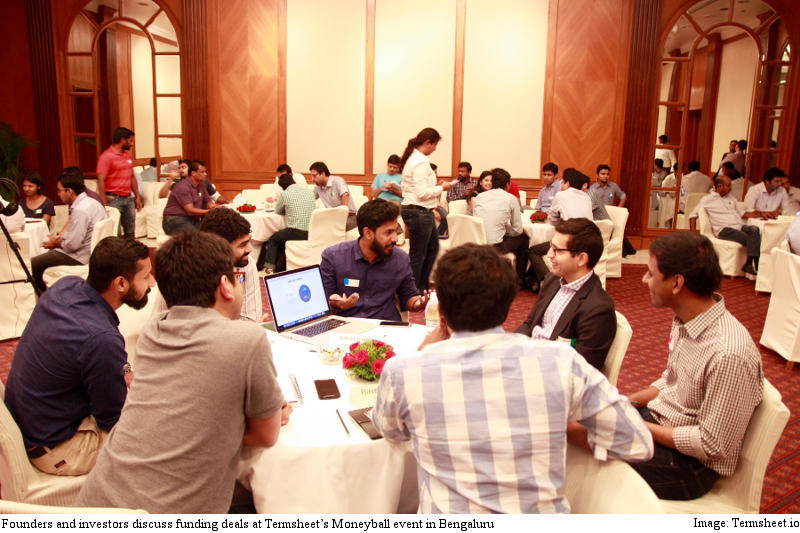 "That made me realise that we need to focus more on the deal than the legal," he adds. "Legal is only a function of a deal. It's only nuisance value that you need to take care of anyway. I realised that we had to go out there and create a platform that would help interesting startups get funded."
"It was based on the idea that you simplify your product, so that it applies to a very small, clear, homogenous early adopter group, and solves one specific problem for them, and that was solving the fundraising problem for founders," Durai explains.
Durai credits some of his learnings from observing the way the US venture market worked. In 2010, Marc Andreessen had teamed up with a lawyer in Silicon Valley called Ted Wang, and they took their standard agreements which are typically negotiated in large deals, stripped them down, removing things which were completely unnecessary in early stage deals, and published them on the Web as model for lightweight contracts or early stage agreements. That was also the genesis for the idea behind Termsheet, Durai says.
When TermSheet launched, Durai alone was its entire team. In March 2015, Durai was joined by COO Sonia Pradhan, who was earlier with TiE Chennai. Over the next six months the team size increased to five and the team, working out of IITM Research Park in Chennai, is now increasing steadily every month. "Our hiring process reflects our philosophy of focussing on the people rather than on ideas or roles. We've steadily built a team of all-rounders, most of whom code and help startups with the fund-raising process," Durai says.
Termsheet also works very closely with Mumbai-based law firm Innove Law, founded by Suhas Baliga, a fellow National Law School of India University alum to conduct independent legal due diligence on startups and as a strategic partner.
So is Termsheet an angel investment platform, comparable to the likes of LetsVenture or Angel List? Durai thinks the Indian market is not ripe for a platform based solely on angel investment. "It's taken us a while to realise that the angel market is quite immature," he says. "There are quite a few cliques among angels, it is still hard to invest in startups that are clearly great teams and great vision, and great products, simply because they don't have the right kind of godfathers."
Right from the very start, Durai has maintained that his firm is focused on quality rather than on quantity, in finding outliers.
"The largest VCs believe in mapping every startup in the ecosystem. So that in a given domain, they can figure out which team to back," Durai adds. "Whereas the bottom up approach is that the founders can be very sophisticated in terms of their eventual vision of what they want to build, and how they go about implementing it over a longer period of time. You will not know what they're going to come up with, because they are unfolding it, one layer after another. There's tremendous vision and depth in these founders. Our goal is to uncover these guys, and to support them over time, by drawing in partners who think like that."