CBSE results 2017 for Class 12 have finally been declared around 10:20am, ending a week of speculation around the date and time the CBSE 12th results will released on CBSE.nic.in and other sites. Predictably, students, parents, and teachers alike will be trying to log on to the three official sites where the public can get the CBSE Class 12 results 2017. Unfortunately, the official CBSE.nic.in and other sites are slow to load due to heavy traffic from everyone trying to get their scores as early as possible. If you are also waiting for the CBSE Class 12 results 2017 too, here are a few tips to check your scores online.
As always, the results will available on the following websites: www.results.nic.in, www.cbseresults.nic.in, and www.cbse.nic.in.
CBSE will also provide class 12 digital mark sheets via DigiLocker, and the DigiLocker account details will be sent to students via SMS on their mobile number registered with CBSE.
The Class 12 CBSE results for 2017 will also be available via IVR. You can dial 011-24300699 (+9111-24300699 if you are outside India) or 011-28127030 (+9111-28127030 if you are outside India) and follow the instructions to get your Class 12 result.
CBSE also emails schools the Class 12 results of their students as soon as they are announced. So you can either head to the school premises to check the results or see if the results have been uploaded on the school website.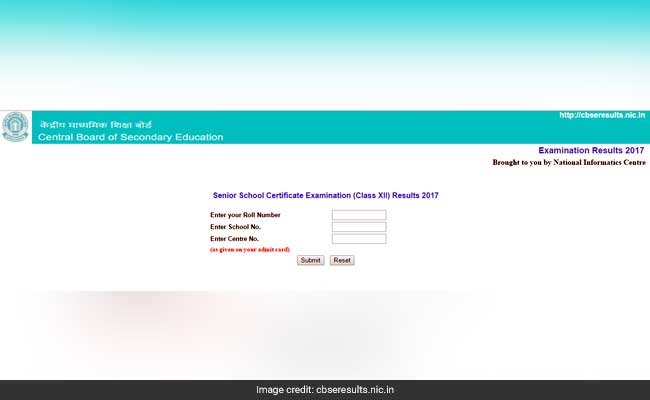 With 10.98 lakh students giving the CBSE Class 12 exams this year, a lot of traffic can be expected on the official channels for the results. So if you are unable to open the page when the results are announced, just keep refreshing the page periodically. It is imperative to keep your CBSE roll number and school code handy to find out your marks as soon as possible.
Raksha Gopal of Amity International School, Noida emerged the board topper with 99.6 percent marks in her CBSE 12th exams. Bhumi Sawant De of DAV Chandigarh with 99.4 percent, and Aditya Jain of Bhawan Vidyalaya with 99.2 percent were next in the pecking order. The overall pass percentage has declined slightly from 83.05 percent last year to 82 percent in 2017.
The CBSE Class 12 results 2017 had been delayed because of uncertainty over the marks moderation policy. The CBSE had struck down the moderation policy for this year, but was then directed by the Delhi High Court to continue with it for at least this year. The start of Class 12 CBSE exams too had been delayed, from March 1 to March 9, due to assembly elections in five states.
For the latest tech news and reviews, follow Gadgets 360 on Twitter, Facebook, and Google News. For the latest videos on gadgets and tech, subscribe to our YouTube channel.
Related Stories