Shopping season is here again, though not in India. In the US, Black Friday and Cyber Monday sales are a great way to pick up deals - and you can do this in India too if you're using a package forwarding service. In case you don't want to go through the hassle of setting up package forwarding, and are worried about the safety of high-cost items on free-shipping sites, there are some more alternatives. Big sites like Amazon and eBay ship their global products to India (for a price) and so do a few other sites. There are some international sites that let you order with free shipping but there aren't too many trusted options, and some don't let you track your packages either.
When you are willing to pay for shipping, you get to choose from a wide variety of well-known retailers. But the cost of shipping, especially from the US, can be higher than the cost of the product itself. Then there are import duties on most products, which will push up the cost even further. This might reduce the total value of the deals, but sometimes it's still the best option, particularly if you want to buy a product that isn't available here. These are the sites we recommend:
Gadgets
Several international websites will be offering great deals on gadgets for Black Friday and Cyber Monday. Here are some of the most popular ones that offer shipping to India:
1. Amazon.com: Amazon.com is probably the most popular shopping website in the US. It's a one-stop shop for most goods and ships some of these to India as well. The full list of product categories that are shipped to India is available here.
Just to give you an idea of the shipping costs involved in buying stuff from Amazon.com, we added a coffee maker and a box set of Back to the Future Blu-Ray discs to our cart. The price of the two items was $52 (approximately Rs. 3,200). The cheapest shipping method cost us $15 (approximately Rs. 930) and Amazon added a $21 (approximately Rs. 1,300) import fee to the order. The total cost came up to $90 (approximately Rs. 5,560). You can pay in Indian rupees on Amazon - that showed us a total bill of Rs. 5,870. Even if you pay in USD, the exchange rate used by your bank may be higher than the rates Amazon is offering.
2. eBay: eBay's Global EasyBuy programme lets you order goods from its international websites to India. It's a good place to grab deals on gadgets, but be sure to check seller feedback before buying. You'll see listings and recommendations for Global EasyBuy even when you're searching for items in eBay.in, and eBay holds your money in escrow until the items reach you, so it's generally a safe method of shopping, but checking the seller feedback is important because even if your money is safe, you don't want to get stuck dealing with the hassle of returns.
3. Newegg: One of the most popular online stores for PC parts, Newegg has recently started shipping its wares to India. Prices of most components are often higher than in India, but Newegg is a good place to hunt for gadgets you can't find locally. Unfortunately, only part of the catalog is shipping to India right now, but more products keep being added. We tried to order an Intel Core i7-4790K processor that costs $329 (approximately Rs. 20,330) with shipping in the US. Change shipping destination to India and the price shoots up to Rs. 28,350. You can find the same processor on Amazon.in for Rs. 24,200 - but there are some items you can't get here at all. For example, if you're an RC enthusiast then you know how hard it is to get replacement parts here, and having Newegg ship these to India is a big help.
4. Thinkgeek: If you want any kind of quirky gadgets, such as a Star Wars-themed Bluetooth speaker or keyboard cleaning putty, Thinkgeek is worth a visit. It stocks other stuff too, but its gadgets section is the coolest.
We really loved the Death Star speaker, even though there's no way of knowing about the audio quality. The design is just that amazing. And the speaker is available for just $59.99 (Rs. 3,700) which makes it really tempting. With shipping and all costs in place, you can get the speaker here in India for $101.13 (approximately Rs, 6,245).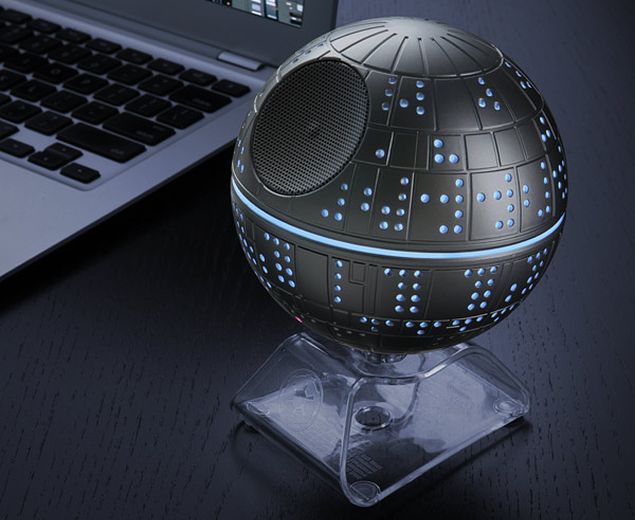 5. B&H Photo Video: If you want any photography related equipment, you might want to check out B&H Photo Video. They stock all kinds of equipment for stills, audio and video recording. They have a much wider range than many sellers in India offer.
Other goods
While many of our readers would be most interested in all the gadget-related deals on Black Friday and Cyber Monday, why should you ignore good deals on other goods? Here's a list of websites for non-gadget deals. All of these ship stuff to India.
1. Overstock: Need an Amazon alternative for non-gadget goods? Overstock might appeal to you. They stock furniture, jewellery, perfumes, pet supplies and even books.
We liked a bean bag with a price tag of Rs. 10,158. On adding it to cart, the price including shipping and duties rose to a staggering Rs. 35,725.
2. Toysrus: For buying toys from the US, Toysrus is a good option. Between action figurines, Barbie dolls and even skateboards, Toysrus should help you find the right toy for all kids (and grown-ups).
3. Macy's: If you are looking to buy clothes from the US, Macy's might interest you. You get high quality winter wear in the US, so if you have your eye on a nice pair of boots or a jacket you can get it via Macy's.
4. Etsy: Etsy is a marketplace where anyone can put their goods up for sale. We've found some nice posters and handmade accessories there, so if you are into handmade goods, this is a nice place to shop.
5. Cafepress: If you like to personalised gifts, you might want to try Cafepress. The UK-based website lets you personalise items such as mugs, tshirts, posters, pillow covers and even smartphone cases.
Shipping costs aren't too high when you order from Cafepress. We personalised a shower curtain that costs $60 (Rs. 3,700) and saw that the shipping cost is just $7 (Rs. 430).
Which of these websites have you used? Do you know of others that ship to India? Let us know via the comments.
Affiliate links may be automatically generated - see our ethics statement for details.