Robot butlers are still a long way away, but if you would like to lifehack some productivity gains into your day, then Bengaluru-based Inoho's home automation kit might just be the tech and lifestyle upgrade you need.
Imagine having your geyser, lights, and other appliances all ready to go as you wake up, with curtains that open up with your morning alarm. Or turning your air conditioner on automatically when you're returning from the gym. Inoho's "home controller" enables users to schedule and control home appliances from anywhere in the world, via the Internet. And you can do this for less than the price of an entry-level smartphone.
Founded in 2014 by IIT Guwahati alumni Deepankar Garg and Deep Singh, Inoho's home automation kit can be operated from a smartphone app on Android, or a Web browser. The home control system consists of three components - the Inoho app, home controller, and switchboard module, which sits behind the electric switchboard in your house, and wirelessly communicates with the home controller using the Zigbee protocol. The home controller in turn connects to your Wi-Fi router using a LAN cable.
Customers have found many innovative use cases for this kit - a sales rep on Inoho's hotline said that customers have used them to remotely water their home garden using automated water sprinklers, others use it for their remote-controlled door locks and gates.
Setting up the Inoho looks easy; all you need to do is connect the parts, and then change two settings on your Wi-Fi router, as explained in Inoho's video installation manual.
This whole process takes less than an hour, Garg says, but since you need to open up your switchboard, it's not quite a DIY project for most people. You will need an electrician to do the setup, and as a startup, Inoho doesn't have the reach to have it's own installation teams around the country. To get around this limitation, Inoho partnered with Housejoy, which is operational in Ahmedabad, Bengaluru, Pune, Mumbai, Delhi and NCR, to send electricians who can demonstrate, and install, Inoho's gear.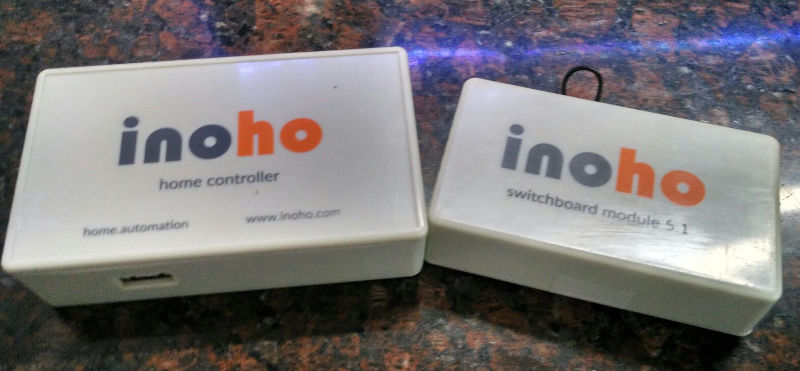 Using Housejoy, Garg set up a demo in a few minutes to show a dummy switchboard with miniaturised fans and lights that you can control from your Web browser, even on a smartphone. The Inoho integration doesn't interfere with normal switch operation either. You can still use the actual switches on your board, and when you physically turn off a switch, it is also instantaneously reflected on your control panel. Inoho also has a live demo hooked up online that you can play around with to see how it works.

Depending on the size of your home and the number of rooms in it, you can add up to 500 switchboard modules to the setup, with additional switchboard modules improving the strength of the mesh network. The switchboard modules come in two variants, at the same Rs. 5,499 retail price; the 5.1 comes with five switches, and the 4.1 comes with four. The main difference between the two is that the 4.1 module is for use in setups where there are appliances with heavy electric loads, like a geyser or an air conditioner.
Both the switchboard modules have a dedicated load socket for fans, to regulate their fan speed. There is one limitation though - you cannot set the temperature on an air conditioner through this app, only turn it on or off. Inoho's starter kit, which includes with a home controller, app, power adapter, LAN cord and a 5.1 switchboard module costs Rs. 11,999.

The one year old startup launched its home controller around four months ago, and you can buy Inoho's products via Amazon India. Garg says that Inhoho disrupts the market in terms of price, at about one fifth the cost of competing solutions, and adds that it doesn't need extensive rewiring of the house. "One also no longer has to contend with paranoia attacks about leaving the the iron on when headed to work," he says.
The home automation space is still at a nascent stage, with only a few international brands offering solutions and local players trying to make their presence felt. Notable players in this space include the Philips Hue (starter kit at around Rs. 15,000, which is limited in functionality compared to the likes of Inoho, and the Belkin WeMo Switch, which costs Rs. 6,500 for a single Internet-enabled switch.
Affiliate links may be automatically generated - see our ethics statement for details.