If you've searched for restaurants or businesses recently, you might have seen a button on the right to "See inside", giving you a virtual tour of the shop. This is a part of Google Business View, which brings the Street View experience to businesses as well.
Google's Street View is widely regarded as one of the coolest features on Google Maps - zoom in on cities like New York, London and Paris and you can enjoy virtual tourism. It's great when you're traveling to another country, and want to get a sense of what to expect. In India unfortunately, Google Maps' Street View is extremely limited. The company got a start in India but in 2011, the project was halted owing to privacy concerns.
Companies like WoNoBo are allowed to carry out similar mapping exercises in the country, but Google has also been adding ground-level imagery in India, starting with the mapping of Indian monuments with Street View.
This covers places such as the Taj Mahal, Qutub Minar, Agra Fort and more, and instead of the Street View cars, uses a backpack mounted 360-degree camera that weighs 20kgs. The operator of the camera wears the backpack and walks around monuments, capturing images that eventually make their way to Google Maps.
Filling the gaps
For private companies, Google Business View serves the same function, letting anyone create virtual walkthroughs of their businesses, which can be found through Google Search and Google Maps. Taking the pictures is a lot simpler though - we went to a showroom that was getting covered for Business View, and learned that the shots are taken with much more standard equipment - all you need is a DSLR, a tripod, and some planning.
For people using either search or maps, it works very simply. When you search for a location - for example if you search for "revolving restaurant Delhi" - you get a card about Parikrama restaurant to the right of your search results, which includes a small box marked "See inside".
Click on that, and you immediately see the view inside the restaurant, and can move around. If you're in the map instead, then you can drag the yellow pegman on the bottom right of your screen, and when you do, you'll see some yellow circles marked on your screen. Drop the pegman on a circle, and you can see inside the business that way too.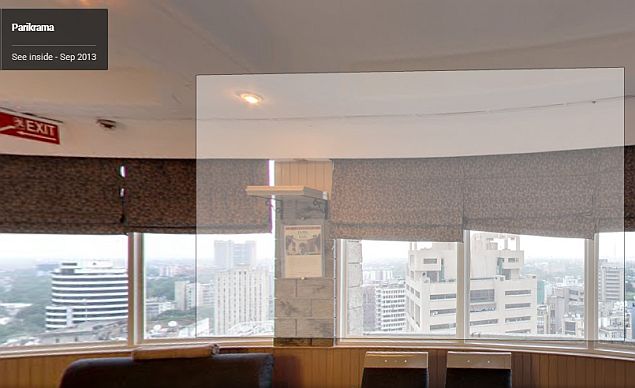 With Business View, Google takes us inside buildings, and can actually be used in some interesting ways to give people a tour of the space. What's missing - of course - is everything outside the businesses, which means that Business View doesn't really offer a seamless experience - you can't walk around Connaught Place and decide to check in on a shop that really catches your eye.
Suren Ruhela, Director, Program Management and Product Manager, India Maps, is the man who is in charge of Google's Mapping efforts in India, and he tells us that Business View launched one year ago, but has been picking up steam in recent times. Part of the reason why this process is taking time is that businesses have to pay for the photography required for Business View themselves.
Ruhela says that while Google does not directly handle the photography for Business View, it has a list of "Google Trusted Agencies" (there are 20 such agencies across the country) which have been given access to tools required to upload images directly to Google's servers. To get your business online, you need to contact one of these agencies, which will then send a photographer to your location, take the photographs, and upload them.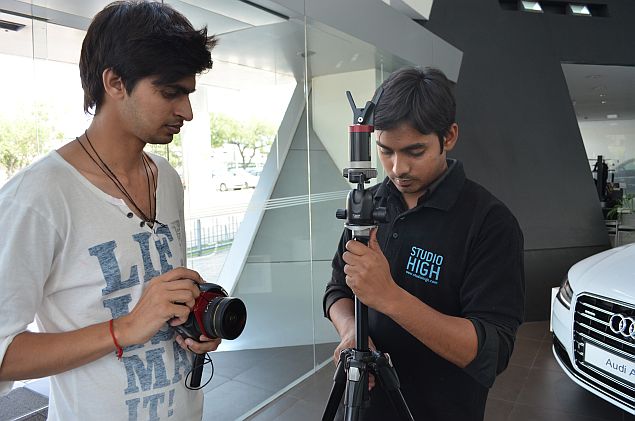 When he heard about this, we wanted to see the process, and got to accompany a team from Studio High in Delhi, one of Google's agencies for Business View.
On location
We went to an Audi showroom in Delhi's Mohan Cooperative Estate, where we met the photographers. Their equipment is standard, though they use a fish-eye lens mounted on a DSLR to take pictures, to get as much detail in each image as possible.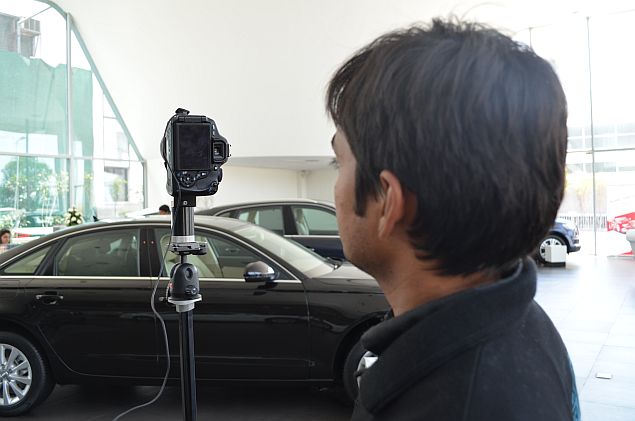 Ali, the cameraman, quickly sets up the tripod, and shoots three pictures - it is a little ritual, as he takes each picture, then turns the camera by 90-degrees, checks whether it's straight using a pocket spirit level, and takes the next shot. Three photos and he's done, and quickly moving the tripod to the next spot.
It's planned in advance, so that a user can "walk" around in the shop without missing anything.
"We shoot the pictures with different exposures in three-shot bursts to get balanced contrast levels across the whole space," says Ali, "and each set of photos starts with the camera facing North, so that when we stitch the images together we can create a 360-degree panorama of the place."
So, for example, at the Audi showroom, Ali takes shots that don't just let you walk around the store, but he also puts the camera inside the cars, to see inside the cars. An apparel store could use this to display some of its most popular clothes, to take window shopping to the next level.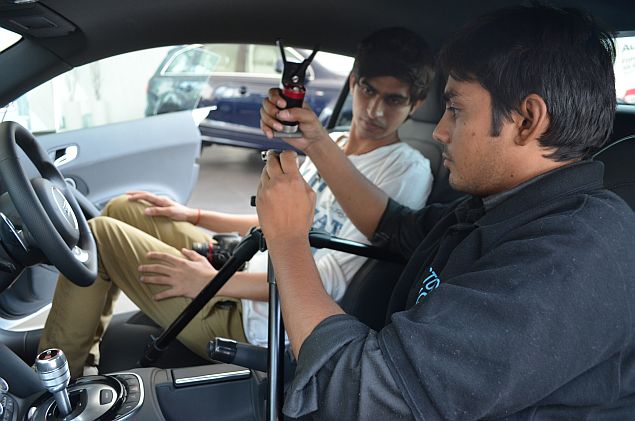 By signing up your business for Google Business View, it's easy for people to find you on search, maps and even Google+.
Ruhela points out that it can be a huge benefit, and can even be used in creative ways to make the most from the experience.
It's not cheap though. Audi would not comment on the project, but Parul Langoo, the manager of Studio High, tells us that the studio charges a base price of Rs. 5,000 for a small store, which would require four to five panoramas. "Something like the store here, which is around 27,000 square feet, would cost a lot more," she adds.
All the while that we're talking, Ali has been steadily moving around the building, setting up and snapping shorts. Even when he's inside the Audi R8, Ali mounts the camera next to the central console, and aligns it due North.
"It is a part of the guidelines set down by Google," he says. "As all maps are set to scale beginning from the north we shoot it similarly so that the images are set to scale in the North in the final product."
Beyond Metros
Despite the program having been around for a year now, there are only around 15-20,000 locations covered so far by Google Business View, Ruhela tells us. But it's picking up, and the last month or two have seen aggressive growth. In Delhi, according to Langoo, Studio High is doing nearly 40 such shoots every week. "We aim to do 400 per month", she adds.
Ruhela says, "There are over 200 million users online, and for many of them, a website isn't enough to convince them to make a visit. People want to see what a place looks like before going. Resorts, jewellery stores, restaurants and function halls are some of the businesses who have signed up, for whom this is very useful."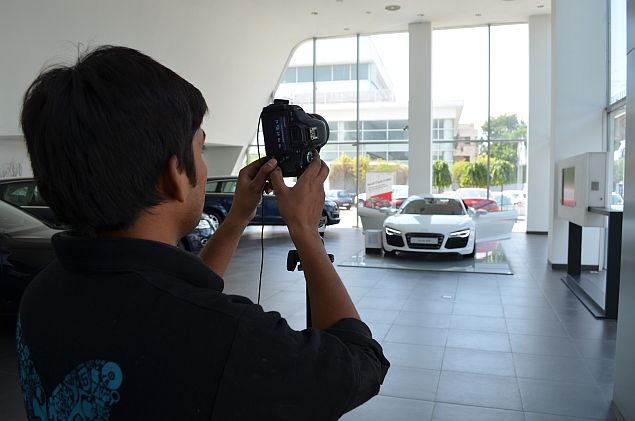 What's even more interesting is that while much of the early interest came from the big cities, today, of the 200 cities covered, most are smaller towns. "Places like Satara [in Maharashtra], Kanker [in Chattisgarh] and Pondicherry are some of the locations where we have recently added some Business View," Ruhela adds.
However, as WoNoBo proves, there is a demand for street-level images - whether it's for planning a holiday, or for finding your way through the city.
While Ruhela says that Google is "continuing to work with the government to bring Street View to India", Business View is likely to remain a curiosity, unless it is part of a larger, seamless Street View function.