The Web in India has been dominated by English language content, which makes sense considering that the majority of websites globally are in English. In other countries like China or Russia however, the top sites are local ones like Yandex and Baidu, and not their global counterparts.
In India too, we're starting to see a growth in consumption of Indian language content, driven by the growth of smartphones. As these devices get cheaper, making mobile Internet more accessible in the smaller towns and rural parts of the country, the demand for content that is not in English has also been rising.
This is a big change from even five years ago, when Internet access was still a largely urban, English-first phenomenon. However, while sites like Google launched a Hindi homepage in 2009, and now support Gujarati, Tamil, Marathi and Bengali; and others like Twitter started to support Hindi in 2011, there are still relatively few Indian language-only sites among the top 100 sites being visited from India.
The fourth-largest search engine in the world is Yandex, a Russian site which offers search, mail, news,music and maps, to name just a few of their services. It's the most popular website in Russia, with over 50.5 million daily visitors as of February 2013.
According to Alexa, Baidu (often referred to as China's Google) is the fifth most visited website in the world, and the top site in China. Muchlike Yandex, Baidu offers content in the local language and script, andhas grown to be a powerful force.
What about India? One of the older, and better known Indian language search engines is Raftaar.in, which has content in Hindi. Raftaar.in reports 8.5 million monthly page views, and 2.5 million unique active users, all of whom are reading pages in Hindi. According to a "Languages for the Future" report released by the British Council in London in 2013, Hindi has 260 million speakers, behind only Mandarin Chinese (848 million), Spanish (406 million) and English (335 million). Despite a huge number of Hindi speakers, Raftaar.in isn't even in the top 10,000 sites worldwide, and is ranked 1,162 in India by Alexa.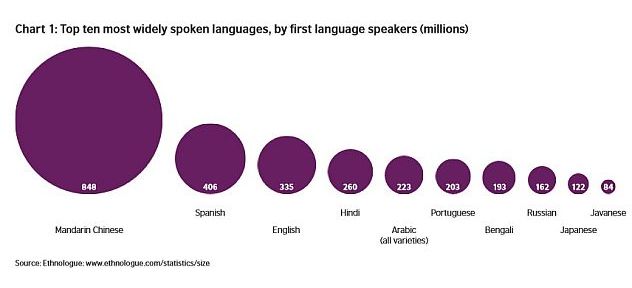 Indiblogger aggregates links to Indian blogging sites, and you can choose between Assamese, Bengali, Gujarati, Hindi, Kannada, Malayalam, Marathi, Punjabi, Tamil, Telugu and Urdu content on the site.The site lists nearly 2,000 Hindi blogs, while the other languages account for nearly another 2,500, with Tamil leading with 975 blogs.
In2007, there was a surge of investment in sites similar to Raftaar.in, likeGuruji and Bhramar, which went defunct over the years, as interest in Hindi content remained limited, but in the last two years, and particularly in the last six months, there has been a surge in the number of users that Raftaar.in sees, which coincides with the availabilityof cheap smartphones which today offer a "good enough" user experience.
A study by W3Techs shows that 55.9 percent of all content online is in English; Hindi makes up less than 0.1 percent of the Web. The numbers show a rise in April, followed by a sharper rise at the start of this month.
W3Tech looks at the top 10 million websites online, and updates its reports daily for up to date information. For Hindi speakers who are not able to read English, less than 1 percent of the Internet is directly accessible. However, according to browser company Opera, there is already some interest from India in Indian language sites, with 2% of the top 100 sites being in Hindi.
Thanks to growing smartphone penetration, the typical Web user here is not necessarily sitting in New Delhi or Mumbai anymore though, and as the access reaches a larger audience than ever before, the demand for local language content is also rising.
Google India believes that the next 300 million Internet users from India won't use English.
Popular sites in Hindi include Facebook, YouTube, Wikipedia, Twitter, Google, Wordpress, Bing, Blogger, Vube and Indiatimes, which shows that the audience wants the same content as everybody else, and not just local language websites. This means that there is a huge, untapped audience which wants to read the predominantly English language websites in their native language. While Facebook India could not reveal how many members actually utilise the language features, the continued support shows that there is enough demand to make it worth developing.
A lack of standards
One of the biggest issues that Raftaar.in and others in this space point to is the lack of standards. "When we were starting in 2005 the biggest problem was that there were no standards," says Peeyush Bajpai, the co-founder of Raftaar.in. Since most computers have English keyboards, entering text in Indian languages was a big problem.
Surjeet Singh,VP and Head, Marketing, says, "We developed tools to transliterate whatyou write in the English script, into Hindi. Because otherwise, for people, if they're searching for something simple like a new movie, how do you spell something like Jab Tak Hai Jaan?" And while Raftaar.in has been dealing with this issue in Hindi, according to Singh, sites using languages like Gujarati, Malayalam and Tamil have also been growing in the last two years.
Bajpai believes that we're seeing a critical mass of Hindi users today, and thanks to mobile phones and software keyboards, entering content in Hindi has also become simpler. "When I look at things like WhatsApp, and at Twitter, I feel that we're seeing a critical mass. If you see the long WhatsApp forwards I'm getting - someone typed that entire message out in Hindi, which is very encouraging," he says.
Mobile phones are one of the big drivers, thanks to the standardisation of keyboard entry today. Microsoft is a supporter as well, and Ramkumar Pichai, General Manager, Microsoft Office Division, Microsoft India, says, "We have support for 12+ Indian languages now, and continue to invest in localisation of the Office user experience. We have support for IME keyboard [through which you can enter non-English characters] built in, and we're going to keep trying to make it easier for everyone to use our software."
Pichai adds that the growing number of smartphones has made this both easier and more important than ever, saying, "There is a definite drive to the interior today, and if you look at this Nokia [Lumia] phone that I'm using, you go to settings and you can activate Hindi and other languages. It's that simple. And these devices are becoming ubiquitous, so soon everyone will have the ability to use computing in the language they feel comfortablein." This is true not just for the Nokia phones but for other Windows Phone devices as well - you can navigate through the device in your mother-tongue, though you'll still need English text to enter URLs to visit websites.
On a BlackBerry 10 device, you have out of the box support for Hindi as well, with notifications and more in Hindi. The keyboard even has the same excellent autocomplete features that is has in English. This means that creating content is also extremely simple.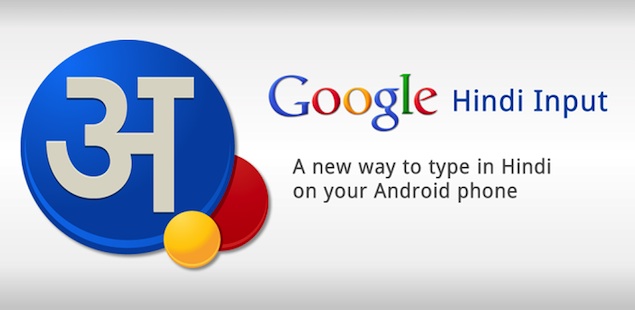 Micromax has launched an Android phone, the Unite 2, with support for 20 Indian languages including Hindi, Gujarati, Punjabi and Malayalam. While iOS does not have system support for these languages, but does come with a Hindi keyboard. Since a software keyboard can easily add local language support to any smartphone, it's become easier than ever to both create and consume content in your own language.
This is abig change from the early days of Hindi content, where thanks to a lackof standards, you had multiple methods of sharing Hindi content, which were often not searchable. Bajpai says, "Earlier, you'd get Hindi content saved as an image file, or as a PDF. Some sites were using proprietary fonts, which also meant that their page could not be easily indexed."
Evolving the audience
Raftaar.in has a searchbar, but the inspiration isn't Google but rather the older generation of portals like AltaVista. Bajpai says, "Before Google, before people were searching for everything, you had portals to get people used to the Web. That's what we are doing as well."
According to Singh, the kind of content that is most successful is pretty similar to what we were seeing in the mobile VAS space a few years ago. He says, "The ABC - Astrology, Bollywood, and Cricket - are the most popular sections on the portal." The most popular search term remains a person's own name, which, Bajpai believes, is a cause for euphoria amongst their users. "You see your own name in Hindi and then you can see some results, it's exciting to people. But the users then develop more confidence and search for more things. We're building a long-tail of search terms now, which makes the results more relevant as well."
What's missing from the picture right now are services. Thanks to blogs and various news sites in Indian languages, there is a lot of content in Indian languages, but the number of services remains low. One of the fewe-commerce sites that has already adopted Hindi is Snapdeal, which launched Hindi and Tamil versions in January, and plans to roll out more versions.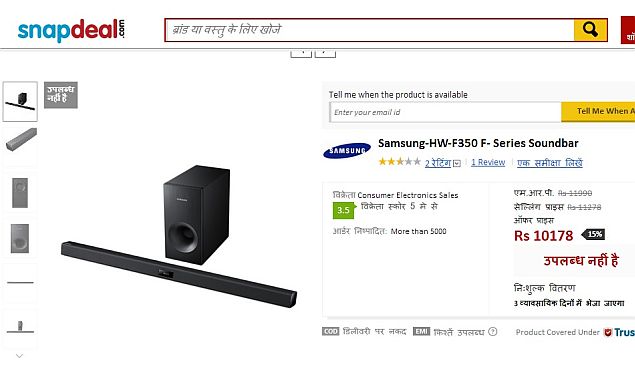 The problem is that this does not translate the entire page, but only parts of it - the product summary is written in Hindi, for example, while the product description is still written in English. These are things which will take time to fully integrate however, and it's good to see some Indian firms taking an initiative to meet the large untapped demand in the market.
These small steps are similar to the slow steps that led to a lot of local language content being created, and with the growing rise of Internet access in all parts of the country, it is safe to assume that the trend will continue and move at greater speeds, building the vernacular Web, one site at a time.
Affiliate links may be automatically generated - see our ethics statement for details.