At a launch event in New Delhi this week, Alibaba's UCWeb launched a new version of the app, and also launched its news aggregator UC News in India. The app collects news from various sources, and recommends news and other content to users based on their interests - it's not so different from the plethora of news applications you'll find on app stores that want to deliver news based on your 'interests'; but perhaps more importantly, the company says that this same content can also be served to its 80 million UC Browser users in India. And according to UC News spokesperson Young Lee, the company will highlight content from its "partners" to help these publishers reach an audience.
The idea here is to build UC News as a platform that can be used to reach a wide number of users, competing with Google and Facebook as a source of traffic for publishers. To enable this, the company has a platform it calls We-Media, which Lee said is an "open platform for publishers where they can post their content and we take care of the costs of hosting." The benefits of this, according to Lee, is that it enables small publishers and bloggers to focus on their content, instead of having to work to monetise it, or to look at hosting, and other concerns.
"There is a process, anyone can be a part of We Media, but there is a team that looks at the applications to select the partners who will be shown in UC News," he added. According to the company, it accounts for 58 percent of the Web usage in India; this matches data Statcounter shares, and the nearest competitor is Opera, with slightly less than 16 percent of the market.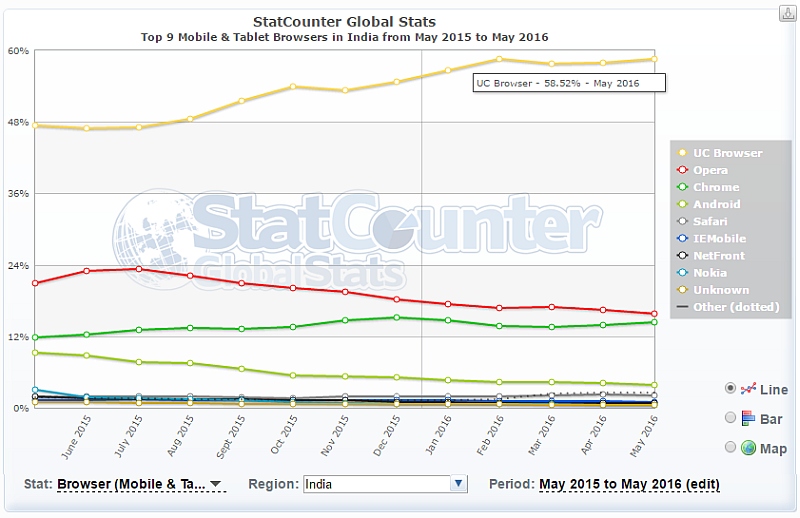 According to Alibaba Mobile Business Group (MBG) General Manager UCWeb Kenny Ye, UC Browser is going to transform from just a tool to becoming a source of content. "The UC News app is a platform to bridge the gap between content creators and content consumers with channels like news, cricket, entertainment, and more," Ye said. What this sounds like is that the company is now going to use its large user base in India as a means to control content; if partners who use UC's publishing initiative We Media are given prominent placement, then they could reach a much broader audience than they normally would. This is what UC News' Lee is talking about when he says, "search and social, Google and Facebook, are driving traffic to publishers right now, but we can beat that."
Publishers can customise their websites to be supported on the UC News platform, said Lee, or they can host the content with We Media; "this is best for the smaller publishers, since we will bear the hosting costs," he added. According to Jeremy Lee of the We Media team, there will be editorial oversight to join the platform, but he also repeated that it will be open; partners need to be selected to ensure they "properly fit into categories, and have the right kind of content."
And, like Google's AdSense, We Media and UC News will also pair the content from publishers with ads; "if you customise your website to support We Media then you can do your own ads," explained [Jeremy] Lee, "and if you host it with us then we can manage the ads for you. There will be a service fee, like a commission, right now, but that's because we're testing out the model. We want to make this completely free over time."
"The idea is that, in older times, you would publish once, and then share your content in many places," he added, "but that is not right for the new digital age. Now, you publish in many places - for Google Amp, for Facebook Instant Articles, and for We Media - for the best results."