EdTech startups are expected to play a key role in delivering education in India using the Internet to scale and solve the last mile problem. Combined with the availability of cheap smartphones and affordable Internet, they enable people to access quality education, anywhere, any time.
Startups are looking to disrupt education using a variety of business models - from platform plays, to online courses, delivered through pre-recorded videos and curated content, paired with study materials, online assessments and industry certifications. Other EdTech business models have been built around test preparation, edutainment, and discovery use cases.
(Also see: No Visa, No Money? Get a US Degree Without Paying Much)
Globally, some of the top VC backed startups include US-based Coursera, and Udacity, both of which are providers of massive open online courses. Other notable startups include Pluralsight, which provides online programming and creative learning courses, Udemy, provides a marketplace for online courses, and Brightspace, which provides a SaaS-based learning platform. Non-profits like Khan Academy have made pioneering efforts in lowering barriers to education by providing it for free, through YouTube videos, and web-based exercise systems.
(Also read: 10 Best Apps to Sharpen Your Mind, for iOS and Android)
A report published by startup data tracker Tracxn earlier this month notes that over $9.86 billion (roughly Rs. 67,496 crores) has been invested in EdTech since 2006, one third of the amount was invested in 2015 alone.
(Also see: Meet India's Super Angels, and the Top Startups They're Backing)
Some of the most active VCs in this space include Ah! Ventures, 500 Startups, TLabs, Mumbai Angels, with each of them making at least five investments each. Sequoia and Tiger Global have backed two startups each. The total funding in this space amounts to $282.8 million (roughly Rs. 1,936 crores), with at least ten startups raising funding rounds over $1 million (roughly Rs. 6.7 crores) in 2015. The top VC-backed startup from India raised $15 million (roughly Rs. 102.6 crores) in 2015. Here's a list of some of the leading EdTech startups in India's startup ecosystem.
1) Simplilearn
Simplilearn claims to be the world's largest professional certifications company with customers from over 150 countries. It offers over 400 courses from a panel of over 2,000 industry experts ranging from Data Science, Project Management, Big Data, Digital Marketing, SEO (search engine optimisation), and more. The startup claims to have trained over half a million professionals since its inception, and is named the eighth-most influential education brand in the world by LinkedIn in its 2016 Education Edition report.
Website: www.simplilearn.com
Download: Simplilearn for iOS | Simplilearn for Android
2) CultureAlley
Jaipur-based CultureAlley provides a language education platform designed by linguists from across the world, with a courseware that is interactive and contextual. Its app Hello English enables Indians to learn English from 15 vernacular languages, and claims to be the country's most widely used Android learning app, with over 10 million downloads. The startup has the backing of 500 Startups, Kae Capital, and Tiger Global.
Website: www.culturealley.com
Download:CultureAlley for Android
3) UpGrad
UpGrad is an education platform for working professionals, with courses on entrepreneurship, data analytics, digital marketing, and product management that are delivered in collaboration with domain experts. Founded in 2015, the Mumbai-based startup has priced its nine month long program in data analytics at Rs. 2 lakhs, while its course on entrepreneurship, which has a duration of 15 weeks costs Rs. 50,000.
Website: www.upgrad.com

4) Toppr
Entrance exam preparation startup Toppr, founded by Hemanth Goleti and Super-Angel Zishaan Hayath provides courses to prepare for state board, medical, and IIT JEE exams. The platform provides personalised and adaptive learning tests and practice packages to let students ascertain and improve their rank. Toppr claims 690,000 registered students on its website, the prices for its courses range from Rs. 2,900 per year to Rs. 6,900.
Website: www.toppr.com
Download: Toppr for iOS | Toppr for Android
5) Vedantu
Vedantu provides a personalised online tutoring platform for school students of class six and upwards, and lists over eleven reasons why it is better than MOOCs (Massive open online courses) and group tuitions - such as live tutoring, two-way interaction, flexible schedules, and access to class recordings. Vedantu says that its teachers are educated at premier learning institutions like IITs, NITs, and IISc, and that its technology platform can establish a two-way audio-video connection with teacher to student at very low internet bandwidths.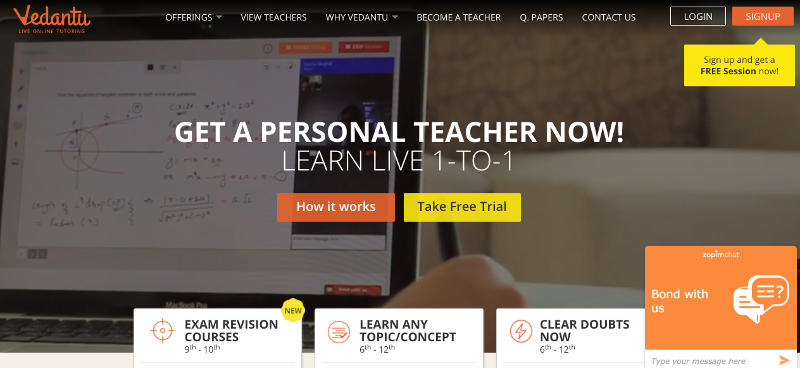 Website: www.vedantu.com

6) MeritNation
Delhi-based MeritNation provides interactive study material for students of classes 1 to 12th for CBSE, ICSE, and Maharashtra (MSBSHSE), Karnataka (KSEEB) Kerala (SCERT) and Tamil Nadu boards. The website retails test prep material for engineering, medical and other vocations, and provides free access to NCERT textbooks. Meritnation claims a user base of over a crore users, its courseware features multimedia tutorials, interactive exercises, tests and analytical data reports to point out strength and weaknesses.
Website: www.meritnation.com
Download: Meritnation for iOS | Meritnation for Android
7) Unacademy
Unacademy is India's largest free education initiative, which aims to index all the world's education on its platform in all languages. Founded by Gaurav Munjal and Roman Saini, the founders say it is India's most popular educational channel on YouTube, with 200,000 visits and 1.5 million pageviews a month.
Website: www.unacademy.in