Search engines have evolved to make it easier to find the information you need without having to go through different websites. Google has the Knowledge Graph feature that shows a neat box with useful information above (or beside) search results. It can do cool things such as calculations, show flight information and even currency conversion.
Although these features are incredibly useful, Google Knowledge Graph has its shortcomings. The biggest problem is that results are not uniform. When we were digging through Knowledge Graph features to find cool things you didn't know you could do with Google, we noticed that the results were not always the same. When one person searched for Apple stocks, Google showed him regular search results, but when a colleague searched for the same term, he was shown current stock information along with a nice price versus time graph.
These limitations made us look for alternatives and we found one that impressed us with its utility - DuckDuckGo. We've previously mentioned DuckDuckGo, a privacy-focussed search engine, in an article on how to stop Google from tracking you. DuckDuckGo is a search engine that shows the same results for a search term to all its users. This is unlike Google, which filters search results based on the sites you have been visiting. It is also now possible to set DuckDuckGo as a default search engine in iOS 8 as well as OS X so you can get the instant search results just by typing your query into the Safari browser. Of course you can also use DuckDuckGo in Chrome or Firefox by visiting DuckDuckGo.com and clicking the Use in Chrome or Use in Firefox button.

Because it doesn't try to personalise results, DuckDuckGo's instant answers work for everyone and it has a great community of developers and users that are constantly adding new sources for answers. After using DuckDuckGo as our primary search engine for quite some time, we found that its instant answers are often as good as or better than Google's Knowledge Graph. Here are 12 amazing things DuckDuckGo can do that Google can't.
1. Social media bio
DuckDuckGo lets you see the social media profiles of people without leaving the search engine. So, search for @ndtvgadgets and you can see full the profile information on the same page. The same thing works for Google+ and Gravatar as well. To look up a Twitter bio, you need to search for the handle. For Google+, type G+ and then the name of the user. For Gravatar, just type Gravatar, and then the username you want to look up.
Another cool feature that is related is letting you search inside other sites. With Google, you can use the site: modifier to search for results within a particular site, but then you still have to open the link to see the results. With DuckDuckGo, you can use the site's own search functions.
For example, if you want to search for someone's details on LinkedIn, you don't need to open the site. Just type "!linkedin" followed by the person's name, and you will see the LinkedIn search results page. You can do this with a large number of websites; !g lets you search with Google, !a is Amazon, !r is Reddit, just to name a few. You can see the full list by just typing ! in the DuckDuckGo search bar.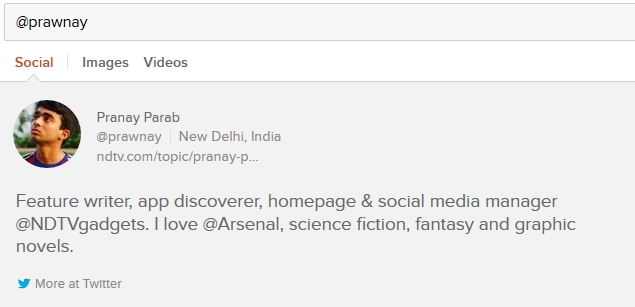 2. App store search, alternatives to apps
Search for any popular app on DuckDuckGo and you will find that it shows a carousel full of apps with similar names. Just search for NDTV Gadgets app to see what we mean. Clicking on any one of the cards on the carousel will show you the price of the app, a description and links to the store. We found that this feature doesn't work with very obscure apps, but it can find most of the well-known ones.
Another useful feature shows alternatives to apps in a neat carousel. Tired of MS Office? Just search for "Alternative to Word" and see the results for yourself. It also works for Web services, so you can even search for "Alternative to DuckDuckGo", if you like.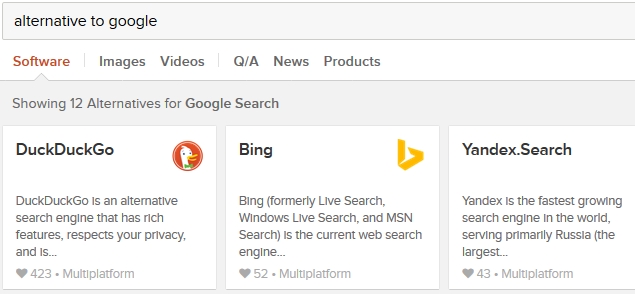 3. Shorten and expand links
Want to find out which websites are at the end of shortened links such as http://bit.ly/1tYrmaB ? Open DuckDuckGo and search "expand http://bit.ly/1tYrmaB". Also, if you want to shorten long URLs, enter "shorten https://gadgets.ndtv.com/mobiles/news/android-browser-security-hole-affects-millions-of-users-says-expert-592578" to get a URL shortened using is.gd.

4. Generate passwords
Can't think of a strong password? Just head to DuckDuckGo and search for "Password 20". You'll see a strong 20-character password. You can replace the number to change the number of characters in the password. If you find those random passwords hard to remember, you can make DuckDuckGo generate XKCD-style passwords. These passwords comprise four common words put together, which are easy to remember and hard to crack, and were first suggested in the popular Web comic XKCD. For these passwords, search "Random passphrase".

5. Quick stopwatch
Both Google and DuckDuckGo let you create a quick timer (search for "timer") but DuckDuckGo also has a stopwatch. Simply search for "stopwatch" to use it.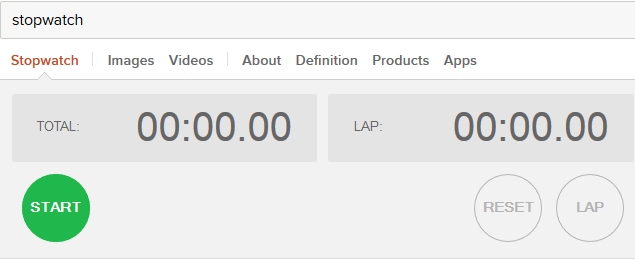 6. Change case and check number of characters
Want to change a sentence to Title Case, lowercase or UPPERCASE? Just add one of those three terms before your sentence and key it in on DuckDuckGo. For example, "Uppercase ndtv gadgets" leads to "NDTV GADGETS".
Another interesting feature is the number of characters. You can quickly check how many characters are in your search query by adding "chars" before or after the query. Try searching for "chars I really like this article" without the quotes and see the results.

7. Checks whether websites are down
If you can't open a website, you might want to check if it is not opening anywhere or just on your computer. You can use websites such as isup.me to check this or you can simply search DuckDuckGo with the keywords like, "Is gadgets.ndtv.com down for me".

8. Does mime rhyme with time
You read that right. DuckDuckGo also has an instant answer that finds rhyming words. Search "rhymes with ndtv" or any other word you can think of. You'll see an instant answer with rhyming words, from RhymeBrain.

9. Calendar
Google and DuckDuckGo can show you the current date and time. But DuckDuckGo goes one step further by supporting calendar as an instant answer. Search "calendar" to see one, with the current date highlighted. It can also show you the calendar for any month and year. Try searching for "calendar january 1899".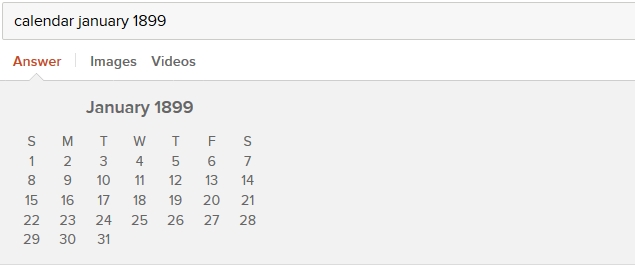 10. Loan calculator
Another useful DuckDuckGo instant answer is a loan calculator. It's useful if you want to see how much your monthly installments will be and how much interest you'll be paying in total. The search query for this is a little hard to remember, like the terms and conditions for most loan agreements. It is "loan AMOUNT at INTEREST with PERCENT down for DURATION". All the uppercase words are what you need to key in - total amount, interest rate, down payment percentage and the duration of the loan. We tried "loan Rs 50,00,000 at 4.5% with 25% down for 15 years" to get the answer in the picture below.

11. Cool features for developers
There are several instant answers that will be useful to software developers, but might be less important for the general public. Here's a quick list of what DuckDuckGo can do: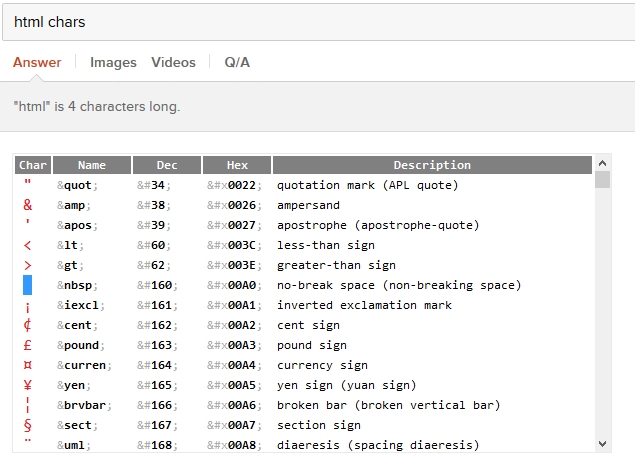 12. Add instant answers to other search engines
If you like all these instant answers but don't want to leave your favourite search engine, just download the DuckDuckGo extension on Chrome, Safari or Firefox. Now whenever you search, you'll see DuckDuckGo's instant answers above search results in any search engine.
Bonus
There are several other instant answers on DuckDuckGo that are quite cool, but not very useful. That's why these are included as a bonus in this article. Here's a quick list of some of the best we could find.
These were the best instant answers we could find on DuckDuckGo and none of those are available on Google. Which is your favourite DuckDuckGo instant answer? Which one of these did you find useful? Let us know via the comments.