Despite having a name that conjures images of fallen viking warriors celebrating amidst endless food and drink, Valhalla or VA-11 HALL-A, as it's called, leaves you feeling utterly normal. The game makes you seem insignificant in the grand scheme of things really - and that's probably its biggest success.
The game has you in the role of Jill, a bartender at a bar called VA-11 HALL-A. No, you don't have an alter-ego that's out to save the world, nor do you have a family to avenge like your average video game stereotype. It's set in Glitch City, in a future where AIs have gained awareness and androids (of the non-smartphone variety) are commonplace, as are nano-machines. Yes, the standard Hideo Kojima plot device finds itself in this game, as do a ton of Seinfeld and WWE references, as well as Internet memes. The game itself focuses on your experience as a bartender, and there are no adrenalin pumping set pieces - you do your job, make some money, and along the way, explore a wonderfully written narrative.
As we mentioned, you'll mix all manner of drinks while listening to the woes of customers. Its through these characters that you understand more about the happenings in Glitch City. Be it anarchy in the streets, or simply a tale of love lost, there's a lot to take in.
From artsy critics to sexist newspaper editors, a detective resembling George Costanza, and even dogs with eyepatches, you'll meet a wide variety of patrons, and be the attentive ear to many a tale. You aren't the central focus of the many events taking place, or even the most colourful of your cohorts, and that's perfectly fine. Simply put, if CD Projekt RED were to ever explore a game set in The Witcher universe that has you as an innkeeper instead of Geralt, well this would be the cyberpunk equivalent of it.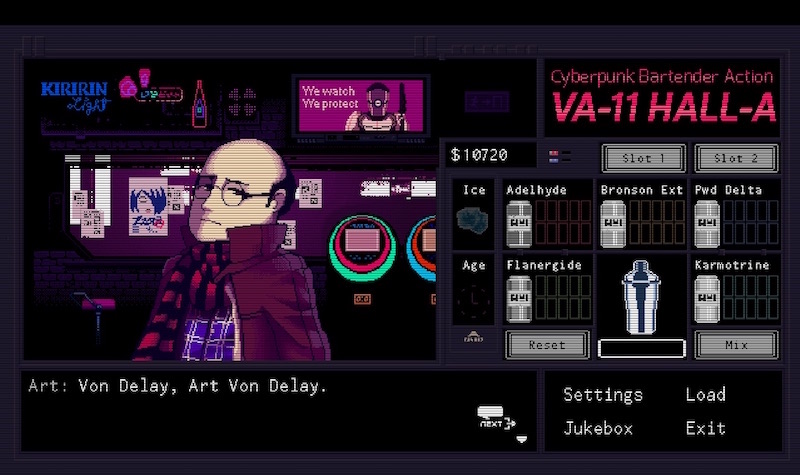 And while you never do explore Glitch City, your interactions with its many inhabitants give it a well worn, lived in feeling. This is a testament to VA-11 HALL-A's narrative chops. You end up feeling that you know more about it than you would in your usual open-world game.
At the same time though, the game never makes you forget your place in the world. Through your entire playthrough you'll rotate between sitting at home with your cat, surfing the Internet (complete with the game's version of 4chan), and being at work with the odd shopping trip to buy posters or figurines to let you concentrate on your job. There are one or two exceptions, but by and large it sticks to this loop.
As you would expect, a majority of the gameplay takes place when you're at work. You have a break between shifts to let you save the game and before each shift you can choose what music plays from a pretty good selection. Mixing drinks itself is a simple enough exercise. Just combine the correct quantities of ingredients at your disposal. There's some variation there depending on the drinks ordered, allowing you to get patrons more inebriated than they should be. This opens up new conversation options and plot paths, adding a sense of choice to the proceedings and a fair bit of replayability.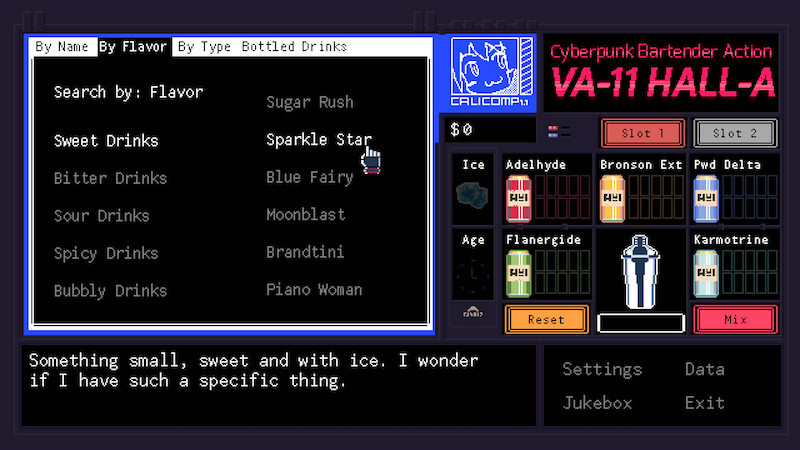 There's more to it though. A looming economic concern to be precise. Get an order wrong and customers may simply choose not to pay, lose enough of your wage due to this, and it could result in you being evicted, which allows for one of the game's many endings. Through simple text messages VA-11 HALL-A does an effective job of conveying a sense of dread that's felt when you are close to but not exactly meeting the bills of the month, further underlying how rote things can be, despite being set in the year 207x.
But regardless, you'll be concocting beverages both alcoholic or otherwise, and the gameplay doesn't deviate from this till the very end. It's something that some might find a tad too repetitive if you're the sort to play over extended sessions. This would be more than a minor annoyance if not for the diverse set of clientele, their motivations, and anecdotes which for most part balance out any sense of monotony. Without spoiling much, VA-11 HALL-A's cast is vastly eclectic compared to your standard video game, which makes it extremely endearing.
Thanks to its fantastic storytelling VA-11 HALL-A is a highly engaging experience wrapped in retro aesthetics. Some may argue that its simplified gameplay being subservient to storytelling does little to make it a game in the modern, mainstream sense. However, it succeeds in presenting a slice of life in a dystopian future and drives home the point that not every video game has to have you as its central character. They can just be as fun with you serving its heroes copious amounts of alcohol.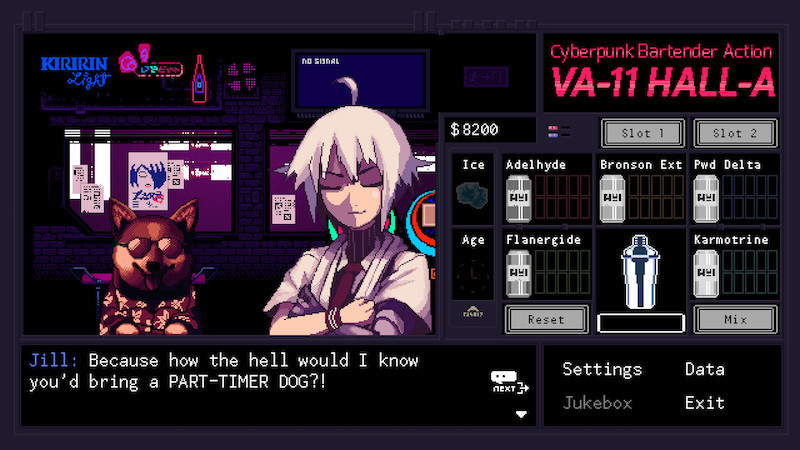 Pros:
Great atmosphere
Memorable characters
Well written
Cons:
Simplified core gameplay
May feel repetitive over extended sessions
Rating (out of 10): 9
We played a digital copy of VA-11 HALL-A on the PC. Costing Rs. 479, the game will also be available on the PS Vita and iPad later this year.

Affiliate links may be automatically generated - see our ethics statement for details.