Announced and launched at Ubisoft's E3 2016 presser, Trials of the Blood Dragon is a spin-off entry in the Trials racing platformer franchise, which draws its world, characters and tone from a spin-off itself - 2013's Far Cry 3: Blood Dragon, a sister franchise. On paper it sounds brilliant. Fuse two popular series together to generate a fun romp inspired by the hue and style of 80s action films, and you've got a winner.
Unfortunately, it's nowhere near as straightforward as that.
Trials of the Blood Dragon is essentially a Trials game when you get down to playing it, but it's based off Far Cry spin-off's world, which was set in an alternate dystopian version of 2007. There, the Cold War between the US and the USSR never ended. Instead, it has consumed the Earth and beyond, now including species such as the Blood Dragons, and CIA - Communist Insectoid Aliens. Trials of the Blood Dragon is full of goofy wordplay like that, from stage names - Raiders of the Lost Grail based on 1981's Raiders of the Lost Ark - or the world where the Insectoid aliens are from - it's called Lang-Leevee-A. The human CIA HQ is located in Langley, USA, if you didn't know.
The game jumps 12 years into the future of Blood Dragon's world, where you get to play as two children of the power couple from the Far Cry spin-off. Teenagers Roxanne and Slayter must rampage their way through unrecognisable versions of war-torn Vietnam, drug-fuelled Miami, Communist-controlled Japan, and visit the alien world of the CIA, all "to save freedom, and save the world".
In other Trials games, you're stuck riding a bike, but in Blood Dragon, there are specific missions, and parts of missions, where you're driving an 8-wheeled tank, controlling a small remote-controlled Humvee, or piloting a jetpack. The last of these missions is the trickiest, all the more so when you're dealing with attachments - either in the form of a cart behind your bike, with an unhinged nuclear bomb mind you - or hooking it straight onto your back.
On such occasions, caution and patience become key. You must calculate and judge the game's physics to navigate your way through missions and not have things blow up in your face, very literally. This goes a step further when the bomb's weight is on your shoulders in one level; you have to continuously reorient the jetpack so as to not be pulled by the sheer weight of the bomb, either into the ground, molten lava, or laser shields.
The problem is that you're never quite sure if you're truly in control with the jetpack, thanks to the game's floaty physics. This can turn out to be a bit frustrating over time, especially if you get stuck between two checkpoints. The added issue with this is the sheer distraction of the new elements - stages in Trials have always been about speed-running and the new modes, be it flying, dodging enemy bullets or navigating periodic traps, take away from that basic premise.
And it doesn't obviously help that the rest of the off-bike elements lack any sense of fun. Shooting is imprecise and whether you hit your target or not can be down to luck. That can result in precious waste of a few seconds, which has always been crucial in getting yourself higher on the leaderboard in a Trials game.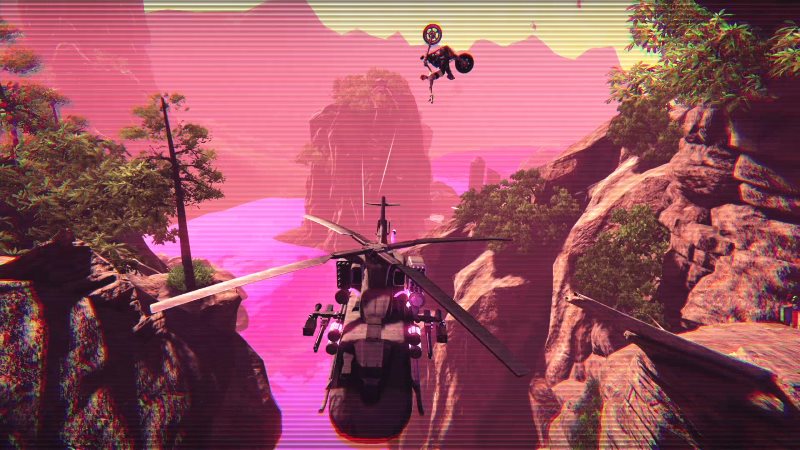 Trials of the Blood Dragon is at its joyous peak when it has you working out which direction and how much to tilt your bike while you're flying through the air. Get it right, and you feel like a superstar, but get it even an inch wrong and you're left with a bone-crunching crash, along with a snappy high school-inspired nose-rub. ("You ate shorts," being one of them, a possible call-back to the phrase popularised by The Simpsons.)
With its heavy use of neon pinks and blues, the environments and art of Blood Dragon are wonderful to look at. Like most Trials instalments before it, Blood Dragon appears 3D but as a player, you're confined to a 2D plane that is presented at an angle during its vehicular stages and in a side-scrolling fashion for when your character ditches said vehicle. The other highlight of the game is its rampant inclusion of electropop music, which seems to be another facet adapted from the world of 80s entertainment.
That the game doesn't look or sound repetitive while working with this restrictive palette through the campaign is a triumph. Each environment feels different from the last, from Miami's excessive use of neon orange and pink to the silhouetted monochromatic look of Japan and its famous fall maple trees.
But Trials' sense of fun is cut short too soon, with the single-player campaign coming in at under three hours. The fact there's no multiplayer action, which is always helpful in increasing playtime and brings another dimension to what makes video games inherently enjoyable, only adds to players' concern.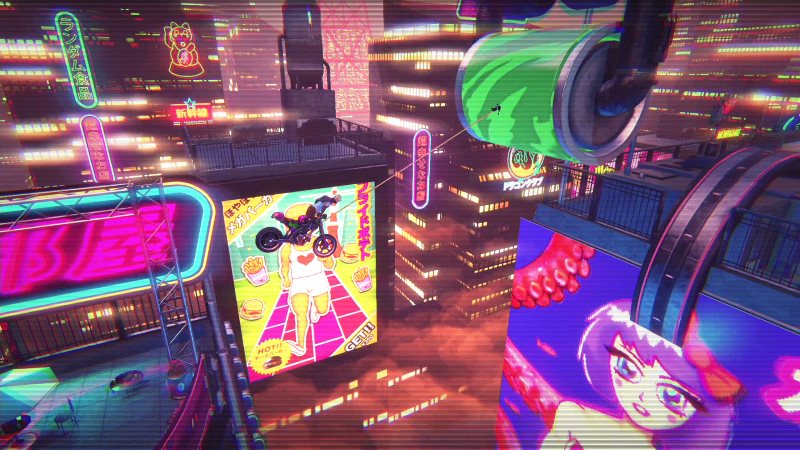 With two characters already part of the single-player story, Blood Dragon was ready-made for a two player co-op or competitive multiplayer. And it's baffling why Finnish developer RedLynx - working under its publisher, Ubisoft - chose to completely ignore that aspect of the game. A simple YouTube search for "Trials multiplayer" can prove to you how fun competing against your friends can be, so it's a real miss here.
So that brings us down to the big question - is it worth your time and monetary investment? Ubisoft's pricing strategy for India seems to be all over the place with Trials of the Blood Dragon - it costs Rs. 299 on Steam, Rs. 940 on the Xbox One, and Rs. 1,248 for the PS4. Look at it as a ticket to a playable 80s action flick, and the 3-hour enjoyment is justified if you're on the PC. But if you want to get it on your console, we suggest you wait for a price drop.
Or avoid it all together, if we're being honest. If you do want some delicate bike physics action, you're much better off with the previous major entry: Trials Fusion.
Pros:
Biking remains fun, just as with previous Trials entries
80s-inspired art and music is a joy
Cons:
Non-biking elements slow down the game
Floaty physics can be frustrating over time
Single-player campaign is too brief
No multiplayer
Rating (out of 10): 5
We played a review copy of Trials of the Blood Dragon on the PC. The game is available on Steam at Rs. 299, for the Xbox One at Rs. 940, and for the PlayStation 4 at Rs. 1,248.
Affiliate links may be automatically generated - see our ethics statement for details.