The newest game in the Hitman series is simply called Hitman, with no subtitle or number. Until now, not much was known about the game, which is due in December. Developer IO Interactive has decided that instead of releasing the entire game in one go via both physical and digital distribution, Hitman will be out digitally first. According to the developers, the world of Hitman will be ever-changing, with a regular stream of content pushed out to keep players in a "live and ever expanding world of digital assassinations." The ambiguity of the phrasing led many a gamer wonder if this would end up like some games in early access, with features stripped out until the final update. It's a move that would have compromised gameplay completely.
At Gamescom 2015, Square Enix walked us through a level in Hitman allaying our fears and showing us what lies ahead for series protagonist Agent 47. The mission we played saw us assassinating Viktor Novikov, an spymaster-oligarch. The level place in Novikov's sprawling palace grounds, where a fashion show is being held.
(Also see: Cuphead Is Possibly The Most Beautiful Game You Will Never Finish)
We were not allowed to record footage or take pictures, but what we saw can best be described as a more polished, more robust, open-world version to 2012's Hitman: Absolution. If you were expecting a monumental leap in visual fidelity over its previous entry, then you'd be sorely mistaken. However what it lacks in eye candy it makes up in sheer scale. Travis Barbour, Community Manager at the game's developer, IO Interactive, claimed that compared to the 30 to 40 non-playable characters (NPCs) you could interact with in Hitman: Absolution, there are 300 NPCs in this game. What's more, your actions in the game affect those around you and they react accordingly.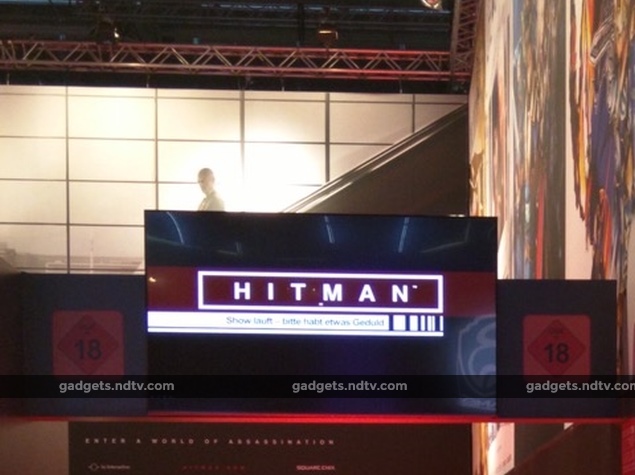 This could mean annoying a TV reporter by walking right into her shot or angering an irate fashion designer by messing with his equipment. What you can do in-game is largely dictated by what items you decide to carry with you in a mission. From coins to a sniper rifle, the choices are endless and go a long way in unlocking information on your target.
(Also see: Fable Legends Shows You Don't Have to Kill to be a Hero)
It's something Barbour claims underlines the fact that IO's approach to map design and player interaction in the new game is to build "Swiss Cheese levels", allow for each map and gigantic structure let you conquer it as you see fit. He likens your options to holes in Swiss Cheese - plenty and varied. Rather than show us a single route towards assassinating Novikov, we were treated to several, ranging from decapacitation to explosions, making for a wealth of choice when carrying out a mission.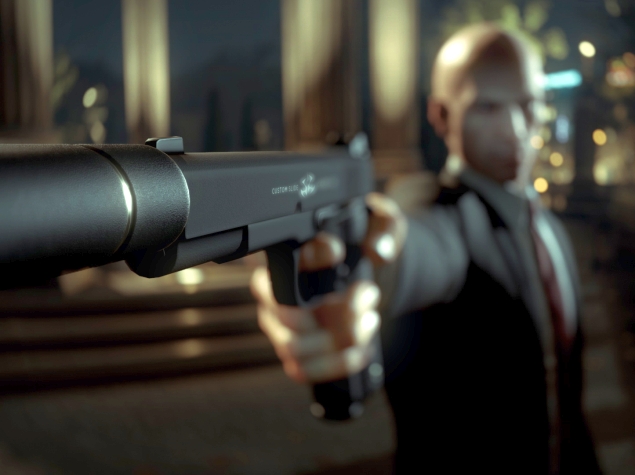 The level we played also included a variety of options to finish your mission. These include some obvious navigation options, such as going through the front door to the fashion show (provided you have an invitation) to skulking around backstage, smuggling guns in under plates of food while disguised as a caterer; the options available to infiltrate areas play right into IO's philosophy of creating a "pure Hitman fantasy". Another welcome move is how "instinct" is treated in this game. Debuting in Hitman: Absolution, the feature is comparable to the detective mode in Batman, or the Eagle Vision in the Assassin's Creed games. Essentially, it's a quick way to cut out all non-essential data from the screen, and in Absolution, it was absolutely necessary if you wanted to complete missions. That's been toned down for 2015's Hitman, and that's a big plus in our eyes.
The gameplay didn't look like a stable, fluid 60 frames per second, the benchmark for many a developer nowadays, but it chugged along fine with barely a pause to the action. Square Enix's Gamescom 2015 presentation seems to indicate that this Hitman game is coming together well. It's heartening to know that the level design and scale we all know and love is being improved upon in this latest entry to the series, without making too many changes just for the sake of it.
Now if we could have clarity on the game's single-player, story mode - if it is exists - all will be right with the world.